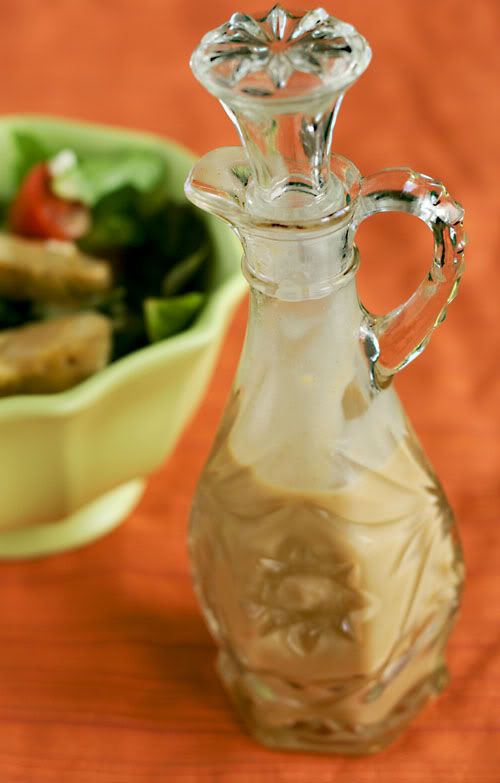 My  husband, Nick,  and I have been married for almost ten years. For the most part, I think that we know each other pretty darn well. In fact, I would almost bet that if we took one of those Newlywed Game type of quizzes now, we would get just about every question right.
Nick is a fairly predictable guy. Sometimes I think he might be a little bit OCD because he is very routine about things. He wakes up at the exact same time every morning, he goes to the window and peeks out the blinds, walks into the bathroom and brushes his teeth, turns on the shower water, goes pee, hops in the shower, etc. His routine is just that… a set in hard stone routine. He is a very easy guy to figure out.
The other day, Nick, who never puts mustard on anything and detests honey said "I have really been enjoying the salad at  the deli in my office building lately. They have the best Honey Mustard Vinaigrette Dressing I've ever tasted." Excuse me? Honey Mustard Vinaigrette Dressing? Who are you and what have you done with my husband? After all of these years, I thought I was married to a Buttermilk Ranch / Italian dressing kind of guy, but noooo… I am married to a Honey Mustard Vinaigrette man and never knew it! "Since when do you like honey mustard vinaigrette salad dressing?" Apparently he has always loved it… honey mustard vinaigrette salad dressing is his favorite kind of salad dressing. Who the heck knew? Just when you think you really know someone they throw you for a loop!
Being the thoughtful, intuitive, kind wife I am, I made up a batch of Honey Mustard Vinaigrette dressing for my honey. We shall see if it rivals the deli in his office building. In the meantime, I am going to spend some time trying to unravel the layers of this mysterious man that I have lived with for so long. My marriage based on Ranch and Italian salad dressing love has been turned upside down.
Honey Mustard Vinaigrette Salad Dressing (from Recipezaar)
5 min | 5 min prep
1/2 cup
Whisk garlic, vinegar, mustard, honey, salt and pepper in a small bowl.

Slowly whisk in oil.