I'm going to preface this entry with this…Martha Stewart I am not. I am not a very crafty person. If I attempt a craft, I need step by step instructions, preferably with pictures, and then usually after reading through said instructions, I need to watch a video or something. I can copy like no nobody's business, but going out on my own and being crafty…that's not me.
I "created" the place card's for our dinner party today. Don't laugh when you see them, but they are the best I could do since I've procrastinated for this long. When I purchased the ornaments for the centerpiece, there was a box of star shaped ornaments that matched the centerpiece ornaments. My little mind started thinking and I decided to scratch my original crafty place cards for these little numbers. Martha would have thought of something fabulous, I'm sure, to write the guests names on. I, however, am not Martha, so I looked through my scrap booking supplies and found these little white circle cutouts. Martha would have used professional calligraphy. I, however, am not Martha so my very best cursive writing will have to do.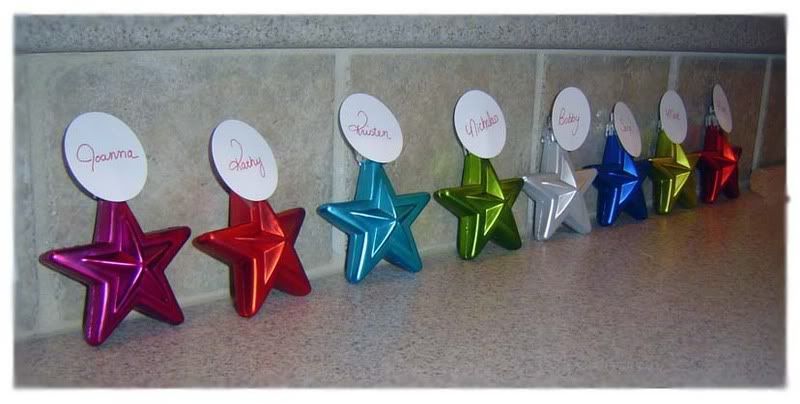 They stand up on their own, only on cloth material.  Good thing I'll have a tablecloth. The picture I took of them makes it look like they are in a lineup at the police station, doesn't it? "No sir… I don't think I can recognize the criminal. They all look very similar… except maybe that gold one. That gold one has the same posture as the criminal… and I vaguely remember a small scratch on his arm."
I'm glad to mark this little project off my list of To Do's. Remaining on my list is the task of figuring out what appetizer to make. Nick keeps nixing whatever I suggest. That's the problem with having a husband with opinions 🙂
One week ago today I dined on Pumpkin Pie Dip.