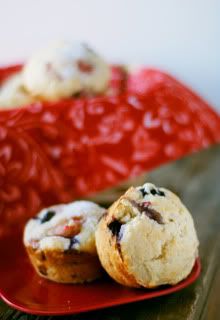 Recently, I was asked what I was passionate about. What subject really got my engines revving? At the time, I mentioned that I had strong feelings about certain subjects, but could not think of any that I was extremely passionate about. Then, I knew just the thing… family meal time.
I am passionate about family meal time. I grew up in a house where mealtime was a priority, and we almost always had at least one meal together as a family each day. Sitting around the table as kids was where our most important conversations happened. We had the best laughs (mom and kathy… remember "speaking of peas?"), the best debates (aka fights when you and your sister had major sibling rivalry), and where we recapped the events of our day…both the good and the bad. I cannot even imagine all that my parents would have missed out on in our lives had it not have been a priority that we sit down to dinner each and every night as a family.
Any time I have the opportunity to support and acknowledge someone who shares those same important mealtime values, I jump at the chance. Enter the new cookbook by Carol McManus, Table Talk – food, family, love. Carol resides on Martha's Vineyard, owns her own Cafe, and still encourages people to eat at home and enjoy dinner together as a family. She is as passionate about sharing quick to the table, delicious meals in her cookbook as she is about keeping family dinner time a staple in households everywhere.
When Table Talk arrived in my mailbox on Saturday, I was immediately sucked in the second I opened the cookbook and read Carol's forward. Then I continued to flip through the book and you know what… I sat there and read through the entire thing, front to back. The recipes are very appealing, simple and special… the majority have ingredients I already have on hand. The photography is stunning. Most importantly, the core values of Carol and her family shines through in each little snippet, quote and story behind life on Martha's Vineyard and the recipes to accompany such a life.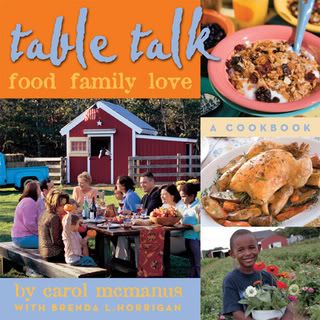 I do not get anything by encouraging you to purchase Table Talk… there is nothing in it for me. I would not recommend a cookbook to you if I absolutely did not love it. I can tell you that this is one cookbook that you will turn to time and time again. If not for the enticing recipes , for the reminder of the significant importance that sitting down together as a family, whether a family of 2 or 22, can have on your life.
Every day of my menu this week has recipes gathered from Table Talk. Stay tuned during the week for an even deeper peak into the pages of Table Talk. To purchase Table Talk, visit www.tabletalkcookbook.com or visit your local Barnes and Noble.
Presidential Muffins from the Table Talk cookbook
3 Cups All-Purpose Flour
¾ Cup Sugar
1 Tbsp. Baking Powder
½ Cup Butter, Melted
8 ounces Cream Cheese, Softened
1 Cup Milk
1 Tsp Vanilla
2 Eggs
¾ Cup Blueberries
½ cup Strawberries, chopped
Preheat oven to 350 degrees. Grease muffin tins or use paper baking cups.
In a large bowl, sift together flour, sugar, and baking powder. Set aside.
In a food processor, combine melted butter, cream cheese, milk, vanilla, and eggs. Process until smooth. Pour liquid into dry ingredients and stir just until combined. Fold in fruit.
Scoop batter into muffin cups. Lightly sprinkle tops with sugar. Bake for 30 minutes or until muffins spring back when lightly pressed.