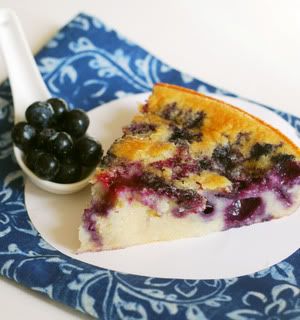 I am always warning my kids not to spill things… "Don't spill that… chocolate stains". So, many times I'll get the question asked of me by my kiddos, "Mommy, does this stain?". I'm not sure if they are asking because they want permission to spill something, or if they are going to gauge my response in advance before they tell me that they spilled something.
So, yesterday when I was making breakfast and had the blueberries out on the table for them to help themselves to, I heard my 4 year old say under her breath, "Uh ohhhhhh". Then, I heard the words, "Ummmmm, mommy? Do blueberries stain?" It was at that point that I turned around to see my two year old (who you know has been a challenge lately) covered from head to toe in a blueberry stain of a mess. I am not exactly sure what she did with those blueberries… I'm assuming she used them as body paint… but she sure had fun doing it.
Luckily, I had enough remaining blueberries left from her experiment to make this tasty Blueberry Coffee Cake from the May 2008 issue of Cooking Light. This cake is moist and flavorful… and the turbinado sugar on the top really makes this recipe complete.
Worth any stains you might endure (and the extra baths and loads of laundry), this cake is a delightful breakfast treat.
Blueberry Coffee Cake is my entry in Cook Sister's Event – Waiter, there's something in my… berries, featuring fresh berries of the season.
Blueberry Coffee Cake, from the May 2008 issue of Cooking Light
This cake is a delightful breakfast treat.
Total Time
1
hour
5
minutes
Ingredients
1 1/2

cups

all-purpose flour

1

teaspoon

baking powder

1/4

teaspoon

baking soda

1/4

teaspoon

salt

3/4

cup

granulated sugar

6

tablespoons

butter

softened

1

teaspoon

vanilla extract

1

large egg

1

large egg white

1 1/3

cups

low-fat buttermilk

cooking spray

2

cups

fresh blueberries

1

tablespoon

turbinado sugar
Instructions
Preheat oven to 350°.

Lightly spoon flour into dry measuring cups; level with a knife. Combine flour, baking powder, soda, and salt, stirring with a whisk.

Place granulated sugar and butter in a large bowl; beat with a mixer at medium speed until well blended (about 2 minutes).

Add vanilla, egg, and egg white; beat well. Add flour mixture and buttermilk alternately to sugar mixture, beginning and ending with flour mixture; mix after each addition.

Spoon half of the batter into a 9-inch round baking pan coated with cooking spray. Sprinkle evenly with 1 cup blueberries.

Spoon remaining batter over the blueberries; sprinkle evenly with remaining 1 cup blueberries. Sprinkle the top evenly with 1 tablespoon turbinado sugar.

Bake at 350° for 50 minutes or until a wooden pick inserted in center comes out clean.

Cool in pan 10 minutes on a wire rack; remove from pan. Cool completely on wire rack.
Recipe Notes
So - you love blueberries? Check out these other great recipes by food bloggers: Blueberry Pie - from me (aka Dine and Dish) Blueberry Breakfast Bars - from Farmgirl Fare Blueberry Lavender Cream Pie - from The Kitchn Blueberry and Nectarine Cobbler - from Baking Bites Blueberry and Cream Cheese Braid - from The Fresh Loaf