Simplify Saturday is a series where I share products, apps, websites, etc. that are currently simplifying my life. I'm proud to partner with SimpleHuman on this post to share with you the joys of Sensor Technology. Click here for past Simplify Saturday posts.
Welcome to Simplify Saturday, on a Sunday. I know, I know… I'm a day off but I have a great excuse. We got back from our Spring Break vacation on Friday night and after 16 hours of driving, I just didn't have it in me to write a post up yesterday. I figured you wouldn't mind if this once, I shared something I love with you on Sunday instead? Are we ok? Good!
So, you all know from past posts that I'm a big fan of the SimpleHuman brand and that I am focusing on simplifying my life in 2013. Although I have been a SimpleHuman customer for years, it wasn't until this year that I encountered products with their sensor technology. After visiting the SimpleHuman headquarters in California, and now having the opportunity to experience their sensor technology in my own home, I can tell you that SimpleHuman is definitely leading the way to simplify our lives with sensor technology.  
I'm a very messy cook and with 4 kids, there are a lot of hand washing opportunities around our house. My husband, in the picture above, is sharing his messy hands after cooking. Picture his hands ten times messier and you have what I look like after a day in the kitchen. This is where the SimpleHuman Sensor Soap Pump comes in handy in our house. It never fails that the phone will ring and I'll have bread dough stuck to my fingers or I am dealing with raw chicken and don't want to touch anything else until I wash my hands… with the SimpleHuman Sensor Soap Pump, I simply place my hands under the soap pump and the sensor recognizes that I'm there and it dispenses the amount of soap I've set it to.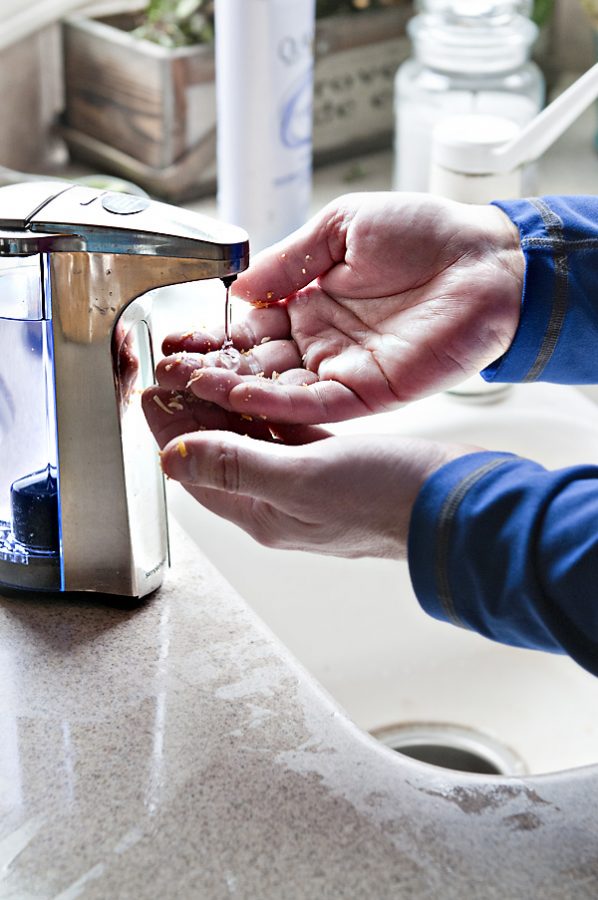 With the germs that have been going around our house this year as well, it has been nice to know that my kids can wash their hands without spreading their germs all over a soap pump! We now have SimpleHuman Soap Pumps in the kitchen and the bathrooms. And, I've found a few of our guests so impressed by the soap pumps, they spend extra time in front of the sink playing around with it!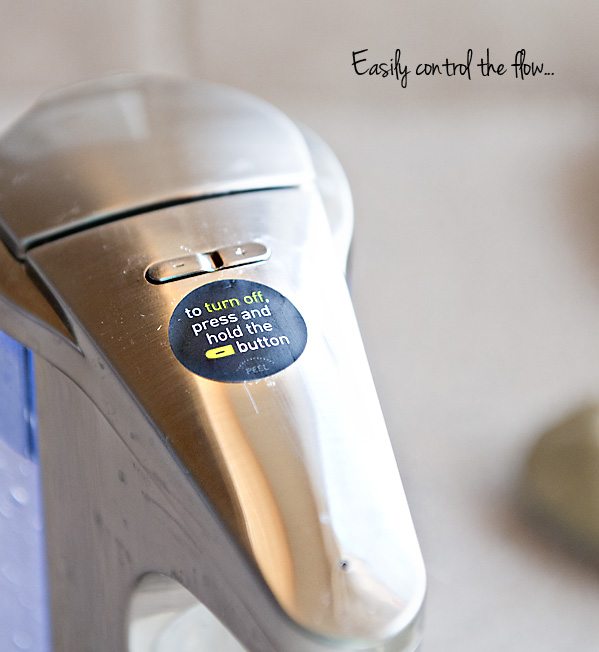 I got to see firsthand how much thought goes into the Sensor Pump design when I visited the SimpleHuman headquarters. They test each pump design with every kind of soap out there (hand soap and dish soap) and create the pump based on the best results from all. Of course, use the SimpleHuman brand of hand soap and dish soap for ideal results, but the soap pump works really great with other brands as well.
So there you have it… how the SimpleHuman sensor soap pump, with its simple design and sensor technology, simplifies our life.
Visit the SimpleHuman website for more information on their sensor technology and check out their line of sensor trashcans as well!
Disclosure: I am proud to be a brand ambassador for SimpleHuman. All opinions expressed are my own.