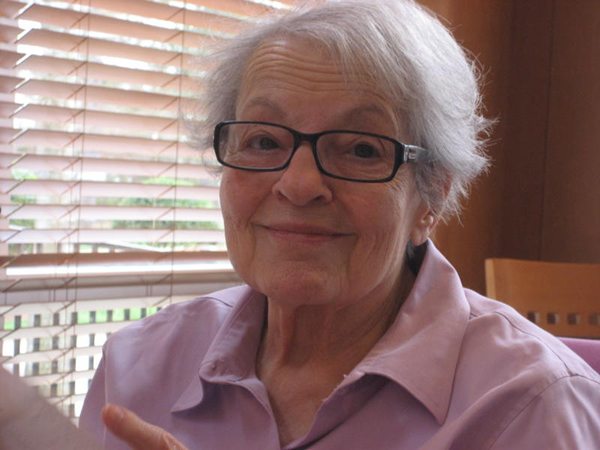 I'm sitting here in tears that won't stop this morning, grieving the loss of a friend I never met. Meet Louise… a long time Dine & Dish blog reader and commenter. I found out this morning through a Google search that Louise recently passed away in her home, at the sprite age of 90.
Louise first commented on Dine & Dish in early 2010. I knew she was nearing 90 and something about her reminded me a lot of my Grandma Sumner. Through the years, Louise and I took our comments to each other off the web and corresponded through email. She was always there for a laugh, a suggestion and comfort during times of sadness. She shared stories of growing up in New York, her love of food and cooking, and the joy her husband, daughter, son and daughter in law, and grandchildren brought her.  She dreamed of returning to New York someday to have a frozen hot chocolate at Serendipity. In my silly fantasy like mind, I dreamed of someday sitting with her in NYC, drinking that frozen hot chocolate together, even chatting with my husband about ways we could make it happen.
Those of you who know me, most likely have heard me commenting about my favorite blog reader….that's Louise. I feel badly that it took me this long to search to find out why I hadn't heard from her in awhile… she passed away in September and I just now found out. I wish I would have sent her one last note to let her know how much her presence in my life meant to me. I knew her health wasn't the best, but just assumed that since she was such a spunky fighter, she'd be around for a long time more.
Anyway, I'm writing this today because I want to let each and every one of you know that your comments DO matter to me. I cherish each and every one of you and appreciate that you choose to spend time on my little home on the web. I am so thankful for technology and the opportunity to forge relationships with people I never would have met otherwise.
THIS is why I blog. This is what Dine & Dish is all about for me… it gives me the opportunity to connect with you, and for that I'm thankful. Thanks for being here.