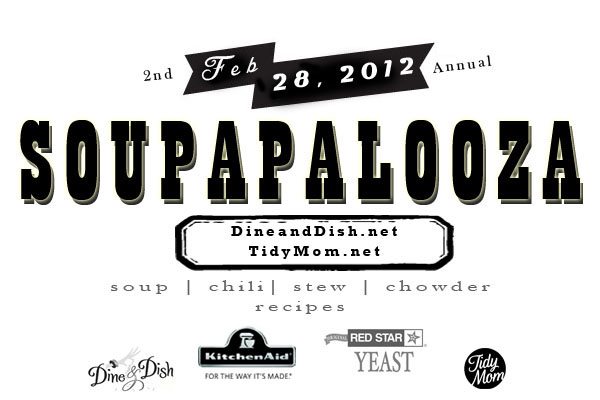 UPDATE: Soupapalooza Party is now LIVE – Over 300 recipe have been shared! you can find all of the details, and how to share your recipes here.
After an extremely mild few months of winter, we finally had our first real snow of the season yesterday. As much as I love warmer weather, I have to admit I miss those cozy up inside, soup kind of days. Soup, stews, chili and chowders just seem to go hand and hand with colder, more frigid temps!
Last year my friend Cheryl of TidyMom and I hosted the first SoupaPalooza. It was such a huge success we promised to bring it back this year, even bigger and better!
This year KitchenAid, Cheryl and I along with some other wonderful sponsors are inviting you to share your favorite soup recipes here at DineandDish.net and TidyMom.net from February 28 through March 5th.
And good news! Like every great party……..there will be prizes from some fabulous sponsors!!
A big thank you to KitchenAid, Red Star Yeast and Le Creuset for joining in on the fun this year!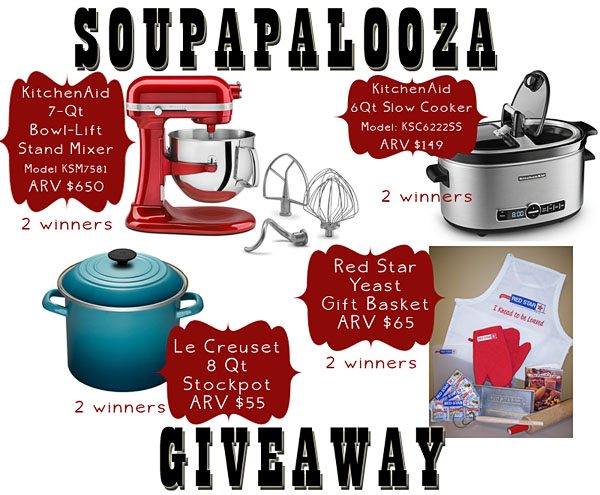 Here's how you participate in SoupaPalooza:
1. Write and post a recipe on your blog featuring a soup, stew, chili, or chowder. (You can use an old post…just PLEASE be sure to link back AND follow #2 below)
2. Include "Come join SoupaPalooza at TidyMom and Dine & Dish sponsored by KitchenAid, Red Star Yeast and Le Creuset" in your blog post. (you MUST include this to be eligible for prizes)

3. Starting February 28th through March 5th add your link to your soup post to the widget on either TidyMom or Dine & Dish (we will have the same widget code, so you only need to add it on one site).
4. Don't have a blog? no problem…..leave your recipe in the comments section of either blog on the day of the SoupaPalooza party starting February 28th through March 5th.
5. We'd love your help spreading the word about Soupapalooza through social media outlets such as Facebook, Twitter and Instagram.
Sample Tweet: Join @DineandDish & @TidyMom for #Soupapalooza Share your recipes (and WIN) here: http://tidymom.net or https://dineanddish.net Pls RT
Instagram photo's of your soup or making your soup using the hashtag #shotofsoup and/or #soupapalooza
6. Button for your sidebars or posts – just use the button below if you want a button in your posts or on your blog sidebar.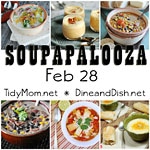 7. Have fun and enjoy!
Disclosure: Thank you to KitchenAid, Red Star Yeast and Le Creuset for providing compensation and prizes for Soupapalooza.   The views and opinions expressed on Dine & Dish are purely my own and based upon my personal experiences with the products and brands.