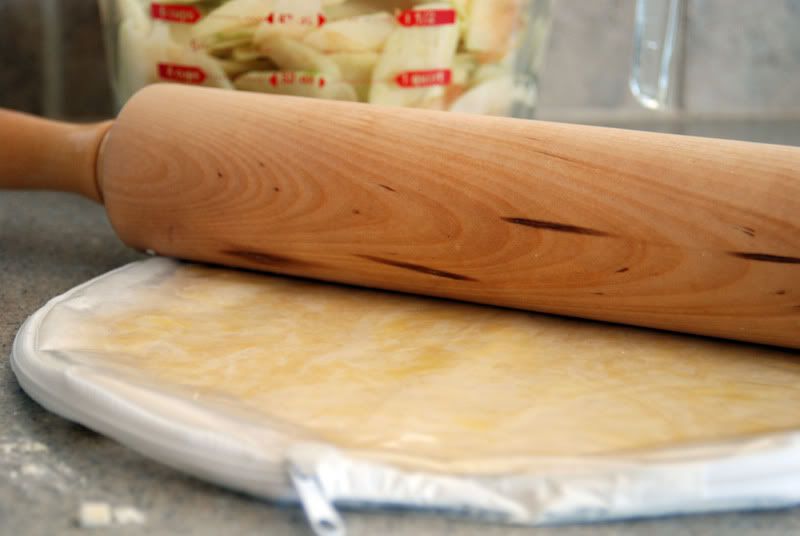 Written for Just Baking on the Well Fed Network
One of my favorite amateur food photographers and Recipezaar Chefs, Marg, turned me on to the most wonderful little "gadget" the other day. Marg is always posting photos on Recipezaar of gorgeous pies that she has made. The crusts always look flaky, delicious and professional.
I finally sent her an e-mail to see if she would share her secret. Much to my thankfulness, she did. So…what was Marg's secret to making delicious looking pie crusts? She always uses a product called a Pie Crust Bag to roll out her pie crust dough in.
I had never heard of a pie crust bag, so Google came to the rescue. Come to find out, there is a wonderful tool out there that pie crust makers around the world should be rejoicing about. This is a simple round plastic bag with a zipper. To use it, you very lightly flour the interior of the bag, place your pie crust dough into the bag, zip it up and begin rolling. The bags come in several different sizes. If you are rolling a 9″ pie, use the 9″ bag and roll your dough out to the edges. Need a larger pie crust? There is a bag a size larger just for you!
After you are done with the rolling process, you unzip the bag, lift the dough off the bag and place it into the pie pan. No messy flour board to clean up. No sticky dough to contend with. No guessing on if your circle is big enough. This wonderful tool has redeemed the pie crust making process for me. Just when I was getting tired of always having my dough stick to the board and cleaning up the big mess after making a pie crust, I find this gadget that has given me faith into pie crust baking again. Since there is a significantly less amount of flour when you use the pie crust bag, your pie crust will have the perfect moist, flaky texture that you have been striving for all along.
Pie Crust Bags can be found in many stores and online at several websites, including King Arthur Flour. At roughly $6.00, it is a gadget well worth the minimal investment.