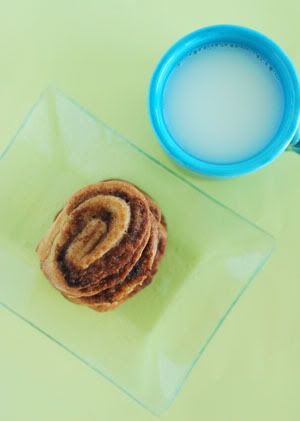 I would say that my husband is pretty lucky, from some of the stories I hear about pregnant women and their cravings. Through all the times I have been pregnant, I have only sent him out twice to get something special for me that I was craving and that was never in the middle of the night or during any major storm.
A couple of weeks ago, we were going to let my five year old choose what we had for dinner and she said she wanted Barbecue Hot Wings. I wasn't craving hot wings prior to her saying that, but once the words were out of her mouth my own mouth was watering for hot wing. My husband and Kelly went to the store to get our dinner. In anticipation, I got the oven pre-heated and got the baking sheet all ready so that once they walked through the door, I could get the hot wings cooking right away.
Several minutes passed and Nick and Kelly walked in the door with their groceries. As soon as Nick pulled the groceries out of the bag, my face must have expressed my disappointment.  Instead of the tasty barbecued chicken wings I was now craving, out of the bag came Tyson chicken nuggets. Seriously? You can't tell someone you are bringing home hot wings and then bring home chicken nuggets instead! Nick immediately said "Uh oh… ummmm… I'll run back out and get some hot wings!" You can bet that I did not stop him.
Another craving hit yesterday but this time it was for cinnamon rolls. I had a class to facilitate last night and as tempting as it was to make cinnamon rolls, it just did not seem like the right thing for an evening class. I remembered reading about some cookies in Martha Stewart Living magazine that were inspired by classic cinnamon rolls. I decided to give Martha's Cinnamon Swirl Cookies a try. First, let me say, the concept of these cookies is great and I can totally see their potential, but they just did not do it for me. The dough was delicious, but a pain to work with, and they were really hard cookies, not soft like I would anticipate a cinnamon roll cookie being like. The recipe says to bake the cookies for 19 minutes, which I think must be an error as my cookies were too brown after only 9 minutes. Either way, this is one pregnant craving that was not satisfied. Now, off to make some real cinnamon rolls!
Tried and True cinnamon roll type cookies from around the blogosphere. Should have gone to you all first!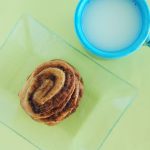 Cinnamon Swirl Cookies
Cinnamon Swirl Cookies from Martha Stewart Magazine
Ingredients
FOR THE DOUGH

2 1/2

cups

all-purpose flour

plus more for surface

1

teaspoon

salt

1/2

teaspoon

baking soda

8

ounces

2 sticks unsalted butter, softened

1

cup

granulated sugar

1/4

teaspoon

freshly grated orange zest

2

large eggs

FOR THE FILLING

2

ounces

4 tablespoons unsalted butter, softened

1/2

cup

light-brown sugar

1/2

cup

dark-brown sugar

1/2

cup

chopped walnuts

toasted (1 1/2 ounces)

1/2

teaspoon

ground cinnamon
Instructions
Make the dough: Sift flour, salt, and baking soda into a large bowl. Beat butter, sugar, and orange zest with a mixer on medium speed until smooth, about 3 minutes. Beat in eggs. Reduce speed to low. Add flour mixture gradually, and beat until just combined. Divide dough in half, wrap each half in plastic, and refrigerate for 1 hour (or overnight).

Turn half the dough onto floured parchment. Roll into a 10-by-12-inch rectangle, then trim edges straight. Repeat with remaining half of dough. Transfer rectangles on parchment to a baking sheet, and refrigerate until firm but pliable, about 10 minutes.

Make the filling: Mix all the ingredients in a small bowl until well combined. Crumble mixture evenly over rectangles. Starting on a long side, roll 1 rectangle into a log, and wrap it in the parchment. Repeat with remaining rectangle. Refrigerate logs for 1 hour (or overnight).

Preheat oven to 350 degrees. Cut each log crosswise into 1/4-inch-thick slices. Transfer to parchment-lined baking sheets, and bake until edges are golden brown, about 19 minutes. Let cool on sheets on wire racks. Cookies will keep, covered, for up to 3 days.