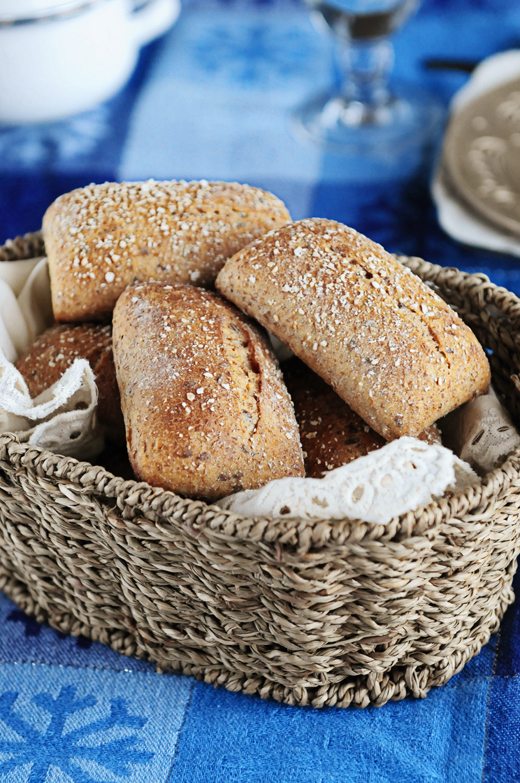 I am going to be cooking / hosting three Christmas dinner parties this month. THREE! It didn't seem quite so insane until I actually just wrote that out. I love entertaining, especially during the holidays, but I also know how crazy busy this time of year is.  No matter what, I always allow myself to take some shortcuts in the kitchen to alleviate some of the stress that comes along with making and planning holiday meals.
With three holiday events at my home in the near future, I thought it was highly appropriate that I partner with Pepperidge Farm on their challenge to help holiday hosts "elevate" ordinary meals into holiday-ready experiences. I'm going to need all the tips I can get to get through these three parties with my stress level in check.
We tried the Pepperidge Farm Stone Baked Whole Grain Artisan dinner rolls this week with a pot of soup and I have to say they are definitley holiday table worthy. In a pinch (or even not) I wouldn't hesitate for a second to put these beautiful and delicious rolls on my table with my holiday spread. Besides the flavor, the best part of these rolls was that they were from the freezer to hot and fresh on the table in less than 10 minutes. I plan on having these dinner rolls on hand for our parties as well as for our own family dinners! Quick, easy and delicious… you can't ask for much more than that.
I'd love to know some of your tips for making ordinary meals more holiday worthy. What tips can you share that will help time crunched cooks deliver a delicious and stress free holiday meal? Leave your best tips in the comment section and I'll come back here next week to share some of your ideas for holiday meal success!
This is a sponsored post on behalf of Pepperidge Farm. Pepperidge Farm provided me with a stipend for time and materials invested in the Pepperidge Farm® Stone Baked Artisan Rolls tip challenge.