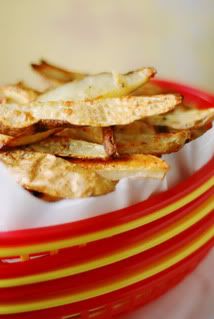 My grade school friend, Jennifer Treiber, was the daughter of our school cafeteria cook. You know how most people complain about school food? Well, I cannot relate to such nonsense. Our school cafeteria had the best food. Poor Boy sandwiches that I have never had anything compare to. Chicken Supreme that was too good to be wasted on the grade school palate. Cinnamon rolls that were so ooey and gooey they would practically melt in your mouth.
I would often go over to Jennifer's house to play and would end up staying for dinner. When I was there, her mom would always make us homemade chicken strips and french fries. It was her special meal that she would make when I was there because she knew how much I loved them. I had never had chicken strips and fries that tasted so out of this world delicious!
Birthday's were a pretty big deal in our house growing up. My mom, who was also a fantastic cook, would always let us choose what we wanted for breakfast, lunch and dinner. I would choose things like Funnel Cakes for breakfast, and my mom would happily oblige.  Chocolate cake for lunch? Sure… coming right up. One year, whatever year it is when you become a major brat, my mom asked me what I wanted for my birthday dinner. When I told her that I wanted homemade chicken strips and french fries she delivered. When she placed my wish meal out on the table, I took one look at the chicken and fries and balked… "I don't want your chicken strips and fries. I want it to be like the kind Mrs Treiber makes!" Being the age of bratiness, I didn't take one single bite. Can you imagine how much my mom probably wanted to smack my smug little face? I am sure she was so proud of making exactly what she thought I wanted, and here I go and repay her by being a complete jerk.
I am sure I hurt my moms feelings (sorry mom!), but even after that show of ungratefulness my mom called Mrs Treiber to find out what her secret was. The fries were normal homemade fries, deep fried and salted to perfection. The chicken strips? Schwans. Yep… the chicken strips that I raved and raved about and stabbed my poor mom in the heart about were frozen, deep fried, Schwans chicken strips!
I cannot make homemade french fries of any kind without thinking of Jennifer, her mom and that birthday dinner. I can tell you that tonight, when I sat the fries out on the dinner table, my four year old took one look and said "I thought you said we were having french fries with dinner… I want fries like McDonalds, Mom!"
And what is it they say about paybacks? I have a feeling, I'm about to find out!
Zesty Oven Baked Fries, from Recipezaar
Heat oven to 450°.

Spray a baking sheet with cooking spray.

Combine all dry ingredients and combine with potatoes, tossing to coat.

Drizzle with oil, tossing again to coat.

Arrange potatoes in a single layer on baking sheet and bake for 35 minutes or until golden brown.
Are you in the mood for homemade french fries? These bloggers have some different variations for you to try! (If you have a homemade french fry recipe that is different, email me the link and I'll add it here.)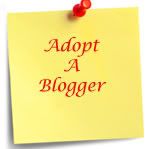 A little bit of housekeeping…
Experienced food bloggers… we need your help in adopting a newbie blogger! Sign up for Adopt a Blogger to help and mentor some of the new kids on the block!
My technical mistake can be your gain! Remember to sign up to win a set of Envirosax in the most recent Dine & Dish Giveaway. You can do that by clicking here!
The family has been busy cultivating new talents. Find out which one of us has taken up pole dancing! Dishing it up Family Style is here.