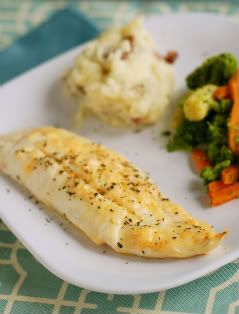 I have received a lot of emails over the last couple weeks about Menu Planning. I really think that many of you are a lot like me… you don't want to start doing something if you can't do it absolutely perfect. Menu Planning is one of those things that I used to shy away from. I wanted to cook each night based on my mood, not on a strict schedule. That wasn't so difficult when there was just two of us. Now, with a family of five, I have no choice but to have a little structure to my menu.
I menu plan for a couple of different reasons. The main reason is this…I am a work at home mom. I work part time from home doing freelance work. Our food/entertainment budget since staying at home has dwindled considerably. We just don't have the funds to go out and eat on a whim like we used to. When I have a menu planned for the week and have shopped from my grocery list for those meals, I am much less likely to be tempted to eat out. Plus, if I can limit the number of times I go to the grocery store, that helps eliminate the impulse buys that inevitably happen when I go to the store unprepared.
I try to stick to our menu each week, but it doesn't always happen. Last week, we had the first really cold, fall day of the season and to me that screams chili. I didn't have chili on the menu plan, but I did have the ingredients on hand, so we switched out whatever was that day for chili. When you have at least five days worth of dinners planned out, you know that with at least those ingredients on hand, you have a meal to fall back on. If your mood calls for something different that night and you have the ingredients on hand, don't feel like you are stuck to what's on the menu. Let your menu be a flexible guide and start with baby steps. Once you get in the routine of planning, you will find it is an enjoyable event. (Think of it this way… what better excuse do you need to get to browse through your recipe collection? My husband knows that Sunday afternoons, I can usually be found pouring over magazines, cookbooks and food blogs, all in the name of "menu planning".  Me time, with a purpose!)
Here is what the Dine & Dish household has on the menu this week. What do you have planned? Make sure to head over to Organizing Junkie to see what others are planning this week!

Let me know one thing that is on your menu this week or what you find to be the most challenging aspect of menu planning, and your comment will be entered into a giveaway for a great cookbook from Country Bob's.  Winner will be chosen by the Random Number Generator. Deadline for commenting will be 10pm CST on Friday, September 12th.
Monday – Maple Grilled Salmon from Cooking Light
Tuesday – Grilled Bacon Cheeseburger Calzones – from Everyday with Rachael Ray
Wednesday – Tacos
Thursday – Chicken Baked in White Wine Marinade from Cooking Light
Friday – Homemade Pizza
Saturday – Onion Smothered Italian Burgers from Cooking Light
Sunday – Pork and Bell Pepper Stir Fry from Everyday with Rachael Ray
Since you stuck with me through this whole post, let me share with you one of my favorite Tilapia recipes.
Mama's Supper Club Tilapia Parmesan (from Recipezaar)
35 min | 15 min prep
SERVES 4
Preheat oven to 350 degrees.

In buttered 13-by-9-inch baking dish or jellyroll pan, lay fillets in single layer.

Do not stack fillets.

Brush top with juice.

In bowl combine cheese, butter, mayonnaise, onions and seasonings.

Mix well with fork.

Bake fish in preheated oven 10 to 20 minutes or until fish just starts to flake.

Spread with cheese mixture and bake until golden brown, about 5 minutes.

Baking time will depend on the thickness of the fish you use.

Watch fish closely so that it does not overcook.

Makes 4 servings.