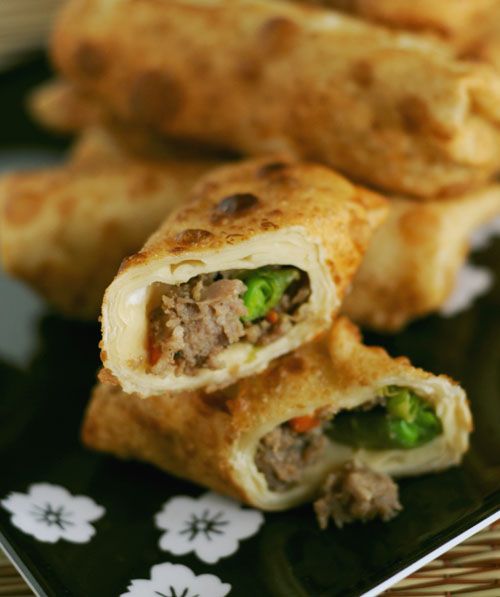 This is the first in a series of interviews that will be running a couple of times a week on Dine & Dish. In conjunction with Adopt a Blogger, I will be introducing you to the Adopt a Blogger #3 matches and giving you a little peek into their adoption experience. I hope you will enjoy the interviews. Make sure to stop by and say hi after you have read what they have to say. Oh – and if you are participating in Adopt a Blogger #3 and want for you and your match to be featured in an interview, let me know.
Also, make sure to check out the end of this post for the Effortless Egg Rolls recipe from Simple and Delicious magazine. So good, so easy and so worth trying out!
Interview and recipe after the jump:
Interview with Adopt a Blogger #3 Matches – Jennifer of Jenn Cuisine and Amy of Playing House
Why did you decide to participate in Adopt a Blogger #3?
Jennifer: I decided to join Adopt a Blogger because I really enjoy blogging about food (ok so it's a minor obsession haha) – I thought it would be a lot of fun to connect with another food blogger, and I felt that over the time that I have had my blog, I have learned a lot and wanted to share that with someone else.
Amy: I was excited for the opportunity to connect with someone who has common interests and more blogging experience. I knew that this would be a great chance to pick someone's brain and get feedback on how I could make my blog (and my food and photography) more reader-friendly.
Tell me about your Adopt a Blogger experience so far.
Jennifer: My experience has been awesome, and we have so much in common it's uncanny – we're both newlyweds, have been to New Zealand, love photography, love local fresh food, and cooking of course 🙂 Amy is just such a great person and we totally share a similar passion.  I'm really glad I've gotten to know her, and this experience has been a lot more mutual than our initial roles as "adopter" and "adoptee" would originally have one believe.  We have talked regularly throughout this experience about our food and our blogging, participated in events together (like Daring Cooks Challenges), and it has been a great relationship overall.
Amy: Jenn and I connected right away via twitter and email, and found that we had lots in common. For example, we're both newlywed grad students who have recently traveled to New Zealand. She and I exchange emails about every week or so, sometimes just checking in and sometimes with me asking an inane question, usually about photography advice!
What is one thing you have learned from your match that you think others will benefit from knowing?
Jennifer: I think the key thing is that it's really important to connect with others in the food community.  I have learned so much by connecting with Amy and participating in this event.  It's awesome getting to know others who share the same passions and joys that you do, and the more you interact with others, the more you can learn from others and build those great relationships about food.  Food is such an integral part of life, and I often think how one celebrates food is one of the defining aspects of one's culture.  I strongly believe that food is meant to be shared with others, and building relationships about something that we share such a strong passion for is really beneficial to everyone involved.  I think Amy and I have both gotten a lot out of this experience, I know I definitely have gotten a lot more out of it than I ever expected to.
Amy: Don't hold back if you're thinking about putting yourself out there. I was really self-conscious of my photos as I was first learning to use my new camera (that I got literally days before Jenn and I connected), and she encouraged me to submit photos to Tastespotting, Foodgawker, etc. I never would have had the confidence to do it on my own, but you never know 'til you try, I've had multiple successes since then!
If your match was stranded on a deserted island, what is one thing she could not live with out?
Jennifer: Assuming the desert island comes complete with fresh food and a kitchen (at least that's what I'm hoping my desert island already has!), I am going to say Mark Bittman's "How to Cook Everything", since this has been one of her favorite books to use to learn recipes.  I still need to go checkout his book after her rave reviews and all the yummy food she makes from it!
Amy: Her camera!
For more about Jennifer and Amy's Adopt a Blogger connection, read all about it on Jennifer's blog HERE and Amy's blog HERE. Thank you both for participating!
Now for the recipe:
Effortless Egg Rolls from Simple & Delicious Magazine

1/2 pound bulk pork sausage (I used 1 pound)
2-1/2 cups frozen stir-fry vegetable blend, thawed and chopped
1 tablespoon teriyaki sauce (I used 2 Tbs)
10 egg roll wrappers
Oil for deep-fat frying
In a large skillet, cook sausage and vegetables over medium heat until meat is no longer pink; drain. Stir in teriyaki sauce.
Place 3 tablespoons sausage mixture in the center of each egg roll wrapper. Fold bottom corner over filling. Fold sides toward center over filling. Moisten remaining corner with water; roll up tightly to seal.
In an electric skillet, heat 1 in. of oil to 375°. Fry egg rolls in batches for 3-4 minutes on each side or until golden brown. Drain on paper towels. Yield: 10 egg rolls