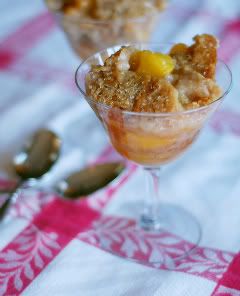 I love making lists. I think that is one of the reasons 43 Things is one of my favorite websites. It is all about making lists and marking things off. Sometimes (ok…everyday), I'll even add something to my daily sticky note lists, just so I can mark it off!
After finally finishing my "I Will Make This Someday – Magazine Version" list, which let me tell you… was quite the project… I felt like I needed to make something just so I could mark it off the list.
Out shopping for produce yesterday, I came across a stand that had fresh peaches. Juicy, ripe and delicious peaches. Peaches have never been my favorite fruit, but there was something about these peaches that were so tempting. I decided to pick up a few pounds to bring home, remembering that one of the recipes on my list was for a peach cobbler.
Texas Peach Cobbler is what I ended up making with the fresh peaches I brought home. This recipe was a perfect use of the peaches as the cobbler complemented the true flavors of the peaches well. If you, like me, enjoy making lists then make sure you add Texas Peach Cobbler to your list…even if it is just so you can mark it off the same day!
Texas Peach Cobbler, from Cooking Light Magazine
Filling:
4 cups sliced peeled ripe peaches (about 2 pounds)
2 tablespoons granulated sugar
1 teaspoon fresh lemon juice
1/4 teaspoon vanilla extract
Batter:
6 tablespoons butter
1 1/4 cups all-purpose flour (about 5 1/2 ounces)
3/4 cup granulated sugar
2 teaspoons baking powder
1/8 teaspoon salt
Dash of ground cinnamon
1 cup 1% low-fat milk
1/2 teaspoon vanilla extract
1 tablespoon turbinado sugar
Preheat oven to 350°.To prepare filling, combine first 4 ingredients in a medium bowl; set aside.
To prepare batter, place butter in an 8-inch square baking dish. Place dish in oven 5 minutes or until butter melts. Lightly spoon flour into dry measuring cups; level with a knife. Combine flour and next 4 ingredients (through dash of cinnamon) in a medium bowl. Combine milk and 1/2 teaspoon vanilla; add milk mixture to flour mixture, stirring just until moist. Spoon batter over butter, spreading evenly (do not stir). Spoon peach mixture over batter, gently pressing peaches into batter. Bake at 350° for 40 minutes. Sprinkle with turbinado sugar, and bake for an additional 10 minutes or until crust is golden.
Yield: 8 servings
CALORIES 294 (28% from fat); FAT 9.3g (sat 5.7g,mono 2.4g,poly 0.5g); IRON 1.3mg; CHOLESTEROL 24mg; CALCIUM 118mg; CARBOHYDRATE 51g; SODIUM 235mg; PROTEIN 4.2g; FIBER 2.2g