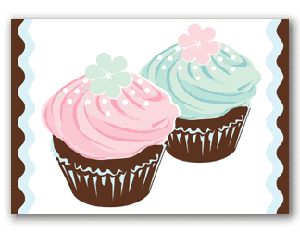 I am a sucker for office supplies and paper goods. I have drawers full of pens, pencils, sticky notes, notecards, markers, scissors, etc. I have no idea what draws me in, but this obsession of mine is slowly taking over not only my desk, but the drawers in my kitchen. I think part of the reason for the plethora of pens, scissors and paper in my house is that I grew up in a house quite the opposite. If you needed to write down a phone number or a message, you would have to search and search for a pen and paper to write on. And, if you were having a really lucky day, the pen you would actually find would work! Imagine that!
Now that this obsession is out in the open, it will come to no surprise to you all that when I stumbled upon the website of Nicole Howard, I fell in love. Nicole is the owner and designer for Miss 'N Nick Designs. Her stationary designs are sophisticated, yet whimsical. The cupcake note cards got my attention right away… what a perfect little note card to send out to all of your foodie and non-foodie friends! This is why I chose the Box of 10 Cupcakes Note Cards as the 2nd Dine and Dish Giveaway.
If you are interested in participating, simply leave a comment (please include your email address and link to your blog in the contact form) on this post by midnight CST on Saturday, May 31st. If you don't have a blog, leave a comment and email me with a link to your favorite blog… just to control trolls. The random drawing will take place on June 1st and the winner will be announced sometime that day.
While you are taking a look at Miss 'N Nick Designs, head on over to Nicole's food blog too. Her blog, Art and Ailoi ( a blog about art, food, and the art of food) has quickly become a favorite!
Thanks for entering and good luck!