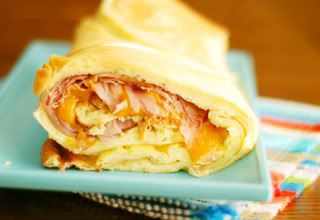 Do you ever hear of a business idea and think, "That is just genius… why didn't I think of that?" I do that all the time. In fact, I often have these brilliant ideas and then do nothing with them only to have someone come along later and make millions off of the idea.
I have a new business idea that popped into my head this weekend, and I am going to run with it, finally. I wrote out a plan of sorts today and just need to figure out the next steps. However, figuring out what those nexts steps are is the hardest part. But, this time, I am going through with it. I know I can do this and I have confidence in the idea. I just need to feel the fear of failing and do it anyway. If any of you have any know how in this and know of any resources to use to get started, I would welcome the advice!
Speaking of "Why didn't I think of that?", how about this recipe for a ham and cheese rolled omelet? I think it is absolutely genius and it was so easy to make. Mix it up, pop it in the oven, and after a few finishing touches you have a yummy and impressive breakfast on the table. Genius, I tell you… absolutely genius!
Baked Ham and Cheese Omelet Roll, from Recipezaar
30 min | 10 min prep
SERVES 4 -6
6

eggs

1 cup

milk

1/2 cup

all-purpose flour

1/2 teaspoon

salt

1/4 teaspoon

black pepper

1 cup

cooked ham

, chopped or
9 slices of any

deli ham

1 cup shredded

sharp cheddar cheese
Preheat oven to 450 degrees.

Beat eggs and milk until fluffy.

Add flour, salt and pepper and beat or whisk until smooth.

Pour into a buttered or greased 9 x 13 baking dish or pan.

Bake for about 15 minutes or until eggs are just about set.

Sprinkle with chopped ham or lay slices of ham evenly on top.

Sprinkle with cheese.

Bake for about 5 minutes more or until cheese is melted.

Starting at short side, roll up omelet while still in pan.

Place seam side down on serving dish.

Cut into slices.