I'm partnering with Pirate's Booty today with a Fruity Pirate's Booty treat recipe and I'm also sharing how you can win a trip to the 2015 Macy's Thanksgiving Day Parade!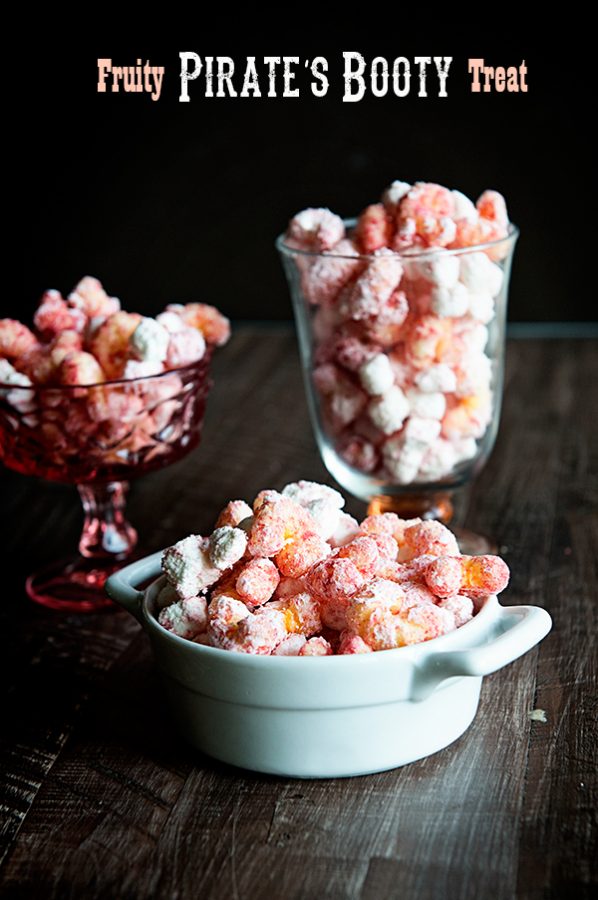 Happy Thanksgiving week, friends! How are you holding up? Are you ready for the onslaught of guests and food? We are heading up to my oldest brother's house near Chicago for a few days and I can't wait!
I love Thanksgiving…every year we seem to do something different with either my husbands family or our family…or even just friends who are home for the holiday. We never have real set plans each year but we do have a few things that the day is always full of. Fellowship with others (family family or friends family), awesome food, football AND the Macy's Thanksgiving Day Parade! No matter where we are on Thanksgiving day, we all watch the Macy's Thanksgiving Day parade! 
Enter to Win a Trip to the 2015 Macy's Thanksgiving Day Parade from Pirate's Booty
It has always been a dream of mine to attend the Macy's Thanksgiving Day parade in person… preferably on one of those unseasonably warm New York City Thanksgiving days 🙂 I'm not sure how well I'd do in the windy, cold air, but on a warm Thanksgiving day, I'd be all over it! I'm excited to let you know that my friends at Pirate's Booty are giving away a trip to the 2015 Macy's Thanksgiving Day parade! How cool is that? Entering is simple. Just follow this link and learn how you can simply share your Thanksgiving traditions to be entered to win.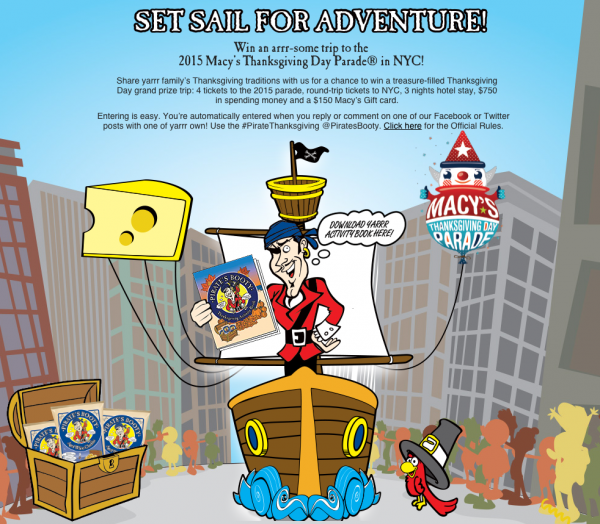 You may wonder why Pirate's Booty is hosting a giveaway for a trip to the Macy's Thanksgiving Day Parade… well for the first time ever, Pirate's Booty has a float in the parade! I can't wait to see it… from the inside information I've been given, I can tell you it is going to be pretty darn spectacular! Keep your eyes open for it… you won't want to miss it!
I decided it might be fun to tie in a Pirate's Booty recipe to my post today. My family loves the original Pirate's Booty, so we are always stocked up in our house. However, did you know that besides the traditional Pirate's Booty, they have different flavors now AND Mac and Cheese? They do! And as always, they pride themselves on no artificial colors, flavors or preservatives. You are only getting really good stuff with whatever Pirate's Booty product you buy.
I hope you enjoy this simple Pirate's Booty treat recipe, featuring their new Fruity Booty. Also, I hope you have a wonderful Thanksgiving, full of awesome family traditions and fun! Enjoy!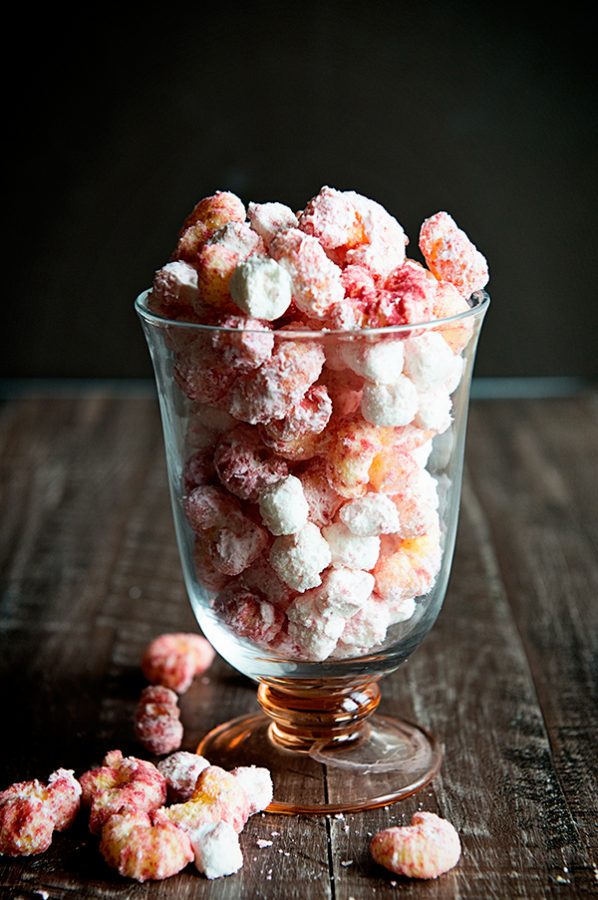 Disclosure: This is a sponsored post on behalf of Pirate's Booty. Make sure to follow Pirate's Booty on Facebook, Twitter and Instagram for updates and details on how you can win a trip to the Macy's Thanksgiving Day Parade!  Thank you for supporting the brands who help make Dine & Dish possible!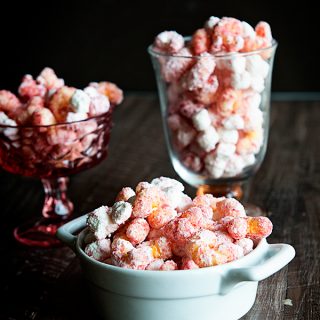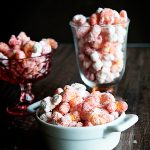 Fruity Pirate's Booty Treat Recipe
A fruity Pirate's Booty snack mix the whole family will enjoy!
Ingredients
1 4

ounce

bag Pirate's Booty Fruity Booty

1 5

ounce

bag Wilton Vanilla Candy Melts

1 10

ounce

bag mini marshmallows
Instructions
In a microwave safe bowl, melt candy melts according to package directions.

Pour Pirate's Booty Fruity Booty and Marshmallows into a large bowl. Pour melted candy melts over the Pirate's Booty mixture.

Mix together until all the marshmallows and Pirate's Booty are coated.

Serve in bags or bowls for an awesome and easy treat!