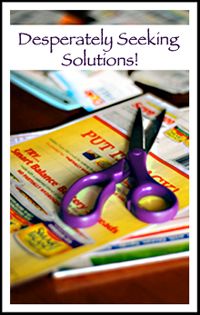 I feel like I am finally getting into a routine again. Maybe menu planning, regularly scheduled grocery shopping trips, coupon cutting, etc can resume in my life and I can start feeling a little more organized!
As I was sitting here cutting out coupons from the past three Sunday papers, I kept thinking "there has to be a better way!" I love what I use for my coupon holder… a small one photo per page photo album with each category written on the front of the page. I can easily flip through the book, the categories are specific to what I want them to be, the coupons easily fit so I can pull them out and put them in quickly and it fits nicely in my purse.
I also have a pretty good system for using the coupons when I need them. What I feel like I am lacking is the ability to maximize my savings with coupons. I am not good at comparison shopping because I find that I don't have the time to run around town to several different stores. In my ideal world, I would love to be able to get everything in one stop.
So, I am turning to you to help me out. I'd love to hear (or read about this if you have already blogged about it) your solutions for cutting coupons and maximizing your savings. Also, if you have a great way for keeping your coupons organized, I'd love to hear about that as well! Like I said before, there has to be an easier way… I just hope you know what that is!