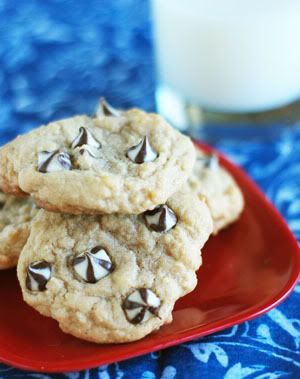 I have a new post up over at the SC Johnson Right@Home website. Delusions of a Stay at Home Mom is my reflection of how I thought things would be once I stayed at home with my kids versus the reality of my life now. I've also included my absolute, all-time favorite Chocolate Chip Cookie recipe. My friend DeLynn created this recipe with her friend Lisa several years ago and since she passed it along to me, I haven't strayed from it at all. It is 100% perfect!
Head over HERE to check it all out!
Per a couple of comments on this post, I gave credit to my source for the cookie recipe, which was my friend DeLynn & her friend Lisa. For those of you reading the comments, I will also give credit to the two people who are saying this recipe is from Mary Bartz, resident cookie expert in the Betty Crocker Kitchens. However you get this recipe or came across this recipe, it is one of the best chocolate chip cookie recipes out there.

End of the Search Chocolate Chip Cookies
1 1/2 cups butter
1 1/4 cups granulated sugar
1 1/4 cups brown sugar, firmly packed
2 teaspoons vanilla
2 large eggs
4 cups flour
2 teaspoons baking soda
1 teaspoon salt
1 bag chocolate chips (I like to use the milk chocolate / white chocolate swirl chips)
1. Preheat oven to 350°.
2. Mix butter, sugars, vanilla and eggs in large bowl.
3. Stir in the flour, baking soda and salt.
4. Stir in one half of the chocolate chips.
5. Drop dough by rounded measuring tablespoons, about 2-inches apart onto ungreased cookie sheet.
6. Place several of the reserved chocolate chips on top of each cookie (This step is not necessary…you can mix them all in, but the presentation of the cookie is better with this step in place).
7. Bake 9-12 minutes or until light brown.
8. Cool slightly.
9. Remove from cookie sheet, cool on wire rack.