I'm honored to be a part of the 2013 Kraft Tastemaker Community, where I am teaming up with Kraft Foods to bring you family friendly recipes using common ingredients found in your pantry!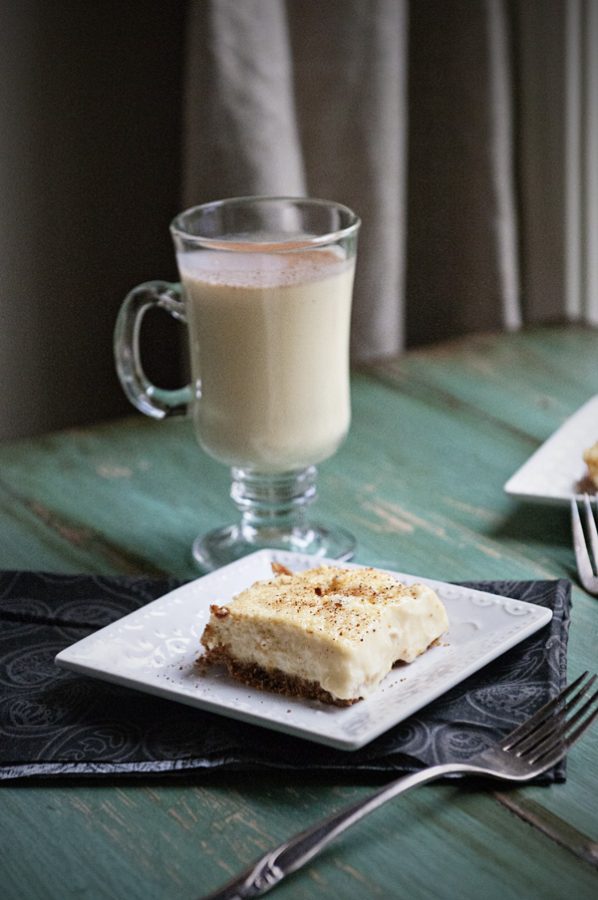 Is it too soon in the holiday season to talk eggnog? Because I'm not trying to rush past Thanksgiving by any means, but eggnog season is just soooo short, and I kind of love it. I really want to stretch it out as long as possible.
Are you an eggnog fan? For me, I usually buy one carton of eggnog a year to drink and that tides me over, but oh how I love to bake and cook with eggnog. As soon as eggnog hits the store shelves, I'm buying it and adding it to pancakes, cookies, bread, coffee, etc. Eggnog adds such wonderful flavor to so many recipes!
It's no secret that we love cheesecake around the Dine & Dish house. It is probably one of my favorite desserts – and boy am I lucky because there are so many different variations to choose from. PHILADELPHIA Cream Cheese has launched a fun, interactive website this holiday season called Cheesecake Cheer! The site is dedicated to celebrating the wonderful world of cheesecake, with great cheesecake recipes, cooking tips and how to's from expert cooks.
It was after drooling over the Triple Caramel Cheesecake Bar recipe on the Cheesecake Cheer site that I became inspired to create a variation using Eggnog. The result was an amazing holiday treat, wonderful for any eggnog and cheesecake lover out there.
I hope you enjoy this new holiday favorite!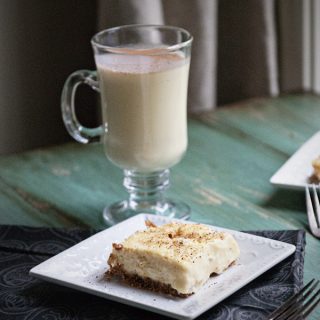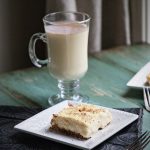 Eggnog Cheesecake Bars Recipe
These Eggnog Cheesecake Bars with a hint of nutmeg will become a definite holiday dessert favorite!
Ingredients
1 1/2

cups

graham cracker crumbs

3

Tablespoons

melted butter

1

Tablespoon

sugar

1/4

teaspoon

grated nutmeg

4

packages

8 ounces each PHILADELPHIA Cream Cheese, softened

2/3

cup

sugar

1

cup

eggnog

full fat variety

2

teaspoons

vanilla

4

eggs

Eggnog spice for garnish
Instructions
Preheat oven to 325°

Mix graham cracker crumbs, butter and 1 Tablespoon sugar in a bowl. Press into the bottom of a 9x13 baking pan.

In the meantime, beat cream cheese, 2/3 cup sugar, eggnog and vanilla until well blended. Add eggs, 1 at a time, mixing on low speed after each addition until well blended. Gently pour over crust.

Bake for 45 minutes or until center is almost set and not jiggly. Run knife around the rim of a pan to loosen the sides; cool. Refrigerate for 4 hours.

When ready to serve, slice into squares and sprinkle with nutmeg.
Disclosure: I'm honored to be part of the Kraft Tastemaker community. I have been compensated for my time and ingredients. All opinions expressed are my own.