This tasty Tilapia Recipe can be your ultimate "fast food" on a busy weeknight! Make it today and turn even your pickiest of fish eaters into fans!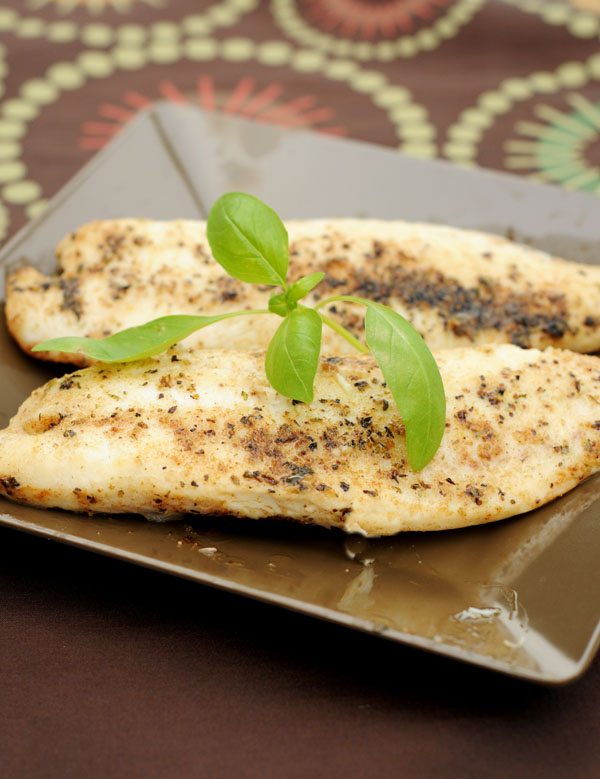 I've been blogging for close to 3 years now and apparently I haven't learned a darn thing in the time that I have been doing this. One of the rules of blogging, according to such pros as Darren Rowse from ProBlogger, is to have a plan for your blog if you are taking a blogging break. Have guest writers, plan some posts in advance to launch while you are on your break, return to your archives and share posts from the past… all of these options are good ones if you plan on taking a vacation from blogging.
If I was thinking ahead of time, I certainly would have done any one of these. The truth is, I didn't think I'd be gone for long. I thought that I would maybe even be blogging from the hospital bed soon after the baby was born! Then this sweet little pumpkin entered into my life and I suddenly found that I had other things I wanted to focus my time on. The challenge with food blogging is that even if you have the desire to write, the desire to cook may not accompany the writing desire. It seems as if that is the case for me anyway.
Well, for those of you here for a food and the blogging, you will be happy to know that the desire to write and cook is finally returning! I am still completely smitten with our newest addition, but after 2 weeks (can you belive Leah is already 2 weeks old?) we are slowly getting into a bit of a routine and I am finding some time to get back to some normalcy, which includes cooking and writing.
For now, you will have to suffer through some fairly quick and simple recipes as I am not dying to go all gourmet on you right now.  This Tasty Tilapia recipe is so easy, and like many Tilapia recipes, is perfect for a family who is looking to get something delicious and nutritious on the table without taking away from the escaping hours in the day.
Thanks for sticking around during my little blogging break. I can't promise that my posts will be all that consistent over the next little while, but I will get back to regular blogging very soon! Oh, and if you haven't recently, make sure to head over to the Mommy Madness site to check out my current posts and videos. If you are in Kansas or Missouri, I'd love to earn your vote!
Tasty Tilapia Recipe
This simple tilapia recipe will turn even the pickiest of fish eaters into fans!
Ingredients
Tasty Tilapia

from Recipezaar

11

min | 5 min prep

SERVES 4

1 

lb

tilapia fillet

2 

tablespoons

butter

2-3 

teaspoons

olive oil

1/2 

teaspoon

basil

2 

teaspoons

cajun seasoning

1 1/2 

teaspoons

dried onion flakes

1/2 

teaspoon

garlic powder

1/2 

teaspoon

parsley flakes

lemon pepper

to taste
Instructions
In a large sauce pan, over medium heat, saute together everything except the fish.

Add the fish, and adjust the heat to medium-high. The fish will cook quickly.

Brown each side cooking for 3-4 minutes per side. (adjust temperature if needed).

Be careful not to over-cook the fish.
Recipe Notes
Recipe adapted from Recipezaar.com