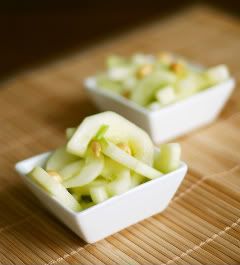 We went to a block party last night and the instructions were to bring something to grill and a side to share. The party started at 5:30pm and at 4:30pm I was still engrossed in work and it dawned on me that I hadn't made a side dish yet. With a trip to the grocery store on the plan for the weekend, I looked through my fridge and pantry and realized I had very little that I could just "whip up" as a side dish. Being a food blogger and someone who enjoys cooking, the expectations of what you are going to show up with at an event like this can be set a little high.
As I was trying to rack my brain for ideas, I decided to instant message one of my co-workers to see if she had any ideas. She rambled off a list of things, but it was the Cucumber Salad that got my attention. She had made it for her Book Club group the weekend before and it got rave reviews. She said lots of ladies asked for the recipe. The best part about it was I had everything, but the cucumbers, on hand. My husband was out so I called him and he brought the cucumbers home.
The salad was incredibly easy to pull together…we are talking a 10 minutes or less kind of salad. The aroma was tempting and I was in love at first nibble. The only problem was, my poor salad looked very bland. The green of the cucumbers and the green of the onions blended together and the salad had no "bowl appeal".
I took my salad to the party with me and was disappointed when I watched person after person pass it by. Finally, one lady gave it a chance and when she sat down near me she said something about how good it was. A few more people gave it a try, but I came home with at least half of the salad left over. Of course, as we walked home, I nibbled and nibbled on the salad and it was almost gone by the time our walk was through!
So, my suggestion… please give this poor salad a try. I promise that you'll like it! I wouldn't suggest taking it to a pot luck because it really does lack that temptress nature. If you are having a sit down meal at your own home, pass this around and I can guarantee it will be a hit. It may not be beautiful, but it sure is good!
From my friend Deborah who got it from an issue of Cooking Light Magazine
Cucumber Salad with Rice Vinegar Dressing
3 cups thinly sliced seeded peeled cucumber (about 2 medium)
3 tablespoons rice vinegar
1 teaspoon sugar
2 teaspoons dark sesame oil
1/2 teaspoon salt
2 tablespoons chopped green onions
1 1/2 tablespoons chopped unsalted, dry-roasted peanuts
Combine first 5 ingredients in a medium bowl; toss to coat cucumber. Sprinkle with onions and peanuts before serving.
Yield: 6 servings (serving size: 1/2 cup salad, 1 teaspoon green onions, and 3/4 teaspoon peanuts)
CALORIES 42 (60% from fat); FAT 2.8g (sat 0.4g,mono 1.2g,poly 1g); PROTEIN 1g; CHOLESTEROL 0.0mg; CALCIUM 12mg; SODIUM 199mg; FIBER 0.7g; IRON 0.3mg; CARBOHYDRATE 3.7g