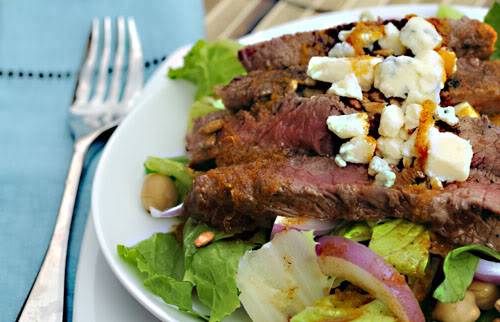 When I met my husband many moons ago, I had quite a bit of baggage that I brought into the relationship with me. I will go into all of that another day, but I was pleasantly surprised when Nick's family welcomed me in with open arms, not really caring at all about the baggage I had. They welcomed me without giving it a second thought. I can tell you this… they would have totally shunned the relationship if I was one thing, and that is a vegetarian! Being beef farmers, I think having a vegetarian in the family would have been a total deal breaker.
Last week I was contacted to be one of six food blog "ambassadors" for a new weekly challenge that has launched called "Beef – What's for Dinner Wednesdays". Each week, the Beef. It's What's For Dinner Facebook fan page will be updated with a new recipe to make. The challenge is to make the recipe and post your results on the Facebook fan page. Each person who participates will be entered into a drawing to win one of several really cool gift baskets which include The Healthy Beef Cookbook (which I've been using for months now and love!), a set of Crate & Barrel Grilling Tools, Sur La Table mini steak thermometers, a reusable shopping bag and other items to help you shop for and cook healthy beef meals. These drawings are happening each week (with several winners chosen each week) so your chances of bringing one of these cool prize packages is great! Check out the Beef. It's What's For Dinner fan page for more details!
This week's recipe was a Cajun Beef Southwestern Salad. I made a few changes. First of all, we aren't big fig fans around here, so I totally omitted that. Plus, I used sunflower salad nuts instead of pistachios, simply because that's what I had on hand. Oh, and I used Romaine lettuce… again because it was what I had in the fridge. The salad had quite a kick to it and I loved it. The kiddos weren't big fans, but I think that is because it was too zesty for them. I LOVED this dressing and can envision more salad creations to use it on!
Make sure you check out the Facebook fan page to read all the details about how you can start participating. Next week's recipe sounds so delicious… East Meets West Burgers. Yum!
When you get a moment, head over to the other ambassador blogs as well!
Disclosure: This blog post contains affiliate links. As an Amazon Associate, I earn from qualifying purchases.