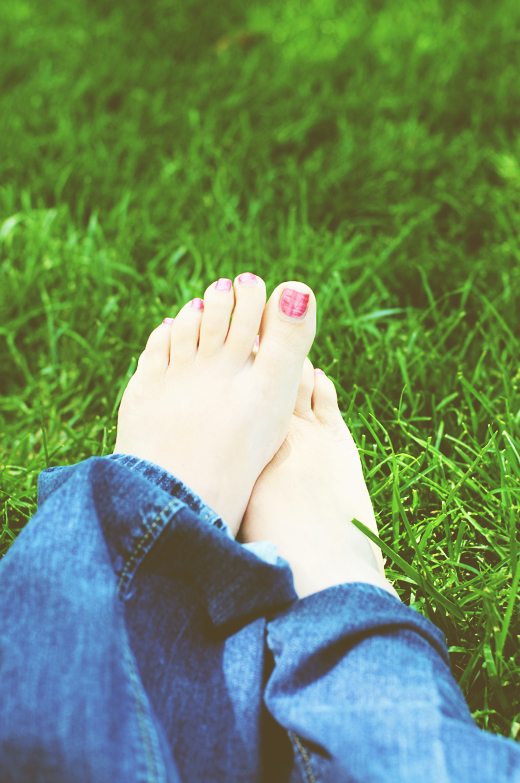 This giveaway is now closed. Congratulations to Nancy, Chelsea , Crystal and Wendy Dunn! Thanks for entering.
I can't believe I am opening this post with a picture of my bare feet. You see, I have had serious foot confidence issues for most of my life. When I was in 3rd grade, I was at my Grandma's when a large, very heavy clay pot fell off a window sill and landed on my left foot. My big toe was smashed pretty badly and it wasn't a pretty sight.
I don't remember anyone every commenting on my feet, but as a kid I was very self conscious of them. Not only did I have the smashed toe thing going on, I also had big feet for a girl. In addition to that, I came from a family of not pretty feet. It was just a fact I had to deal with.
For my entire childhood, after the clay pot incident, I never, ever wore any type of shoe that would show my toes. If I had to go barefoot, like at the pool or something, I would make sure to cover my feet with a towel or jump in the pool really fast. More often than not, I was wearing out socks all the time because I'd wear socks without shoes outside in the yard, around our house, etc.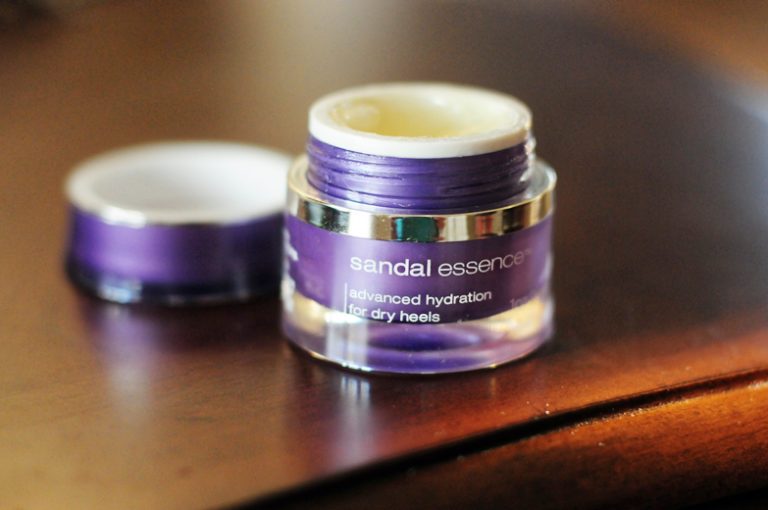 Luckily, in college, I discovered the joy of a professional pedicure. Oh, you can bet I was a self conscious mess during the first several pedicures… making excuses and what not for how ugly I felt my feet were. But, I never felt so pretty in my life than I did after my first pedicures. I discovered the joy of open toed sandals and walking barefoot in the sand. I enjoyed laying out and not getting a sock tan line. I enjoyed a lovely thing called foot confidence! (OK – I just made that up but I bet there is such a thing as foot confidence).
With four kids, a budget, and busy schedules, making it to the spa to get a pedicure doesn't happen nearly as often as I'd like. That's why, when I discovered Sandal Essence I knew I wanted to share this foot magic with you all! Sandal Essence isn't for ugly toes, but it is for dry, cracked, flip flop ruined heels. Exactly the kind of heels you do NOT want sticking out of your sandals this summer. I've been using Sandal Essence for a few weeks now and can tell you it is the best product I've tried for keeping my heels moisturized. I absolutely love it. I apply a small amount once a day and it has kept my feet in tip top shape in between pedicures.
I'm happy to let you know my friends at Sandal Essence have offered to give 3 lucky Dine & Dish readers a container of Sandal Essence! You want pretty feet this summer, right? Well, this is the product to help you with that!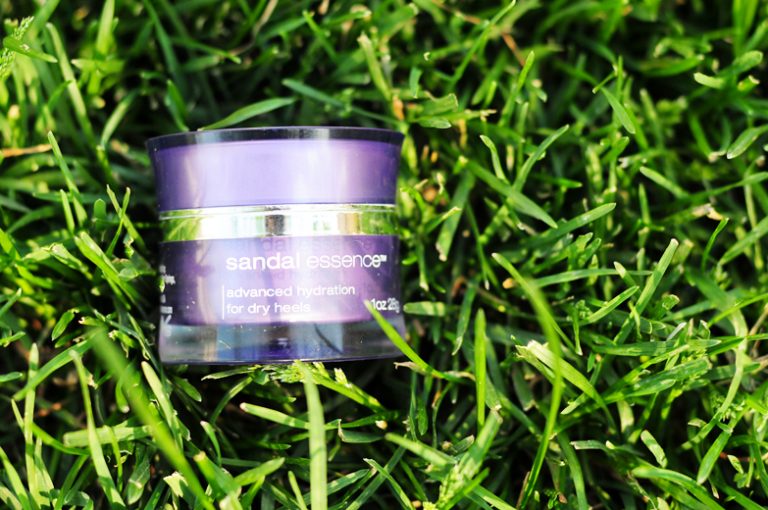 Giveaway Details:
To enter the giveaway, simply leave a comment on this post letting me know where you plan on showing off your gorgeous feet this summer! For up to three additional entries do any or all of the following:
Become a fan of Sandal Essence on Facebook. Leave a separate comment on this post letting me know you've done this.
Tweet the following: "I want to keep my feet beautiful this summer by winning the Sandal Essence #Giveaway on @DineandDish http://bit.ly/IwmstM " Leave a separate comment on this post letting me know you've done this.
The three (3) winners will be chosen via random.org and notified via valid email address. All comments must be received by midnight, CST on Tuesday, April 17th when the giveaway will close.
As a fan of Sandal Essence, I was sent product for my use. They are graciously providing the giveaway items to the winners. All opinions expressed are my own.