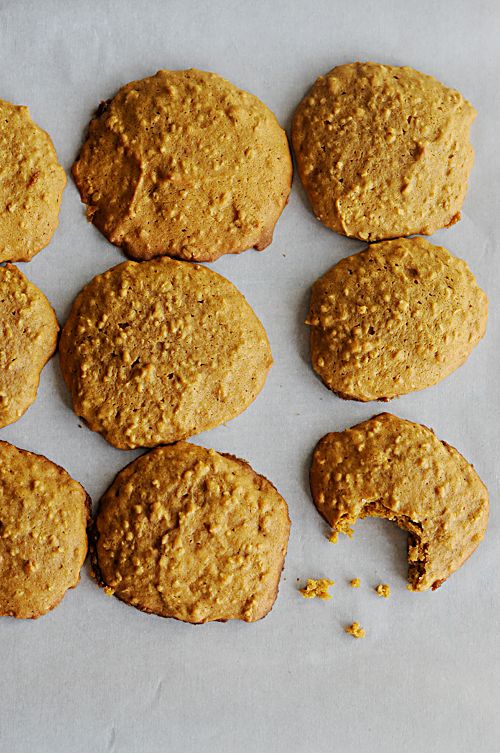 Ever since I came into contact with the folks from the Quaker Chewy Afterschool Rocks program and the After School Alliance, I've been trying to think of ways to be more involved with my kids when they get back home from school. I took some time to search through the afterschool toolkit for parents and teachers and came across so many ideas to make afterschool time special. The ideas that I loved the most, though, revolved around cooking. I've said time and time again how I think cooking with your kids is teaching them such a vital, lifelong skill and builds strong bonds within the family as well.
Life is crazy around the holidays, and I know how having your kids help you in the kitchen is not always the quickest or easiest route to getting things done, but when time is tight and you want to engage your kids and get some of your holiday baking done at the same time, look to afterschool time to do both.
I needed to make some cookies for a Thanksgiving teacher event, so I decided it would be the perfect project to have my kids help me with.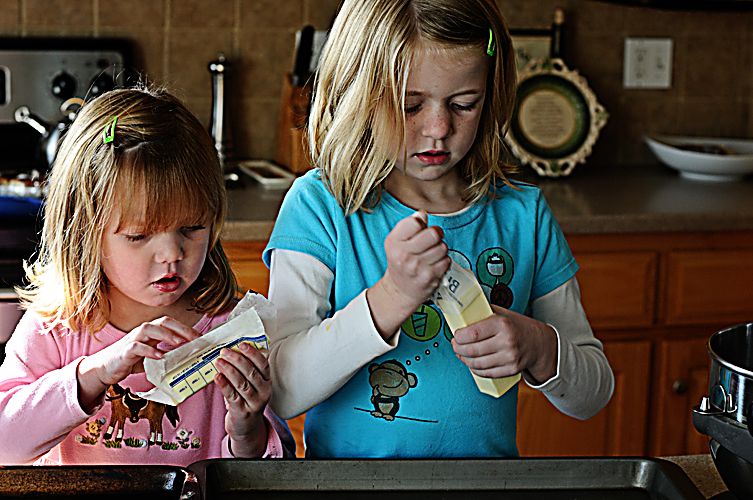 We got busy in the kitchen. Thankfully this recipe for Quaker's Pumpkin Oatmeal Cookies required two sticks of butter because unwrapping the sticks of butter seems to always be something the girls bicker about when one or the other gets to do it. Who knew opening butter could be so fun? Look at how intense these gals are at getting their task done!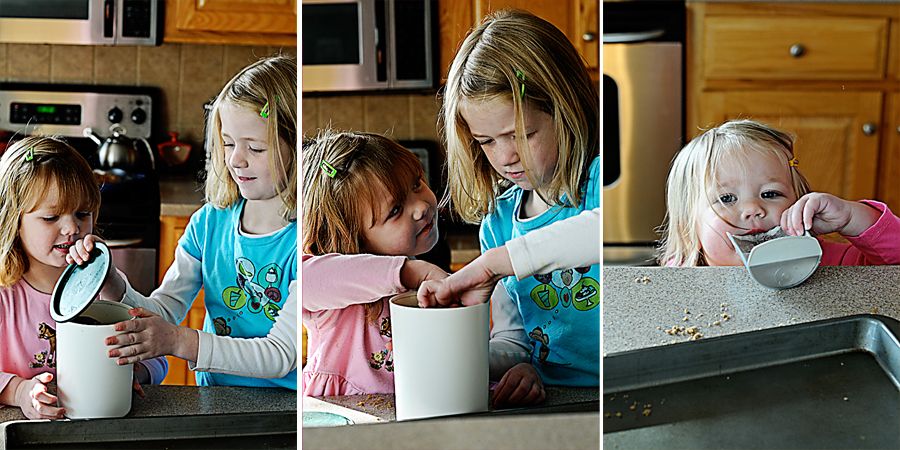 And of course, their next favorite part… adding the sugar. By the way, thank you sooooo much, Auntie Sandie, for teaching them about eating sugar balls!
It is usually after the sugar is all in and the chance of yummy tastes is gone that my sugar lovers lose interest.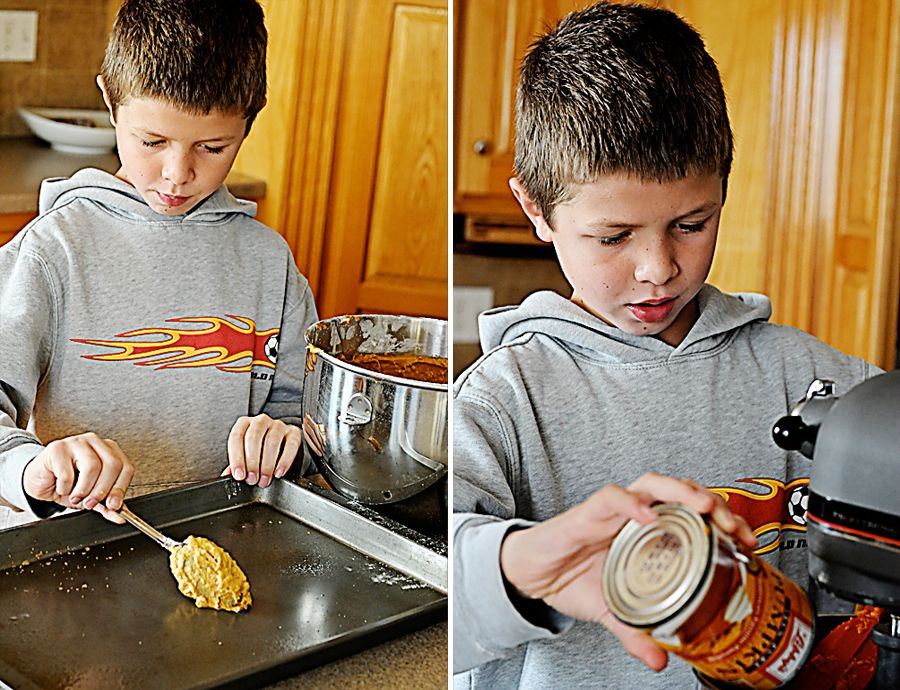 Thank goodness Jacob likes to stick around for the rest of the dirty work. He's pretty darn good at dumping ingredients in and now that he's in 3rd grade, he can do most of a fairly straightforward recipe without a lot of instruction from me.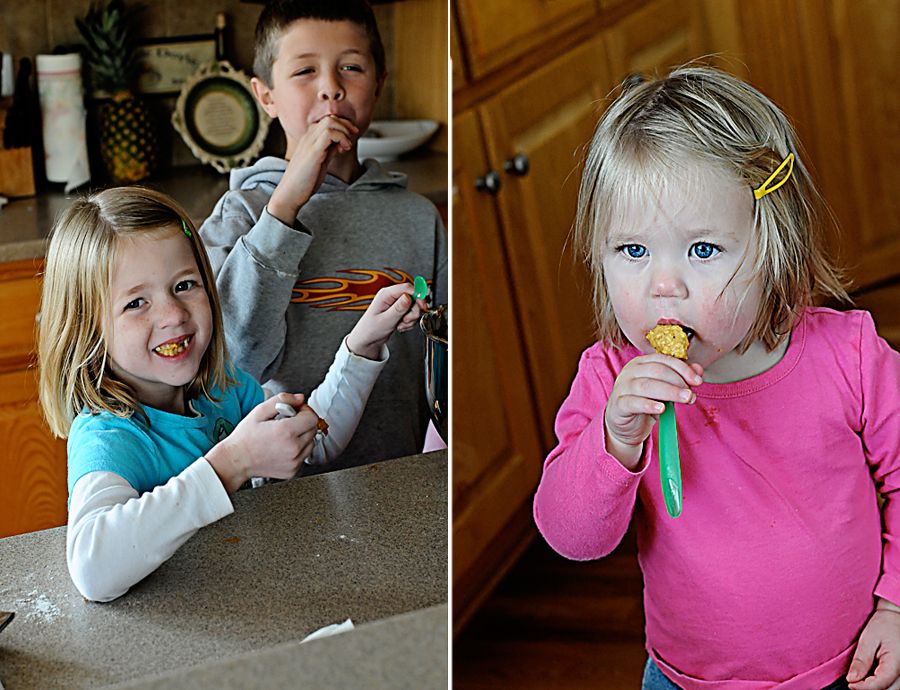 Word got out that the dough was ready. Funny how suddenly everyone flocks to the kitchen for a taste when they hear that!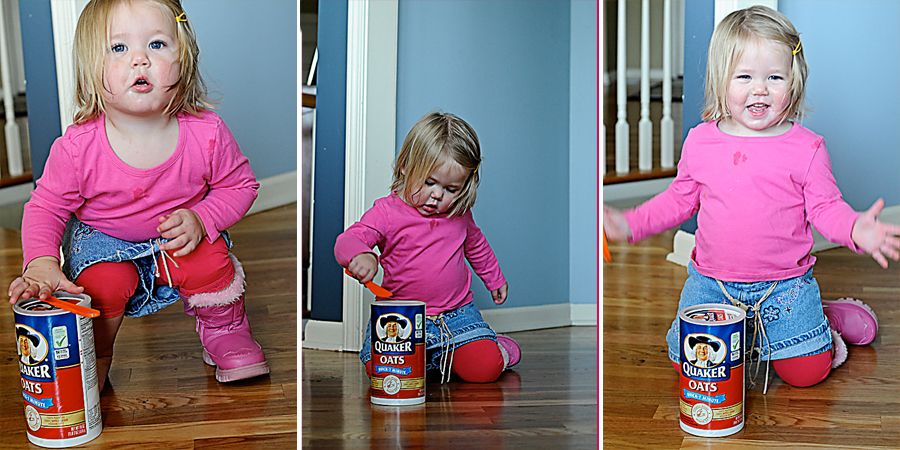 The cookies are in the oven now, so what to do with all that time we have to spend waiting? Well, Leah seemed to have a pretty grand old time with the Quaker Oats container.
And the 15 minutes the cookies took to bake was the perfect amount of time to get homework done for the night!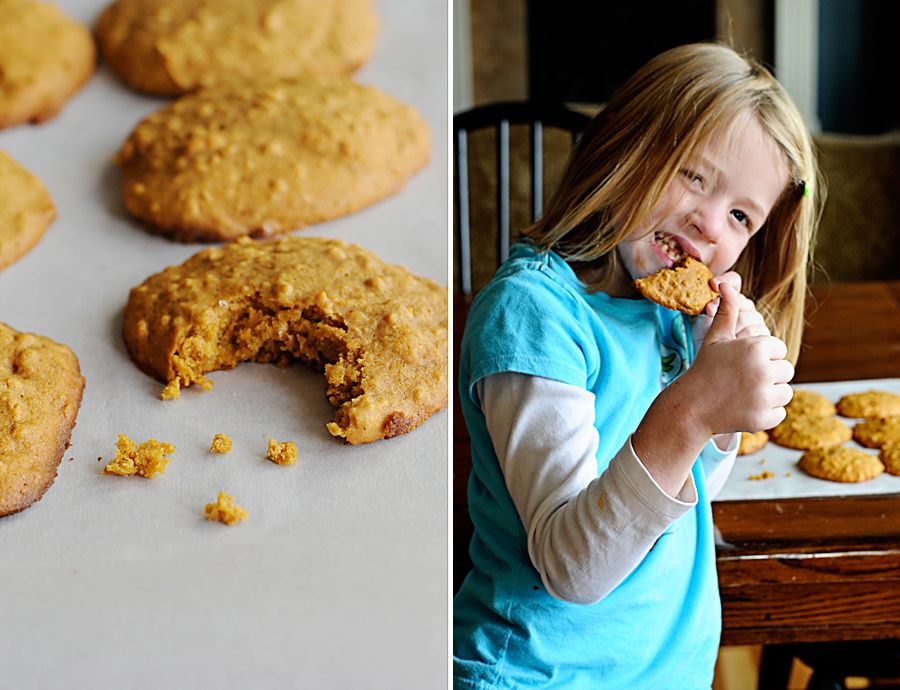 The cookies are done and now, we have accomplished several goals. We've spent some quality afterschool time together in the kitchen. We've made a delicious afterschool snack and my Thanksgiving cookies for the school staff are made.
(That is, if the cookies last long enough. These are some darn good cookies… I have to say I've been guilty of sneaking a bite here and there!)
Recipe: Quaker Great Pumpkin Cookies (from the Quaker Oats Website)
2  cups all-purpose flour
1-1/3  cups Quaker® Oats (quick or old fashioned, uncooked)
1  teaspoon baking soda
1  teaspoon ground cinnamon
1/2  teaspoon salt
1/2  pound (2 sticks) butter or margarine, softened
1  cup granulated sugar
1  cup firmly packed brown sugar
1  cup LIBBY'S® 100% Pure Pumpkin
1  large egg
1  teaspoon vanilla
3/4  cup chopped walnuts (we omitted)
3/4  cup raisins (we omitted)
Decorating icings, semi-sweet chocolate chips, candies, raisins or nuts (optional)
Heat oven to 350°F. Grease baking sheets.
In medium bowl, combine flour, oats, baking soda, cinnamon and salt; mix well. In large bowl, beat butter and sugars with electric mixer until light and fluffy. Add pumpkin, egg and vanilla; mix well. Add flour mixture; mix well. Stir in nuts and raisins (we omitted). Drop 1/4 cup dough onto prepared baking sheet; spread into 3-inch circle or oval. Repeat with remaining dough.
Bake 14 to 16 minutes or until cookies are firm and lightly browned. Cool 2 minutes on baking sheets; remove to wire racks. Cool completely. Decorate as desired with icing, chips, candies, raisins or nuts. Makes 20 large cookies.
I have been compensated by Quaker Chewy to be a partner with this great program, however, any opinions stated within this post are my own.