Made in partnership with Hills Bros Cappuccino Single Serve Cups, these Salted Caramel Cappuccino Sandwich Cookies are just a bit fancy and a whole lot of good!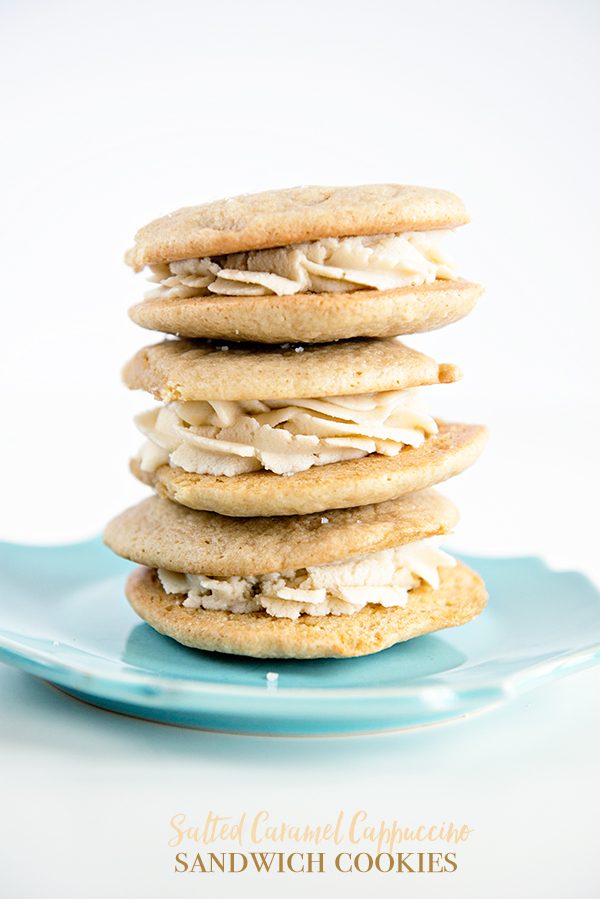 Awards season is here, and if you are like me, it's one of your favorite times of the year. I love all the fancy red carpet dresses, dishing on the drama at the awards ceremonies, and all the acceptance speeches. But most of all, I love the movies. There's something about this time of year and all the incredible movies being highlighted that makes me happy. What I wouldn't give for a whole week to catch up on all the "bests" up for nomination!
One of my favorite parties to attend every year is my friend Mary's Academy Awards party. We play Oscar Bingo, gossip about all the red carpet fashion, and eat lots of amazing food. This year, I plan on making these Salted Caramel Cappuccino Sandwich Cookies. Mary's party is just a tad fancy, just like these cookies. They aren't over the top or too difficult to make, but they are definitely worthy of an Oscar party event!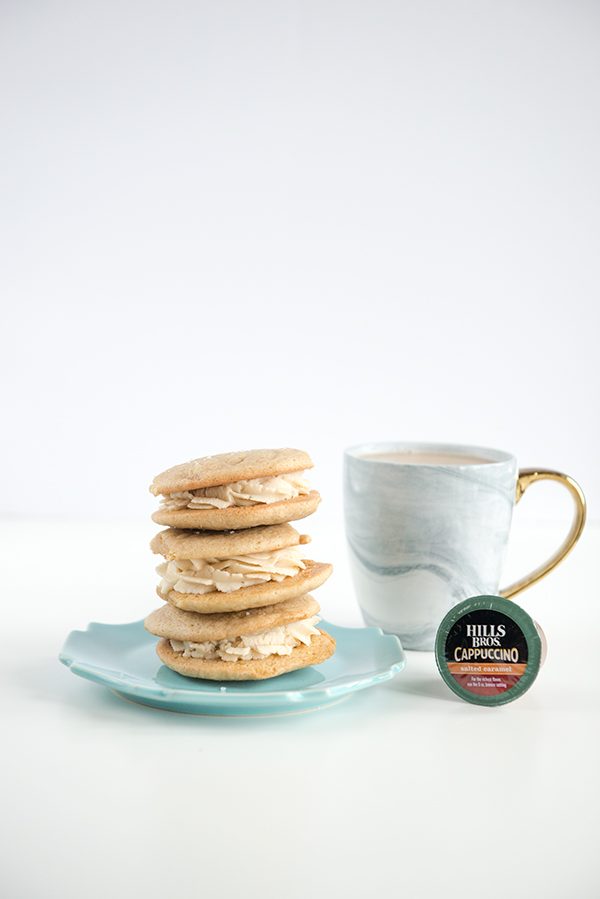 The star of the Salted Caramel Cappuccino Sandwich Cookies is Hills Bros Salted Caramel Cappuccino. It's a special ingredient in both the cookies and the salted caramel buttercream frosting and really takes the flavor up a notch! These single serve cups are compatible with all K-CUP® brewers and contain no artificial sweetener, glutens and trans fats. As much as I love using any of the 4 flavors (French Vanilla, Double Mocha, English Toffee, Salted Caramel) in recipes, having a Hills Bros Cappuccino bar at your next awards night event would be pretty cool too!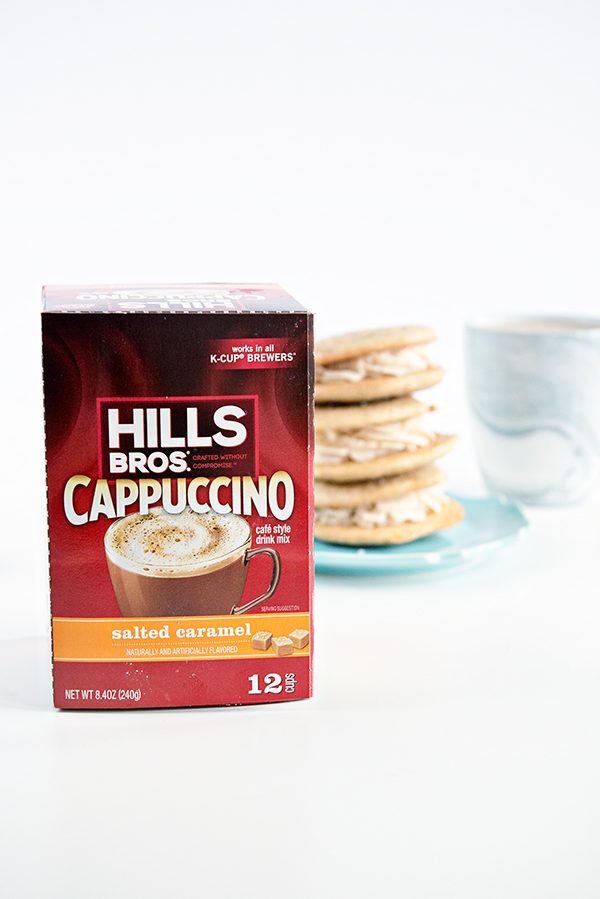 A word about this Salted Caramel Cappuccino Cookies…you can use any of the flavors of Hills Bros Cappuccino Single Serve Cups. For salted caramel follow the recipe like I did below. For a different flavor, like maybe English Toffee Cappuccino Cookies, just change the flavor of the Hills Bros Cappuccino Single Serve Cup you use. It's that easy!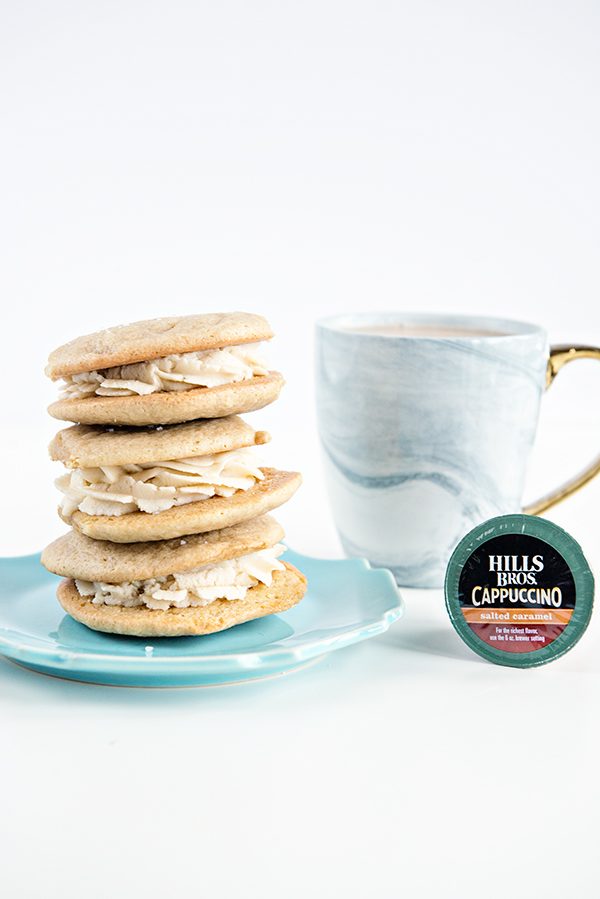 My friends at Hills Bros want to help you celebrate awards season BIG TIME! They currently have a #CappTheNight sweepstakes where you can enter to win a $2500 shopping spree or one of SIX Award Seasons Prize Packs! The sweepstakes is open until February 28th, 2017, and you can see how to enter in the widget below.
#CappTheNight Awards Season Sweepstakes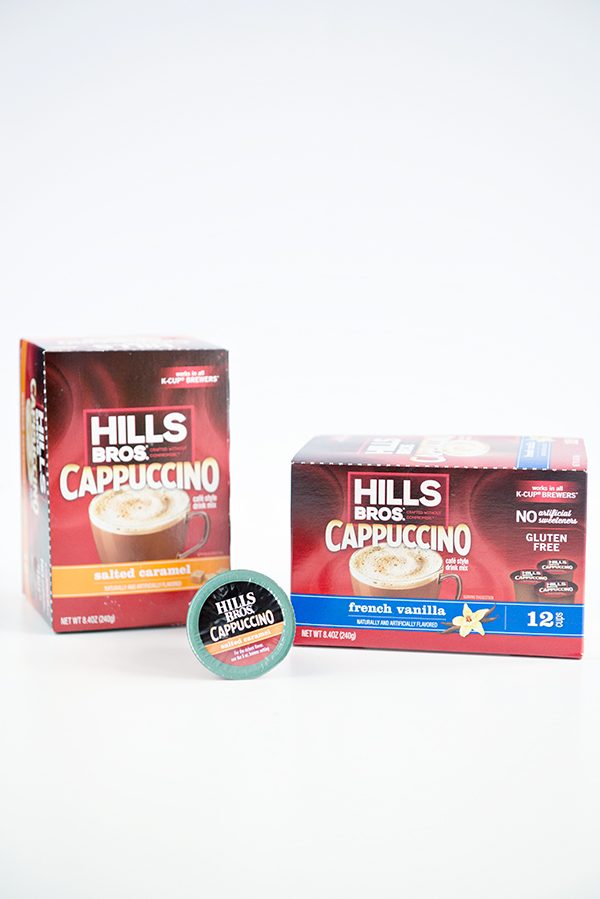 Are you ready for this Oscar party worthy recipe? You can find it below. Enjoy!

Salted Caramel Cappuccino Sandwich Cookies
A rich buttery frosting is sandwiched in between 2 soft and tender salted caramel cappuccino cookies, bringing you a dessert worthy of awards.
Ingredients
For the Frosting:
½ cup butter, softened
1½ cups Confectioners Sugar
¼ cup Hills Bros Salted Caramel Cappuccino Coffee, brewed and cooled to room temperature
For the cookies:
1 cup butter, at room temperature
½ cup granulated sugar
¾ cup brown sugar
1 teaspoon vanilla extract
1 egg
6 oz Hills Bros Salted Caramel Cappuccino Coffee, brewed and cooled to room temperature
2 cups all purpose flour
¼ teaspoon baking powder
¾ teaspoon baking soda
¼ teaspoon salt
Fleur de Sel or Sea Salt optional to sprinkle on the cookie sandwiches after baked
Instructions
For the Frosting:
In the bowl of an electric mixer, beat the butter until creamy. Gradually add the sugar, being sure to stop the mixer and scrape the sides of the bowl occasionally. Finally, add the cooled coffee and beat until smooth.
For the Cookies:
In the bowl of an electric stand mixer, beat together butter and sugars until combined and fluffy.
Add in vanilla and eggs and beat until just combined.
Slowly pour in room temperature coffee and beat until incorporated.
Add flour, baking powder, baking soda and ½ teaspoon salt. Mix until dough is formed. Cover and chill for 30 minutes.
Preheat oven to 350°F.
Using a small cookie scoop, scoop dough onto Silpat or parchment lined cookie sheets with plenty of space in between each cookie (dough will spread as it cooks).
Bake for 12-14 minutes or until cookies are soft and light brown.
Let cool for 3 minutes, then remove from cookie sheet and cool completely on a wire cooling rack.
Once cooled, pipe frosting onto half of the cookies, then top with an additional cookie, forming a "cookie sandwich". Sprinkle top of cookie sandwich with a pinch of Fleur de Sel or Sea Salt, if desired.
Cookies may be stored in the fridge until ready to serve. Yields approximately 1 dozen cookie sandwiches (or 24 individual cookies).
Disclosure: I was asked to participate in the #CappTheNight campaign, sponsored by Hills Bros.Cappuccino. Although I have been compensated, all opinions are my own.