I lived off this recipe the two times I did Whole 30…and it's still one of my favorite go to meals today!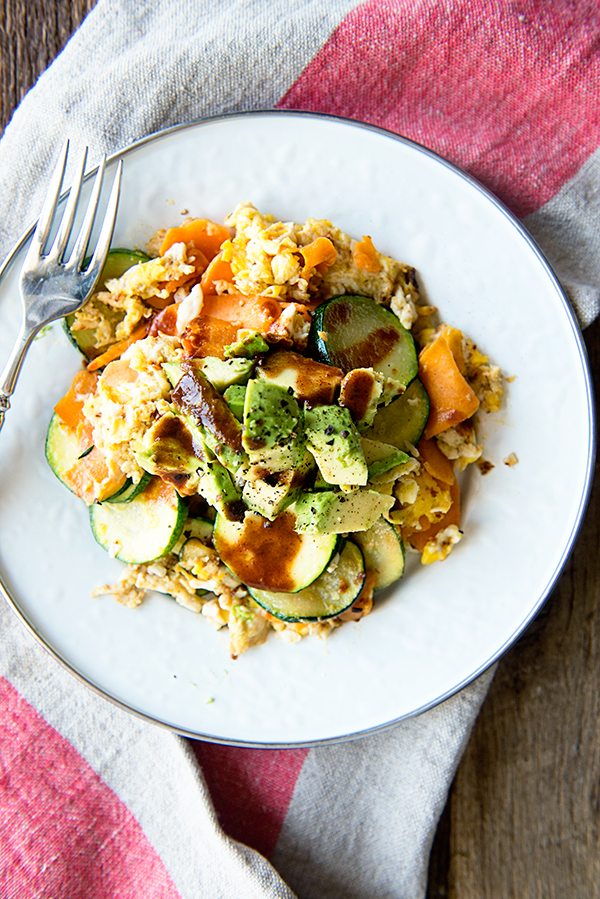 If any of you have attempted Whole 30, then you know as well as I do when you find a combination of foods you love that fits into the narrow parameters, it's like finding a pot of gold.
I discovered this Avocado and Sweet Potato Hash combination on week 2 of my first go at Whole 30, and I'll tell you… I loved it so much I had it at least once a day (sometimes twice!) during the 30 day duration. This recipe is made up of tender (spiralized) sweet potatoes, sliced zucchini, garlic, scrambled eggs, my favorite California Avocados and a splash of hot sauce. It's one of those incredibly satisfying recipes…so satisfying that you tend to forget what you are giving up when you eat it!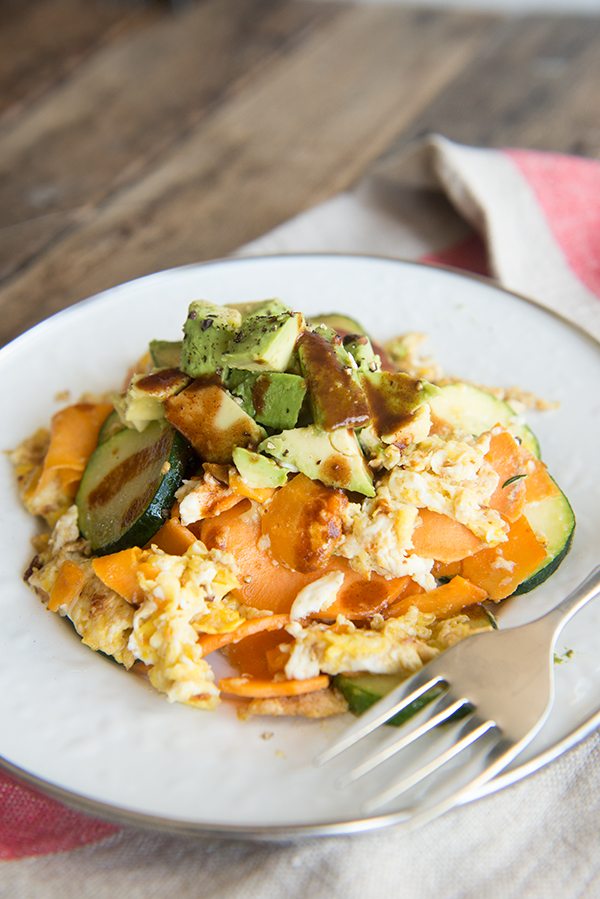 One thing that Whole 30 opened my eyes to was vegetables at breakfast. Never before had I considered a vegetable like zucchini a breakfast food. But now, after 2 rounds of Whole 30, I've discovered how good vegetables can be in the morning. Naturally California Avocados have always been a part of my breakfast (here are some of my favorite avocado breakfast recipes), but other vegetables at breakfast time were new to me!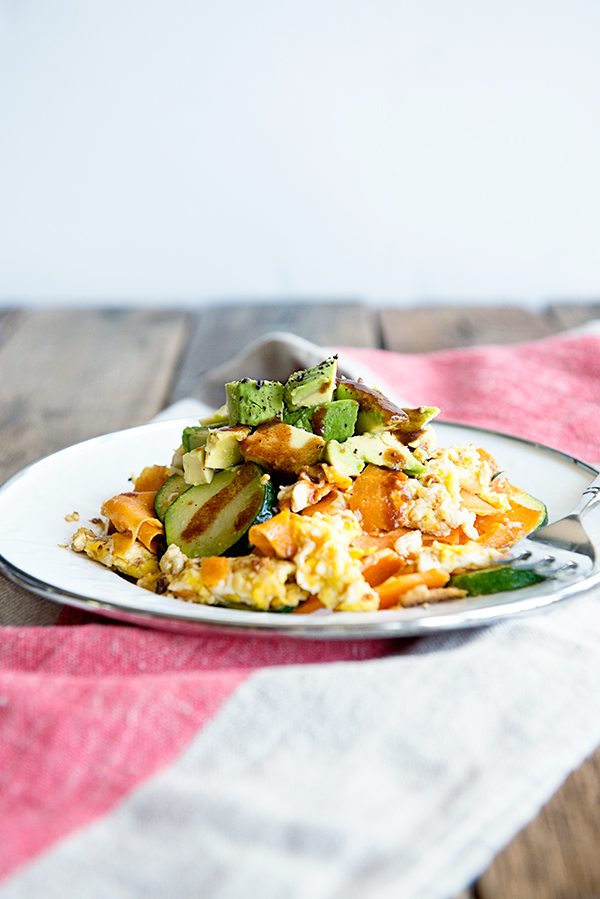 If you are looking for a way to amp up breakfast to the next level, definitely give this nutritious and delicious California Avocado Sweet Potato Hash recipe a try! It's great for breakfast and even better as leftovers. Enjoy!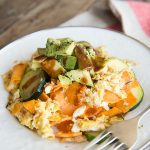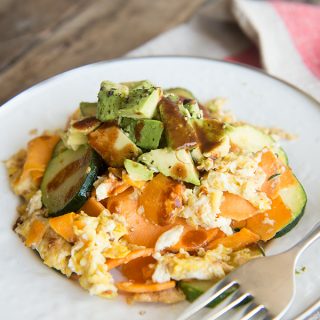 Whole 30 California Avocado Sweet Potato Hash
A simple wholesome recipe full of veggies and good things to start your day!
Ingredients
1

Ripe California Avocado

peeled, seed removed and diced

2

teaspoons

coconut oil

divided

1

medium sweet potato

peeled and spiralized or thinly sliced

1

zucchini

sliced thin or spiralized

2

cloves

garlic

minced

2

eggs

Salt

pepper and hot sauce to taste
Instructions
Preheat 1 teaspoon of coconut oil in a large skillet over medium heat.

Add garlic, sweet potato and zucchini. Stir and cook for 5-7 minutes or until vegetables are tender. (The thinner the veggies, the faster they'll cook - so keep a close eye on it!)

Push vegetables over to the side of the skillet, add the additional teaspoon of coconut oil. Once the oil is heated, add 2 eggs and scramble.

Once the eggs are scrambled, stir together with the cooked vegetables.

Top with diced California Avocados, salt, pepper and hot sauce.

Serves 2.
 Disclosure: This is a sponsored post on behalf of my long time client, California Avocados. For more great recipes featuring California Avocados, make sure to check out their great recipe database!