A simple One Pot Chicken with Kielbasa and Beans recipe, featuring Bush's Great Northern Beans. Plus, my family friendly menu plan for the week!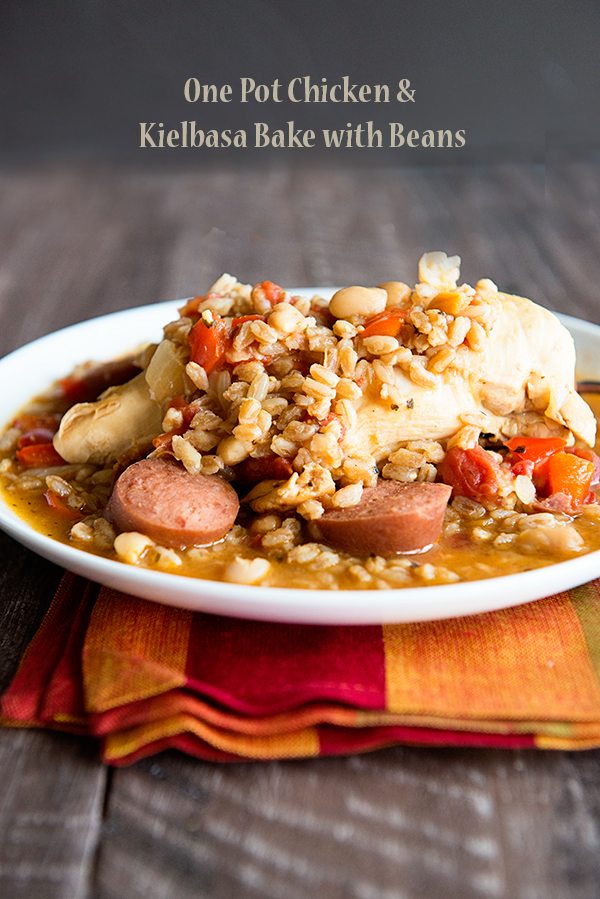 Last week was Dine & Dish's 8 year anniversary! I can't believe I totally forgot to do something to celebrate with you all. How about if after the holidays we have a prize packed celebration? We can throw a little fun and excitement into the doldrums of January instead of having all the fun be this time of year. Does that sound good?
Whether you've been a reader since the awful pink and brown polka dot early stages of Dine & Dish (we've come a long way, baby) or if you are a brand new reader of Dine & Dish, thank you so much for being here. Your presence, support and love means the world to me! Thank you, thank you, thank you!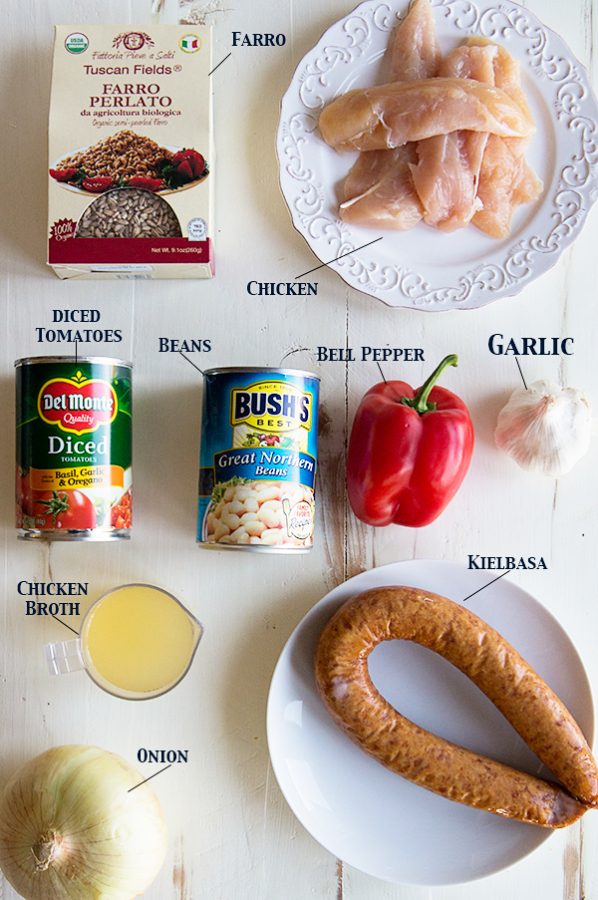 One client who has been with me since the early days is Bush's Beans. I'm so lucky to work with a brand who has values that match mine, has a product we love and use several times a week, and who supports me in my endeavors.  I love the challenge of adding more beans to my recipes… since my family loves them and they are so nutrient rich, I try to incorporate them into as many recipes as I can!
This One Pot Chicken with Kielbasa and Beans recipe is one of those that is pure comfort. Like many one pot type meals, it's perfect for a cold winter day. This One Pot Chicken with Kielbasa and Beans recipe is one I used to make without beans, and then once I added Bush's Great Northern Beans to it, I never went back. They are the absolute perfect, protein packed addition to this recipe!
See this must make recipe below my menu plan for the week. Enjoy!

Need more inspiration? Check out current menu plans from these blogger friends:
Now on to the One Pot Chicken with Kielbasa and Beans recipe!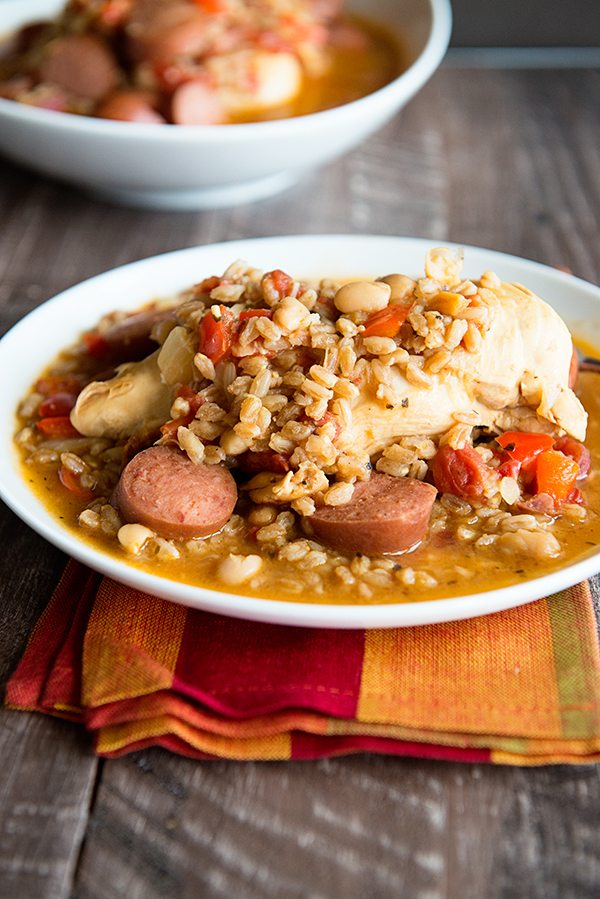 One Pot Chicken with Kielbasa and Beans
A comfort filled one pot meal ready to eat in around 30 minutes!
Ingredients
1 Tablespoon vegetable oil
4 boneless, skinless chicken breasts
½ onion, chopped
1 red bell pepper, seeded and chopped into large chunks
3 Tablespoons minced garlic
14 ounce package Kielbasa, sliced into coins
14 ounce can Diced tomatoes with Basil
1 Can Bush's Great Northern Beans, drained
3 cups chicken broth
9.1 ounce package Farro, cooked according to package directions
Instructions
In a large stock pot, heat oil to medium. Add chicken and brown on all sides (approximately 5 minutes on each side). Remove from the pot and set aside.
Lower the heat and add the onion, pepper and garlic. Cook for 5 minutes or until softened.
Add the Kielbasa and cook for 2 more minutes. Stir in the diced tomatoes and beans. Cook for an additional 2 minutes.
Return the chicken to the dish and add chicken broth. Stir together and bring to a boil.
Reduce heat, cover and simmer for 20 minutes, or until chicken is all the way cooked through and no longer pink.
Serve over cooked farro (or rice).
Disclosure: Disclosure: This is a sponsored post on behalf of Bush's Beans, a long term supporter of Dine & Dish. Thanks for supporting the brands that make Dine & Dish possible! For more great chili recipes like this one, please visit their website.