The classic Banana Cream Pie recipe my grandma used to make.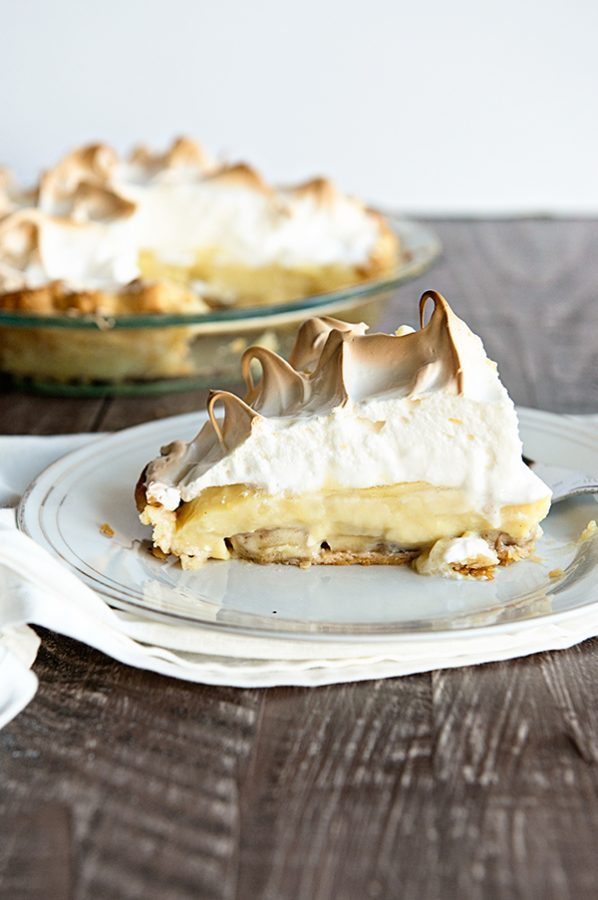 One thing I've discovered as I've been learning to make great pies is that the more I do it, the more I miss my Grandma Sumner. As I was beating the egg whites together for the meringue of this banana cream pie, tears sprung to my eyes . My Grandma was our family pie maker…man she made the best pies.  She would make dozens of pies for every family gathering…always catering to everyones favorites. From apple, to pumpkin, to pecan, to my favorite…banana cream pie…if there was a pie someone wanted, Grandma would bring it.
She's been gone for 13 years now, but I can remember her pies like it was yesterday. I think she'd be proud of me… I just wish I would have learned to love making pies sooner so I could make pies alongside her. Although, I have no doubt that she's right here beside me anyway.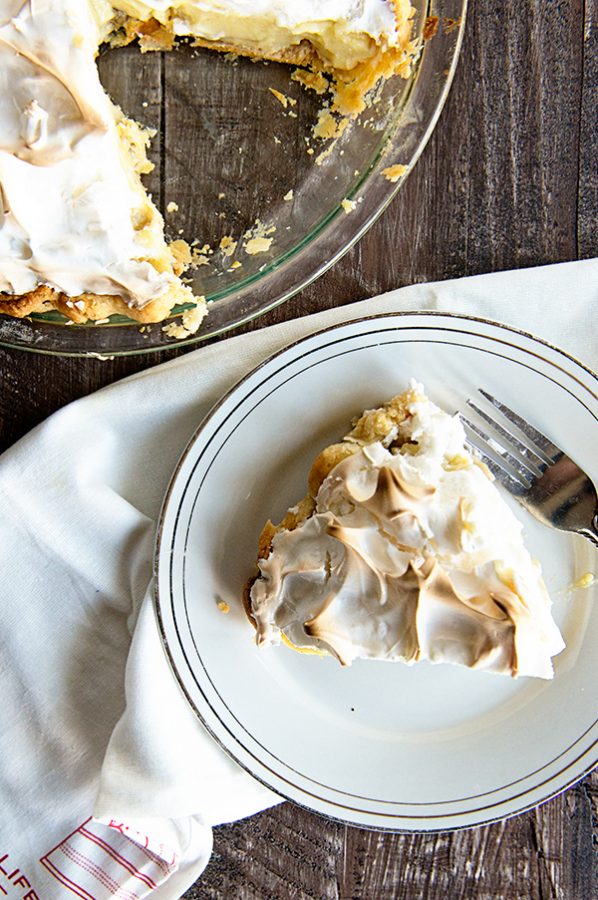 This banana cream pie recipe is the one my Grandma Sumner used to make, my mom makes and now I make. It's a classic recipe from the most used cookbook on  my bookshelf…the Better Crocker's Cookbook. I actually think this was the first cookbook I have ever owned. The page this banana cream pie recipe is on is so splattered and worn, you can tell, just like with any well loved page in coobooks, that it's a truly great recipe.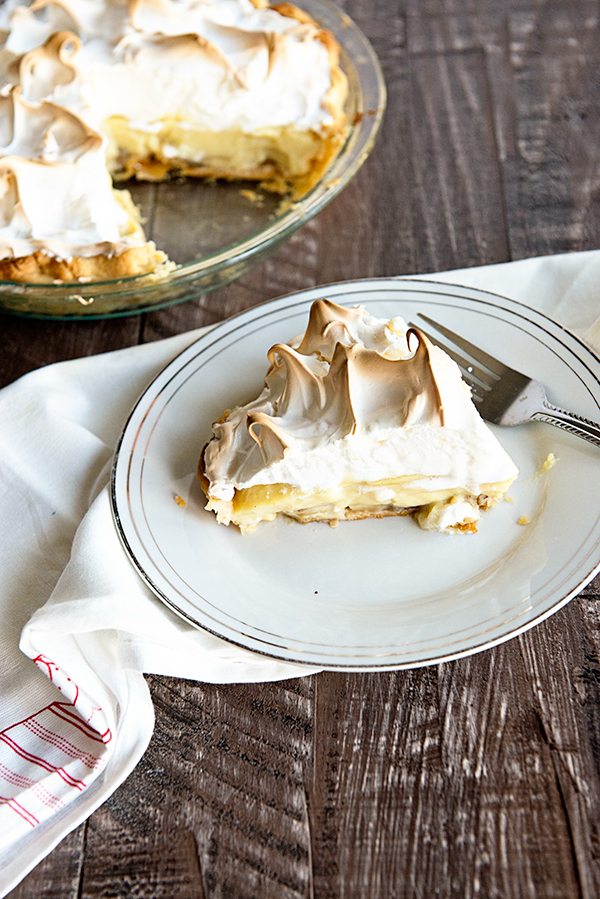 Banana Cream Pie is my absolute favorite and is a must have for dessert on both Thanksgiving and Christmas. I think this pie should be come a tradition in your family too! I hope you'll give it a try. Enjoy!
For tips and tricks on how to make a perfectly flaky pie crust, make sure to visit my video tutorial post.
Banana Cream Pie Recipe
A classic Banana Cream Pie just like my Grandma Sumner used to make.
Ingredients
For the pie filling:

1 9-inch pre-baked pie shell (follow my instructions here for a perfect pie crust)
⅔ cup sugar
¼ cup cornstarch
½ teaspoon salt
3 cups milk
4 egg yolks, slightly beaten (reserve the egg whites)
2 tablespoons butter, softened
1½ Tablespoon vanilla
2 large bananas, sliced
For the meringue:

3 egg whites
¼ teaspoon cream of tartar
6 Tablespoons sugar
½ teaspoon vanilla
Instructions
For the pie:

Mix sugar, cornstarch and salt in a saucepan. Gradually stir in milk. Cook over medium heat, stirring constantly, until mixture thickens and boils.Boil and stir 1 minute.
Stir at least half of the hot mixture gradually into egg yolks. Stir into hot mixture in saucepan. Boil and stir 1 minute; remove from heat.
Stir in butter, vanilla.
Place sliced banans in single layer in the pre-baked pie shell
Pour pudding mixture into the pre-baked pie shell over the bananas.
For the meringue:

Beat egg whites and cream of tarter in the bowl of an electric mixer until foamy. Beat in sugar, 1 Tablespoon at a time; continue beating until stiff and glossy and stiff peaks form. Do not underbeat.
Beat in vanilla.
Spoon meringue onto hot pie filling. Spread over filling, carefully sealing meringue to the edge of crust to prevent shrinking or weeping. Using the back of a spoon, gently press down on the meringue and lift lightly to form peaks all over the top.
Place in a preheated 400°F oven and bake for 8-12 minutes or until meringue is lightly browned.
Cool pie and slice to serve. Refrigerate any leftovers.
Notes
Adapted from the Betty Crocker's Classic Cookbook