A traditional cocktail meatball glaze is introduced to cooked baby carrots in this recipe for Grimmway Farms Jelly Glazed Baby Carrots!
You all have tried those famous grape jelly and chili sauce glazed cocktail meatballs, right? They seem to be quite the popular appetizer, especially at parties this time of year. I honestly first couldn't imagine they would be any good…I mean grape jelly and meatballs? Is that not the oddest combination ever? But then I had my first one, and now, every time I see these tasty little appetizers at parties I make a beeline and fill my plate! 
Earlier this month, on the same day I was working on developing some recipes for Grimmway Farms carrots, I was also making a batch of the famous grape jelly cocktail meatballs. What happened next was something I'd like to call a complete and total happy accident.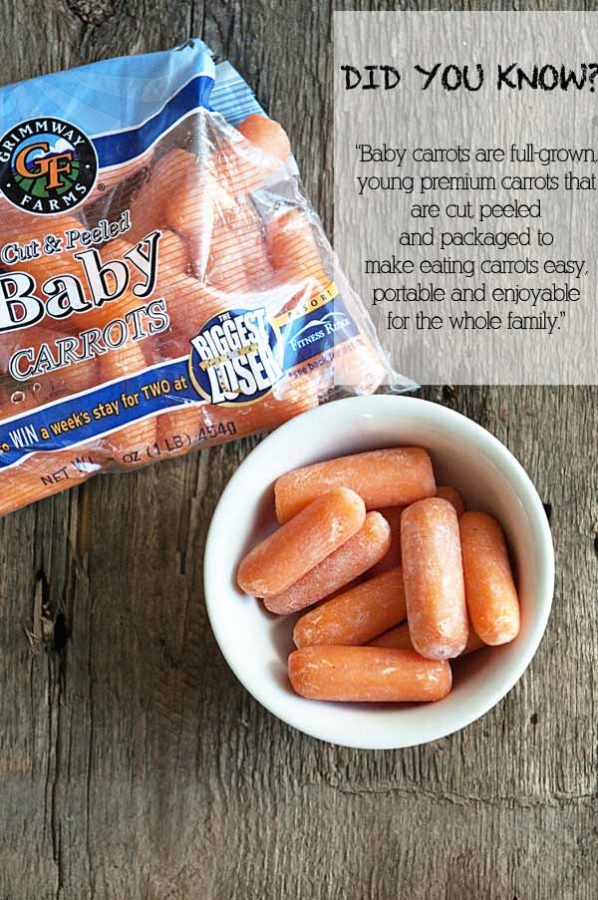 I had a batch of cooked carrots ready for what I had planned on being a pineapple glaze treatment when I took the spoon that I had used to stir the cocktail meatballs to dip in and grab a freshly cooked carrot to nibble. The spoon was covered in delicious jelly / chili sauce glaze and as I took a bite of the sweet and spicy carrot, I knew my next Grimmway Farms recipe was born. Happy happy accident, indeed!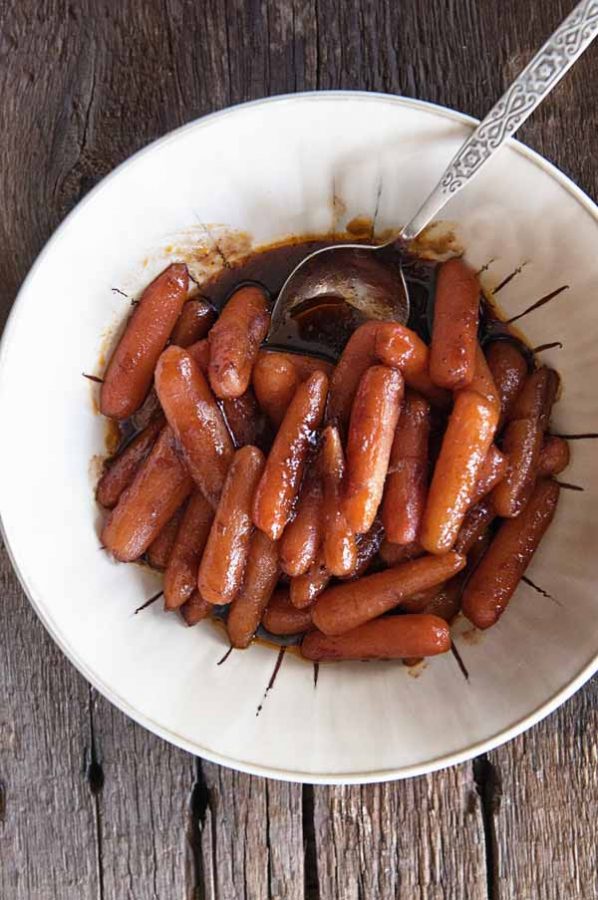 If you are looking for a unique side dish recipe to serve at your holiday dinner, I'd love for you to try this Jelly Glazed Baby Carrots recipe. Enjoy!
Jelly Glazed Baby Carrots
A traditional cocktail meatball glaze is introduced to cooked baby carrots in this recipe for Jelly Glazed Baby Carrots.
Ingredients
1 pound Grimmway Farms Baby Carrots
1 cup grape jelly
1 cup chili sauce or spicy barbecue sauce
¼ teaspoon cayenne pepper
Instructions
Place carrots in a medium saucepan and cover with water. Cook over medium high heat for approximately 8 minutes, or until carrots are tender. Drain the water and set carrots aside in a covered bowl.
In the meantime, combine the grape jelly, chili sauce and cayenne pepper in the saucepan. Turn heat to medium low, and simmer sauce until it is smooth and well combined.
Add cooked carrots to the sauce and stir until carrots are completely coated.
Cook for approximately 5 minutes, or until glaze is thick. Serve hot.
Disclosure: This is a sponsored post on behalf of Grimmway Farms, who hired me to create a recipe using their product. All opinions expressed are my own.