A simple and filling French Toast Casserole recipe is a wonderful dish to serve guests the morning after Thanksgiving!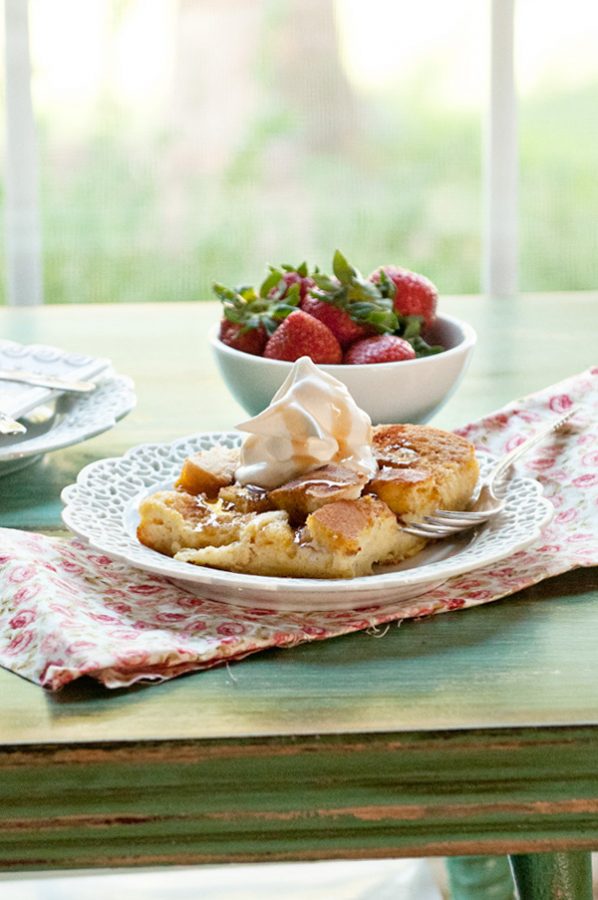 Are you all ready for Thanksgiving? As you can guess, knowing what a non-planner I am, I haven't even gone grocery shopping yet! I'd better get on the ball, right?
Actually, Thanksgiving around here this is year is going to be a very quiet one. However in years past, we've hosted holidays where it wasn't just the day of to worry about feeding people, it was the entire weekend! After cooking all day on Thanksgiving, I try to find the most simple solutions to feed a crowd for the breakfast after Thanksgiving. French Toast Casserole is one of my favorite recipes for a quick and easy breakfast.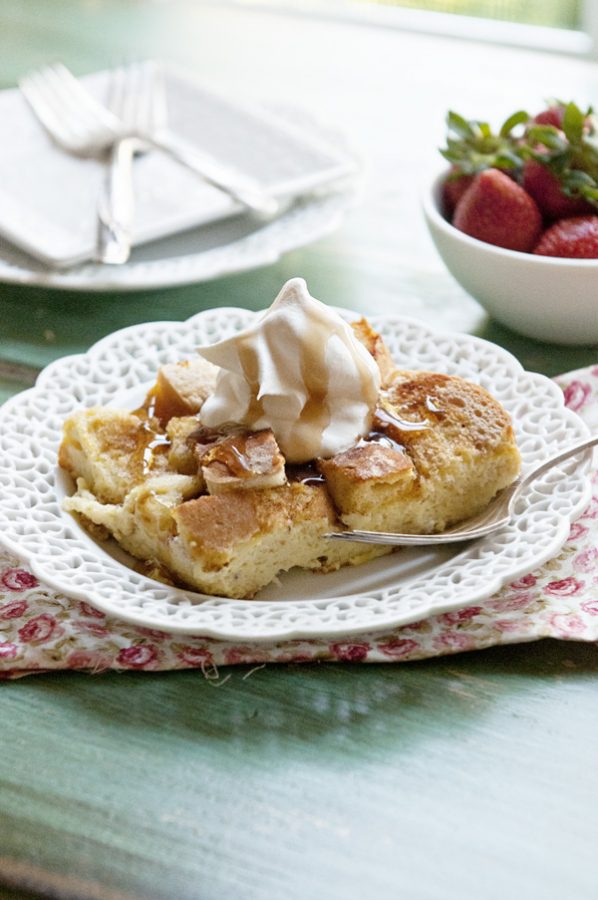 I love recipes I can get all ready today, place in the fridge, and simply bake the next morning, don't you? Besides this French Toast Casserole, a few of my other favorite breakfast recipes are:
All of these recipes can be made in a pinch and baked and served to your guests the next morning! So very easy!
I hope you all have a most wonderful Thanksgiving. I am absolutely thankful to each and every one of you for visiting Dine & Dish, commenting and just being there! It means so much to me.
Have a great day full of tasty food and remember to count your blessings! We have a lot to be thankful for.
French Toast Casserole
A simple, no fuss, French Toast Breakfast Casserole recipe.
Ingredients
1 loaf French bread, cut into 1 inch cubes (should equal approximately 10 cups)
8 eggs
2 cups milk
1 cup eggnog (or 1 additional cup of milk instead of eggnog)
3 Tablespoons sugar
1 teaspoon vanilla extract
¾ teaspoon salt
For the Topping:
2 tablespoons butter, cubed
3 tablespoons sugar
2 teaspoons ground cinnamon
Maple Syrup, Whipped Cream or Fruit Preserves (optional)
Instructions
Place bread cubes in a 9x13" baking dish sprayed with PAM cooking spray.
Bbeat eggs, milk, eggnog, sugar, vanilla and salt in a medium mixing bowl until well blended.
Pour mixture over bread and cover and refrigerate overnight.
Remove from the refrigerator 30 minutes before baking.
Preheat oven to 350°F.
Dot bread cubes with butter.
Combine sugar and cinnamon; sprinkle over the top.
Cover and bake at 350° for 45 to 50 minutes or until a knife inserted comes out clean.
Let stand 5 minutes.
Cut into slices and top with maple syrup, whipped cream and/or fruit preserves if desired.
Notes
Prep time does not include overnight time in the fridge.