Lemonade with grilled lemons and watermelon and peach chutney with whiskey and onions recipes brought to you by McCormick Grill Mates. 
This past weekend, my husband and I hosted one of our favorite annual events of the year… our dear friend and independent recording artist, Shannon Curtis, played a house concert in our "bubble". We provided the food and drinks, Shannon provided her amazing voice for entertainment and our friends helped to be a part of a most wonderful, good for the soul, outdoor experience.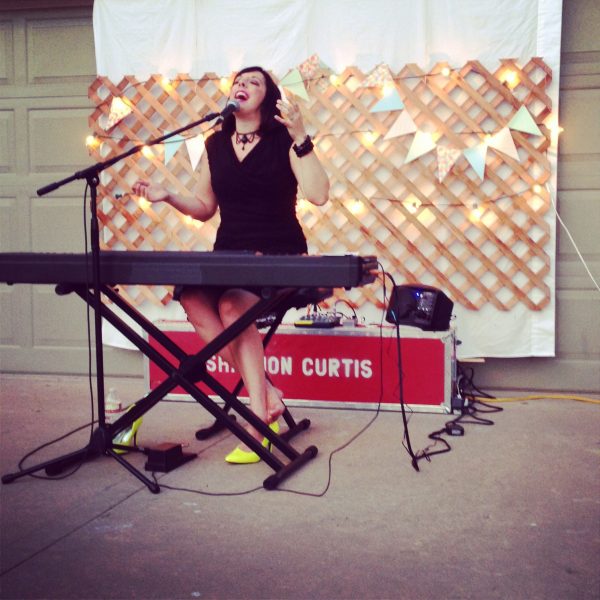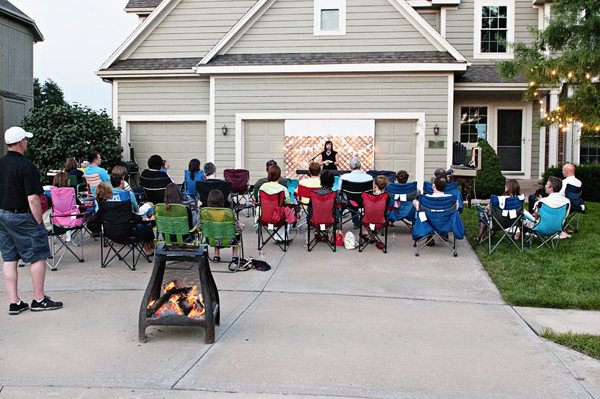 You can bet for sure you'll read more about our house concert in an upcoming Happiness Report, but for this post, I wanted to tell you about some of the great food and drinks we had!
Per tradition, my husband made his award winning pulled pork sandwiches. They were snatched up pretty quickly and I never was able to take a picture of them. The one change he made was instead of using his normal rub, he used McCormick Grill Mates Sweet and Spicy Rub. I'm probably not supposed to be sharing that he cheated on his own rub recipe with a McCormick rub, but his secret is safe with us, right? Considering the fact that they were all gobbled up, I think everyone loved them!
My job was to figure out sides and drinks. In true shirking responsibility fashion, I decided to ask you all for recipe ideas on the Dine & Dish Facebook page (thank you!!) and also turned to the McCormick Grilling Flavor Forecast for inspiration.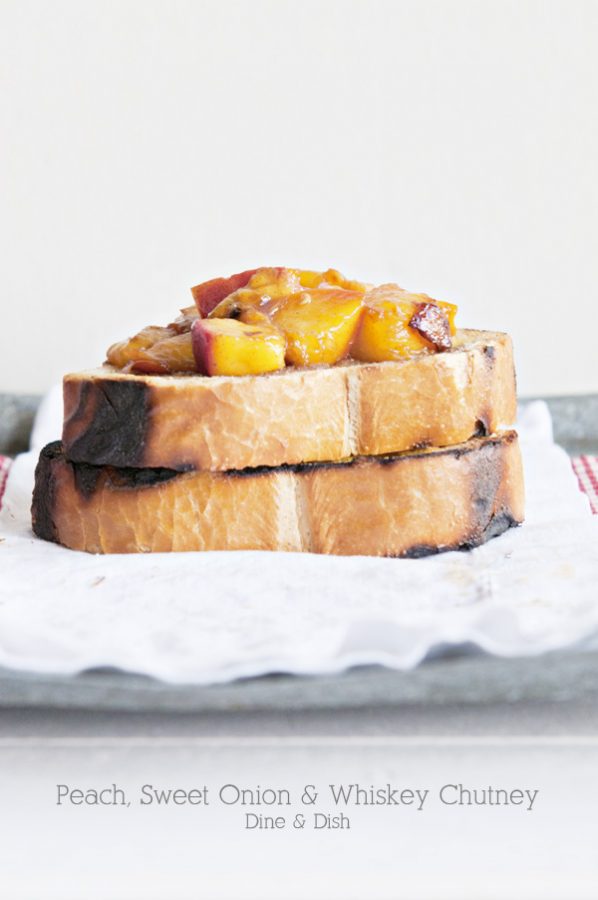 The two recipes I chose to use from the McCormick 2013 Flavor Forecast were this Peach, Sweet Onion and Whiskey Chutney as well as Fresh Lemonade with Grilled Lemons and Watermelon. Both of these recipes incorporated some of the 2013 flavors and encouraged us to think a little outside of the box and to grill things other than the traditional meat and vegetables! Grilling bread for the Chutney was a first for me and I've never grilled lemons nor even thought about it before. This has definitely inspired me to try grilling other citrus fruits as well as using the gas grill for grilling different breads more often! Both of these recipes were hits, that's for sure!
In addition to being tasty, these recipes were also so easy to make ahead of time, so they could be served when needed and I didn't have to take away time from our guests cooking in the kitchen.
A special thanks to McCormick and the 2013 Flavor Forecast for the inspiration and help with our outdoor summer concert. I wish you all could have been here in person to be a part of this wonderful night!
Fresh Lemonade with Grilled Lemons and Watermelon
A refreshing blend of Fresh Lemonade, rosemary, watermelon and grilled lemons makes this beverage one of a kind!
Ingredients
For the Simple Syrup:
½ cup sugar
½ cup water
1 Tablespoon McCormick Rosemary Leaves
For the Lemonade:
6 Lemons, halved crosswise
4 cups seedless watermelon cubes
3 cups cold water
Instructions
For the Simple Syrup, mix sugar and water in small saucepan. Bring to boil. Remove from heat. Add rosemary; let stand 10 minutes, stirring occasionally to dissolve sugar. Strain. Cover and refrigerate until well chilled.
Cut 4 of the lemons in half crosswise. Cut remaining 2 lemons into slices. Grill lemon halves and slices over medium heat 4 to 5 minutes or until lightly charred. Set lemon slices aside for garnish. Squeeze juice from lemon halves to yield ½ cup juice.
Place watermelon cubes and lemon juice in blender container; cover. Blend on high speed until smooth. Pour fruit mixture into large pitcher. Add Simple Syrup and cold water; mix well. Serve in ice-filled beverage glasses. Garnish with reserved lemon slices.
Peach and Sweet Onion Chutney
Chile Pepper Ancho and Bourbon Whiskey provide a nice smokey flavor combination when paired with fresh peaches and vanilla. Serve over grilled bread or grilled chicken!
Ingredients
1 tablespoon vegetable oil
1 medium sweet onion, such as Vidalia, chopped
⅓ cup raisins
3 tablespoons sugar
1 teaspoon cinnamon
½ teaspoon McCormick® Gourmet Collection Chile Pepper Ancho
½ teaspoon salt
3 tablespoons bourbon whiskey
3 ripe peaches, diced (2 cups)
2 tablespoons fresh lemon juice
½ teaspoon vanilla extract
Instructions
Heat oil in medium skillet on medium heat. Add onion; cook and stir 5 minutes or until just caramelized. Add raisins, sugar, cinnamon, ancho chile pepper and salt; cook and stir 1 minute. Add bourbon whiskey; stir to loosen browned bits in bottom of skillet.
Mix peaches, lemon juice and vanilla in medium bowl. Add onion mixture; mix well. Cover.
Refrigerate at least 1 hour to blend flavors.
Serve over grilled slices of Italian or French bread.
Disclosure: Special thanks to McCormick for providing compensation and products for this post. All opinions expressed are my own.