Thank you to Bumble Bee SuperFresh™ for sponsoring this article.  Find the new Bumble Bee SuperFresh™ entrées in your area by visiting: http://bumblebeesuperfresh.com/buy"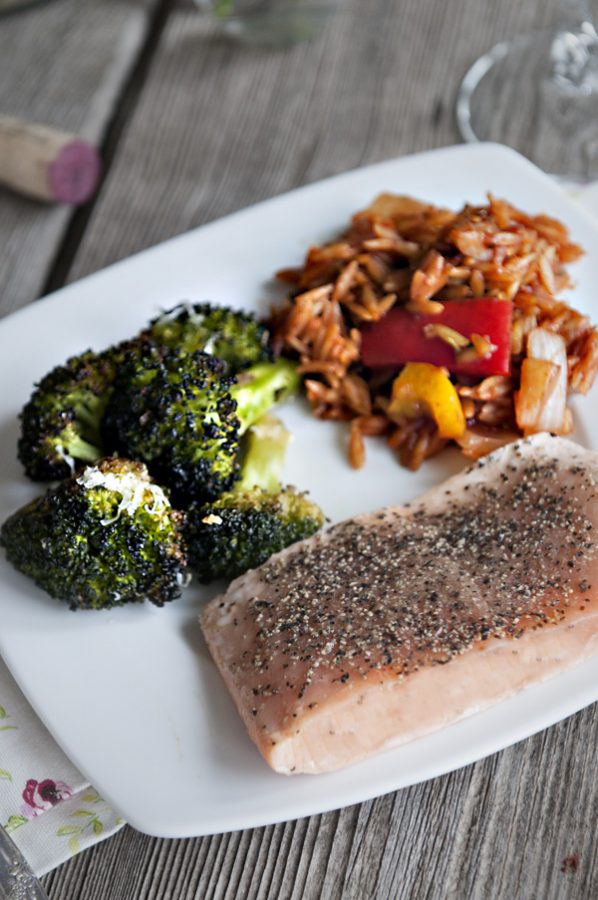 My husband and I both love to cook… and not to brag or anything, but we're pretty good at it. In fact, it becomes a bit of a problem when we have the opportunity to go out to eat on a date… after we agonize over which restaurant to go to, we typically find out that we are somewhat disappointed in the food (and the amount of money we spent on it) and often realize that we could have made something much better at home.
The longer we've been married, the more creative we've gotten when it comes to date night. Our favorite kind of date nights are "at home date nights", where we feed the kids and put them to bed early, then we stay up and have a late dinner at home and watch a movie. There's no hiring a babysitter… no sitting in crowded, over priced restaurants eating mediocre food, and we get to enjoy each others company in the comfort of our own home.
The only problem with at home date nights is there are times when neither of us really feels like cooking. It's nights like that when we like to turn to products and food that help to make a delicious, fresh tasting meal without a lot of effort on our part.
Bumble Bee SuperFresh™ seafood, made with all natural ingredients, is a great choice for those nights when you want something delicious but you don't want to put a lot of effort into the meal. From salmon to tilapia to shrimp… Bumble Bee SuperFresh™ has so many different flavor combinations, perfect for an intimate dinner for two. It's like your favorite fish recipes, wrapped up in a convenient, easy to cook package, ready for your table. Date night, simplified!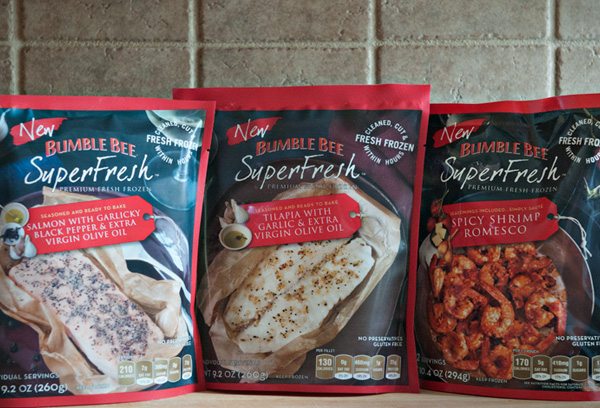 At our most recent at home date night, my husband and I watched a pretty awful movie I won't recommend, but the saving grace was our meal. We enjoyed Bumble Bee SuperFresh™ Salmon with Garlicky Black Pepper & Extra Virgin Olive Oil, Simple Oven Roasted Broccoli and Saucy Italian Orzo. We also started our meal off with a simple bruschetta and ended it with my favorite Cheesecake Minis with Strawberry Balsamic Mint Topping. Paired with a Malbec, it was the easiest at home date night we'd had in quite some time.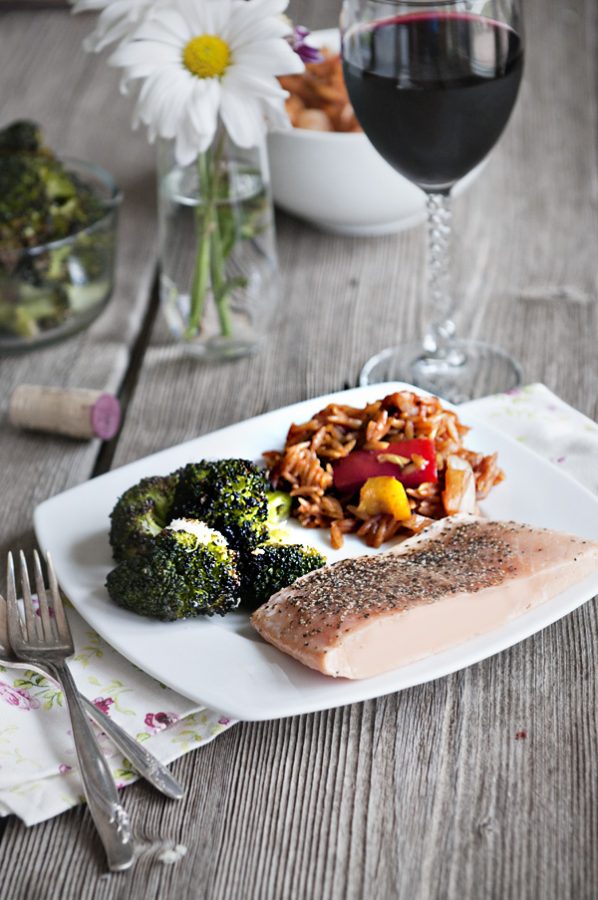 Give yourself a break, connect with your spouse, and give a simplified at home date night a try. I promise, it'll sure beat the bill you'll get after a night out on the town and your connection will be just as great. Enjoy!
Simple Oven Roasted Broccoli
A simple oven roasted broccoli recipe - a great side dish for salmon, tilapia, steak or chicken!
Ingredients
? 2 pounds fresh broccoli, cut into florets
? 3 Tablespoons Olive Oil
? 1 Tablespoon garlic
? 1 teaspoon freshly grated Ginger
? 1 Tablespoon Oregano
? ¼ teaspoon Kosher salt
? ¼ teaspoon fresh cracked black pepper
? ¼ cup baby Swiss cheese, shredded
Instructions
1. Preheat oven to 425°F
2. In a large bowl, toss broccoli, olive oil, garlic, ginger, oregano, Kosher salt and pepper.
3. Arrange seasoned broccoli florets on a parchment lined baking sheet. Place in the oven and roast for 15­20 minutes, or until florets are tender.
4. Remove from the oven and sprinkle with shredded baby Swiss cheese. Serve hot.
Saucy Italian Orzo
Add a little flare to your Orzo with this simple recipe!
Ingredients
? 2 Tablespoons olive oil
? 1 large sweet onion, chopped
? 1 yellow bell pepper, seeded and chopped
? 1 red bell pepper, seeded and chopped
? 2 cups beef broth
? 6 ounces tomato paste
? 1 tablespoon oregano
? 1 tablespoon garlic
? 1 cup uncooked orzo pasta
Instructions
1. In a large stock pot, heat olive oil then add chopped onion and bell peppers. Cook until tender.
2. Stir in beef broth, tomato paste, oregano, garlic and orzo. Bring to a boil.
3. Reduce heat; cover and simmer for 15 minutes, stirring occasionally.
4. Remove from heat and uncover... let sit for 5 minutes to absorb moisture prior to serving.
Disclosure: Bumble Bee SuperFresh™ gave me free product and said they'd pay me to blog about it IF I liked it. I do!