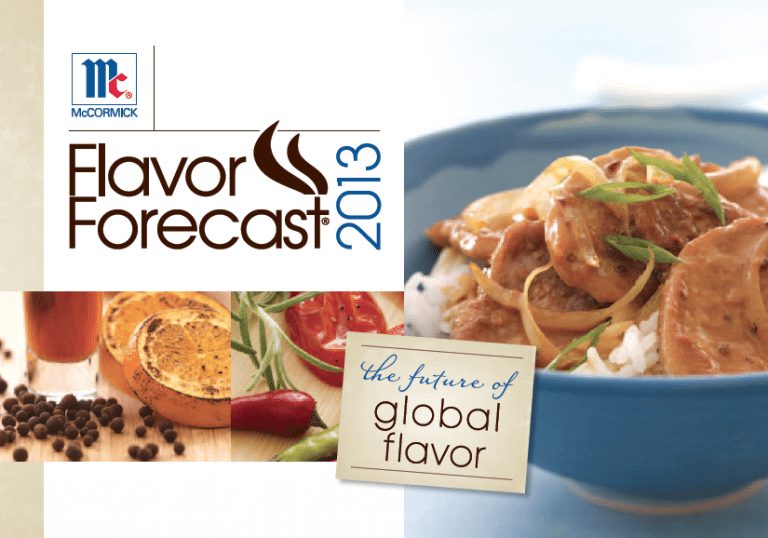 McCormick, the leader in spices, herbs, seasoning mixes, condiments and other flavorful products, brings global culinary experts together each year to delve into what flavors will lead recipe creation and food philosophy in the coming years. Recently, McCormick's assembled chefs, culinary kitchens, sensory scientists, dietitians, trend trackers, marketing experts and food technologists to create what they've announced as McCormick's 2013 Flavor Forecast. I'm excited to share with you the details of McCormick's 2013 Flavor Forecast!  To help me get acquainted with the 2013 Flavor Forecast, McCormick set up a video skype session with Chef Mark Garcia and myself. Mark broke down the selection process for me, and helped me to understand the rational and details behind the 5 flavor profiles they've selected for this year. Now, I can pass that information on to you!
Flavor Forecast Trend #1 – No Apologies Necessary
This trend was my favorite, just because it is all about making the conscious choice to live in the moment. Dive head first into indulgent food, savoring each and every bite without feeling a bit of guilt. Some of the flavors accompanying this trend are bitter chocolate, sweet basil, passion fruit, black rum, charred orange and all spice.
Flavor Forecast Trend #2 – Personally Handcrafted
As a food blogger, this trend resonated with me. How can we take a time honored, classic recipe and make it our own? This trend is all about taking the time and making the effort to truly approach each dish with the expectations of making it your own. Cider, sage, molasses, smoked tomato, rosemary, chile peppers and sweet onions are flavors that you'll find sharing the space with this trend.
Flavor Forecast Trend #3 – Empowered Eating
"People are shifting their relationship with food to make it more thoughtful, personal and connected to their overall health." This one is somewhat the opposite of No Apologies Necessary, but I love that McCormick's proves that the two trends can go hand and hand. One can enjoy the occasional indulgence yet can also find importance in making the right decisions in regards to food and health on an everyday basis. The flavors that go along with Empowered Eating are Farro grain, blackberry, cloves, broccoli and dukkah.
Flavor Forecast Trend #4 – Hidden Potential
Simple ingredients and flavors uncover their hidden potential when paired with unexpected flavors. This trend is all about unlocking the possibilities within ingredients. It is also about finding ways to use every part of an ingredient, cultivating a "waste not" attitude. Some of the flavors for this trend are artichoke, paprika, hazelnut, hearty meat cuts, stick cinnamon and plantain.
Flavor Forecast Trend #5 – Global My Way
Global My Way is the 5th and final trend forecasted by McCormick's experts. "While still identified with particular cultures, these ingredients are no longer being limited to their native uses." Cooks will be getting more creative, offering a fusion of flavors expanding beyond traditional dishes. Anise, cajeta, Japanese Katsu sauce and oregano will be the shining flavors you'll start to see more of!
To download the full report, please visit McCormick's Flavor Forecast 2013 site. I'll have more to share in the coming weeks highlighting recipes featuring some of the trends.
Until then, which trend resonates the most with you? What do you think of the 2013 forecast? Make sure to let me know in the comments!
This is a sponsored post on behalf of McCormick but all opinions expressed are my own.