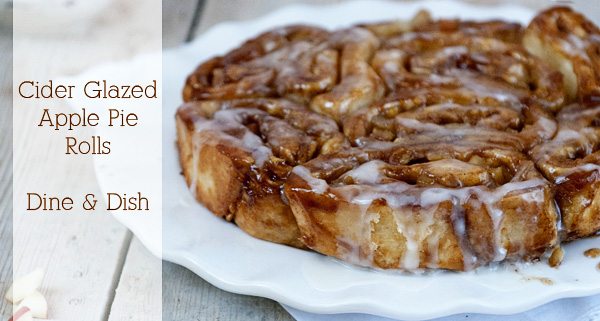 I've had this recipe for Apple Cider Glazed Apple Pie Rolls rolling around in my head for quite some time, but I wasn't quite sure if the execution of my idea would work.
You see, I like apple pie enough. I don't love apple pie, but I like it. If I'm being truly honest with myself what I like the most about apple pie is the cinnamon sugar mixture soaked into the pie crust with the flavors of apple juice mixed in. Melted ice cream obviously makes it even better. 
Basically, I want apple pie with the least amount of apples in it. Strange, right?
So, what I decided to try was making a variation of apple pie with a bigger focus on "the good stuff"… the flavors of apple, the spices, the cream and the crust without a lot of cooked apples getting in the way. 
I'm happy to say that the idea worked and worked really well. Imagine diced apples coated in a buttery cinnamon sugar mixture wrapped up in a swirl of thicker, pie like crust. Top it off with a sweet and creamy apple cider glaze and you've got an apple pie variation, featuring the best of "the good stuff".  Enjoy!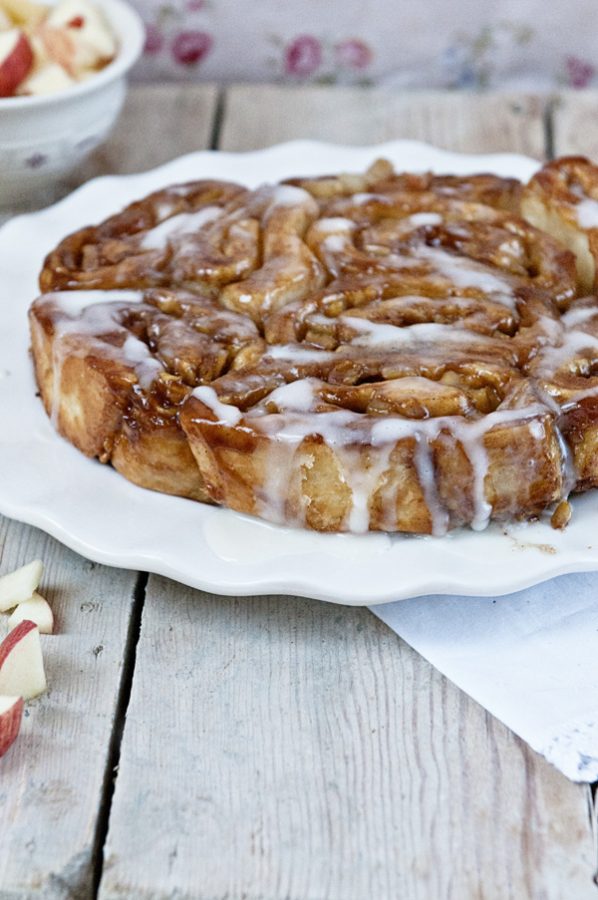 Apple Cider Glazed Apple Pie Rolls
Apple pie gets a "good stuff" twist with extra gooey glazed hot apple rolls.
Ingredients
2 cups all purpose flour
½ teaspoon Kosher salt
4 teaspoons baking powder
4 Tablespoons cold butter
¾ cup milk
Filling
2 Tablespoons butter, melted
½ cup brown sugar
2 Tablespoons Cinnamon
2 Honey Crisp Apples, cored and diced
For the Glaze
Instructions
Preheat oven to 425°F.
Combine flour, salt, and baking powder in a food processor; pulse to mix. Add 4 Tablespoons cold butter and pulse until mixture resembles coarse meal. Add milk, pulsing until mixture forms a cohesive ball.
Remove dough from food processor and place on a lightly floured smooth surface. Roll out into a rectangle, approximately 12x16 and ¼ inch thick.
In a small bowl, toss diced apples with melted butter, brown sugar and cinnamon. Spread evenly over the top of the dough rectangle.
Roll up, jelly roll style. Once rolled, cut into 1 inch slices. Place in a buttered 9-inch round baking dish.
Bake for 30-35 minutes or until golden.
While rolls are baking, combine Powdered Sugar and Hot Apple Cider in a small bowl and mix until smooth.
Once rolls are baked, remove from oven and turn over onto a round serving platter. Pour apple cider glaze over the top and serve warm.
For more delicious versions of apple pie check out: