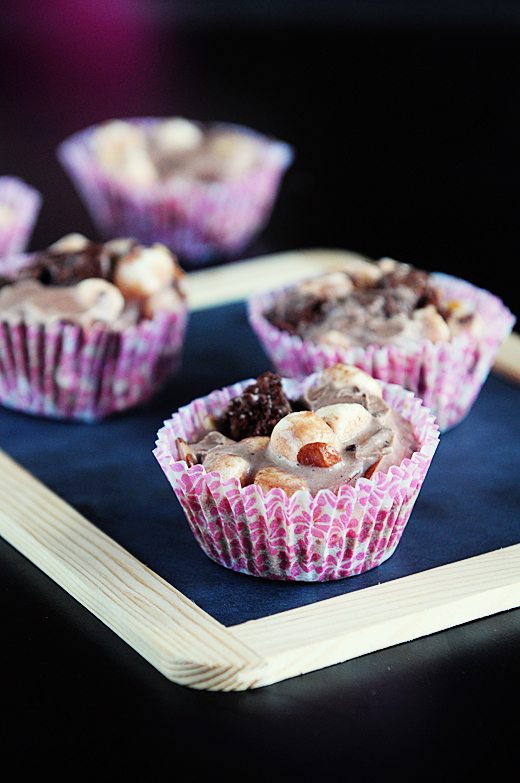 I've been working with Weight Watchers on testing some of their newest dessert recipes which utilize some of their pre-packaged Weight Watchers sweet baked goods. Since I've been running and losing weight but still have a massive sweet tooth, having desserts that don't tip the scale in the wrong direction is an important focus of mine.
The first recipe, and also my favorite, was their Rocky Road Ice Cream Pies (pictured above). This tasty treat has big chunks of fudgy Weight Watchers brownies, chocolate ice cream, marshmallows and slivered almonds all in one perfect portioned dessert cup. At 5 PointsPlus® per serving, this is a refreshing dessert that allows me to give into my chocolate cravings without feeling any guilt!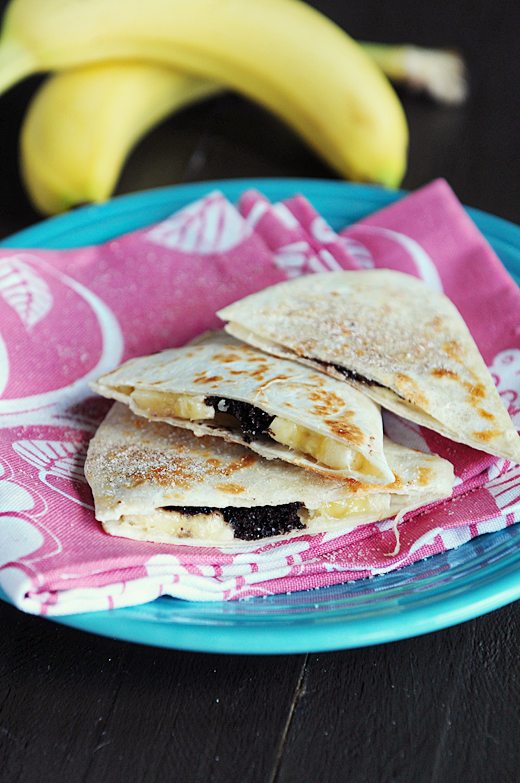 Up next is the Chocolate Banana Quesadillas. This dessert uses one Weight Watchers Chocolate Crème Cake in a creative way to make a completely different tasting treat. Sandwiched in between a cinnamon sugar quesadilla you'll find sliced bananas and bite sized pieces of Chocolate Creme Cake. If you like chocolate dipped bananas (like I do) you'll love the flavors in this dessert recipe. Sweet, filling and delicious – plus incredibly fast to put together – I'll be making this 5  PointsPlus® per serving dessert for an afternoon snack often!
Working with Weight Watchers in this way is helping me open my eyes to how I can use their sweet baked goods in other ways. I can't wait to dig around in my pantry to see what else I can come up with!
Weight Watchers Mini Rocky Road Ice Cream Pies
5 Weight Watchers PointsPlus® per serving, this refreshing dessert curbs your chocolate cravings without the guilt!
Ingredients
1-1/2 quarts light chocolate ice cream
Non-stick cooking spray
3 Weight Watchers Brownies, cut into ¼-inch cubes
1 cup mini marshmallows
⅓ cup sliced almonds
12 muffin liners (if desired)
Instructions
Remove ice cream from freezer and allow to soften for 20 minutes.
For individual mini pies, spray 12 muffin tins with non-stick cooking spray or line with cupcake liners. If a single 9-inch pie is desired, spray a 9-inch pie plate with non-stick cooking spray.
In a large mixing bowl, combine softened ice cream, brownie cubes, mini marshmallows and sliced almonds. Stir well with a wooden spoon to thoroughly combine, about 2 to 3 minutes.
Spoon ice cream mixture into prepared muffin tins, about ½ cup each. Alternatively, if 9-inch pie is desired, spoon ice cream mixture into prepared pie plate. Press down evenly. Smooth top with the back of a wooden spoon until tops are smooth and uniform. Cover tightly with foil and freeze for at least 6 hours or overnight. Remove and serve immediately.
If desired, serve with ½ cup fresh raspberries or blackberries.
Pies may be stored in the freezer for up to 2 weeks.
Nutrition Information
Serving size:
1 mini pie or 1/12th of a 9-inch pie
Chocolate Banana Quesadillas
Chocolate and bananas sandwiched between a cinnamon sugar tortilla. A quick and easy snack for your sweet tooth!
Ingredients
2 6-inch flour tortillas
1 small banana, sliced
1 Weight Watchers Chocolate Crème Cake, cut into ¼-inch cubes
Non-stick cooking spray
2 large pinches of cinnamon sugar
Instructions
Arrange tortillas on a large cutting board. Layer the bottom half of each tortilla with half of the bananas and half of the cake cubes.
Fold top half of tortilla over layered cake and banana so that quesadilla resembles a half circle.
Spray a large sauté pan or griddle with non-stick cooking spray and heat over medium heat. Add quesadillas and cook for 2 minutes. Turn quesadillas and cook for an additional 1 to 2 minutes, until golden brown.
Remove quesadillas from heat. Sprinkle each with 1 large pinch cinnamon sugar and serve immediately.