The giveaway is closed. Congratulations to the Sweet Tooth Runner for winning! Thanks to all who entered.
Sometimes a girl just wants to have fun… well fun, and great tasting food!
For those fun-loving friends looking to combine quirky recipes with a great time, The Cookie Dough Lover's Cookbook by Lindsay Landis is for you. Who doesn't love cookie dough? Cookie Dough turned into cookies, cakes, candies and more just ups the fun quotient even more.
This past weekend I was getting ready to make breakfast when my daughter, Kelly, said "You know what would be good? Cookie dough waffles!" I'd never heard of such a combination, but sure enough, when I grabbed my friend Lindsay's cookbook, I found that there was a recipe for Belgian Cookie Dough Waffles with Chocolate Whipped Cream. In a jiffy, a super fun breakfast was served.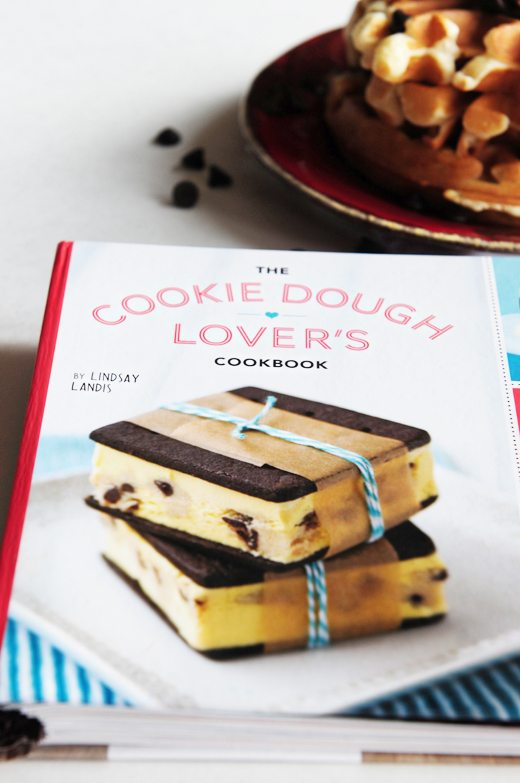 The folks at Quirk Publishing have offered one lucky Dine & Dish reader the chance to win a copy of The Cookie Dough Lover's Cookbook by Lindsay Landis.
Giveaway Details for The Cookie Dough Lover's Cookbook by Lindsay Landis
To enter the giveaway, simply leave a comment on this post telling me what flavor of cookie dough is your favorite!
For additional entries:
All entries must be received by midnight, CST on Tuesday, July 17th. Winner will be chosen via Random.org and notified via valid email address.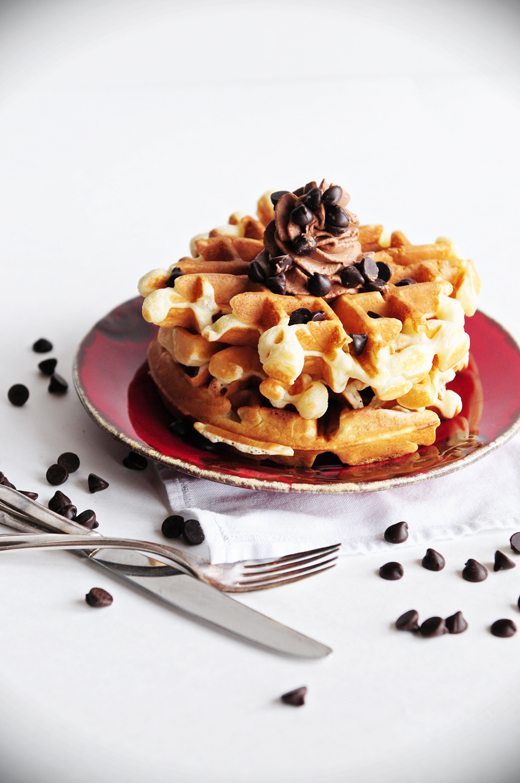 And now for the recipe… (and PS… I LOVE my waffle iron!)
Belgian Cookie Dough Waffles with Chocolate Whipped Cream
Ingredients
For the Cookie Dough:
¼ cup unsalted butter, room temperature
2 tablespoons granulated sugar
¼ cup light brown sugar, packed
½ teaspoon vanilla extract
1 Tablespoon milk or cream
¼ teaspoon salt
½ cup all-purpose flour
¼ cup mini semisweet chocolate chips
For the Waffles:
2 cups all purpose flour
2 teaspoons baking powder
1 teaspoon baking soda
½ teaspoon salt
2 eggs, lightly beaten
2 cups buttermilk
½ cup unsalted butter, melted and cooled to lukewarm
¼ cup granulated sugar
1 teaspoon vanilla extract
For Chocolate Whipped Cream:
¼ cup powdered sugar
2 tablespoons unsweetened cocoa powder
½ cup plus 2 tablespoons chilled heavy cream, divided
Instructions
To prepare the cookie dough, beat together butter and sugars in a large mixing bowl with an electric mixer on medium speed until light and fluffy, 2 to 3 minutes. Beat in vanilla and milk. Add salt and flour and mix until incorporated. Stir in chocolate chips. Refrigerate until ready to cook waffles.
To make waffles, sift together four, baking powder, baking soda, and salt. In a separate bowl, lightly whisk eggs. Whisk in buttermilk, melted butter, sugar, and vanilla. Add dry ingredients and stir until just combined.
Preheat waffle maker and lightly spray with cooking spray or brush with vegetable oil. Ladle a heaping ½ cup of batter onto iron and quickly drop 6 to 7 marble size balls of cookie dough on top. Close lid and cook according to manufacturer's directions, until golden brown and toasted.
For the whipped cream: whisk powdered sugar, cocoa powder, and 2 tablespoons of the heavy cream in a large mixing bowl or the bowl of a stand mixer until smooth. Using the whisk attachment, gradually beat the remaining ½ cup heavy cream into the mixture. Continue beating until stiff peaks form. Spoon onto warm waffles and serve immediately.