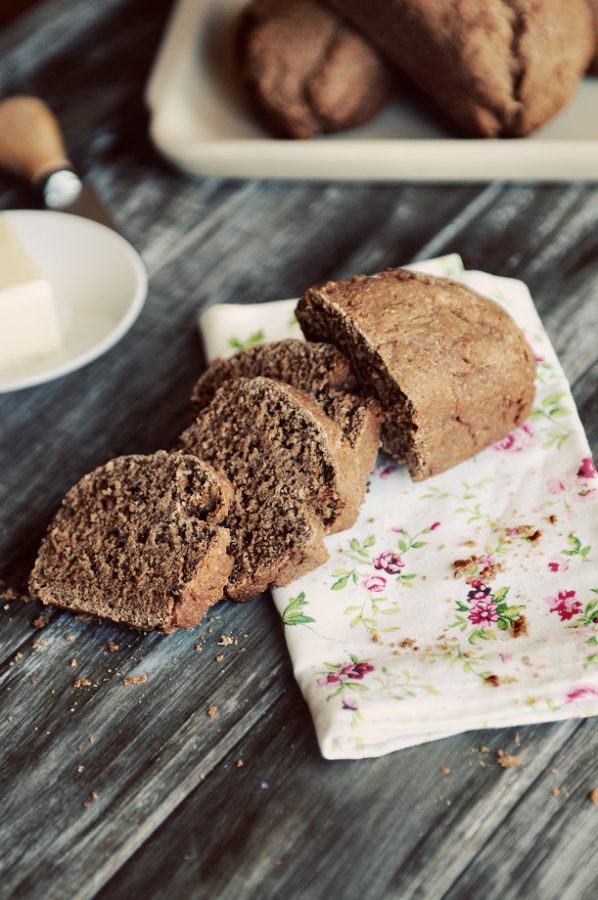 I have wanted to make Dark Roast Coffee Yeast Bread since receiving a special K-Cup pack from Tully's of their Extra Bold Kona Blend. I don't buy extra bold coffee very often, but when I do I love to cook things with it. Have you ever used coffee in your recipes in place of other liquids? If you haven't, you definitley must try it. Dark roast, extra bold coffee gives such a rich flavor to baked goods and other foods (even crockpot roast beef is good with a cup of coffee poured in!).
This bread reminds me some of the dark bread you get from the Cheesecake Factory. It's definitley not your standard bread recipe. Molasses and coffee along with the brown sugar and a touch of cocoa give the bread a depth of flavor you won't find with any of the products on the store shelves. Rich, delicious and hearty, this is a bread recipe you'll want to have handy, especially when the cooler fall weather rolls around (and it will roll around, I promise!). I can imagine this bread pairing beautifully with a steaming bowl of beef stew.
Next time you are brewing up some dark roast coffee, pause and think about all the different ways you can experiment with coffee. Then get out your bread machine and give this recipe a try. Extra bold and extra delicious…this recipe will have you looking at your morning cuppa in a whole new light.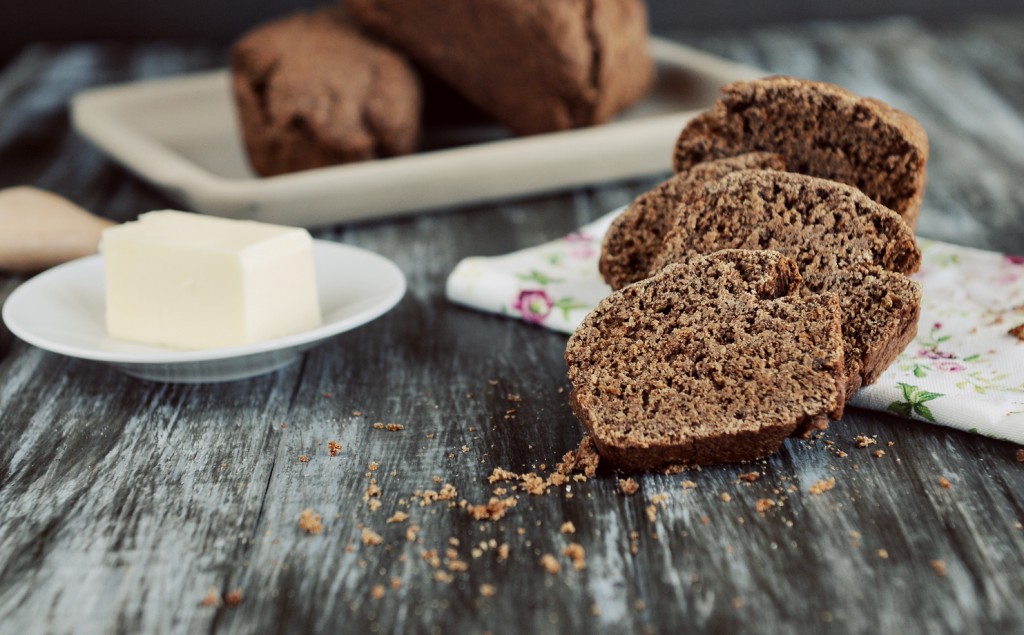 Recipe: Dark Roast Coffee Yeast Bread (adapted from Allrecipes.c0m)
1 10 ounce brewed cup Tully's Extra Bold Kona Blend coffee (or any extra bold coffee flavor), cooled to room temperature
1/4 cup vegetable oil
1/4 cup dark molasses
2 tablespoons brown sugar
2 cups whole wheat flour
2 cups bread flour
2 tablespoons unsweetened cocoa powder
2 teaspoons salt
2 1/2 teaspoons active dry yeast
Place all ingredients in bread machine pan in order suggested by manufacture. Select dough cycle. When the machine indicates the end of the final rise, remove the dough.
Preheat the oven to 375 degrees F. Shape the dough into four mini loaves and place in mini loaf pan. Let rise until doubled in size.
Bake for 30 minutes or until the loaves sound hollow when tapped on the bottom.
I am a paid Keurig brand ambassador. They kindly sent me a box of Tully's K-Cup varieties to enjoy as  I wish. All opinions are my own.