This giveaway is now closed. The winner, Andrea G, has been notified. Thanks so much for participating!
Last week I told my kids we were going on a picnic with some of my "co-workers" (that's my fancy way of saying blog friends). You see, the folks at Wendy's invited us to a picnic lunch with a few other Kansas City bloggers, giving us the chance to try their new Berry Almond Chicken Salad.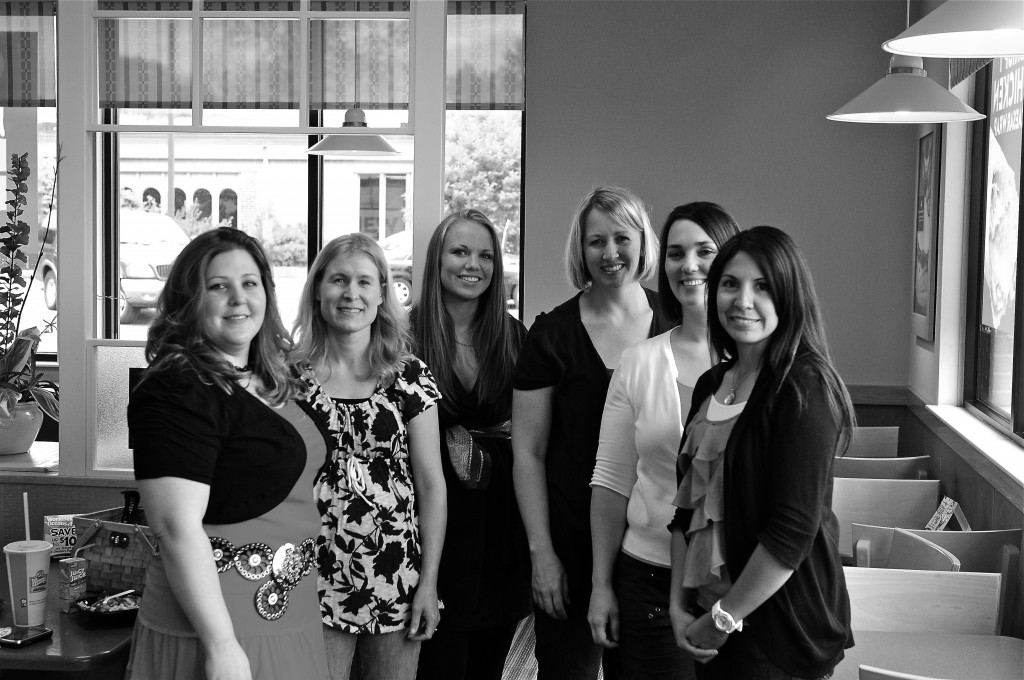 My "co-workers": Julie, Molly, Erin, me, Jenn and Candy
When we started driving the sky began to turn dark and the rain began to come down. The closer we were to Wendy's (and the nearby park for our picnic) the darker the skies became. It became fairly obvious that our plans for a picnic were going to have to change.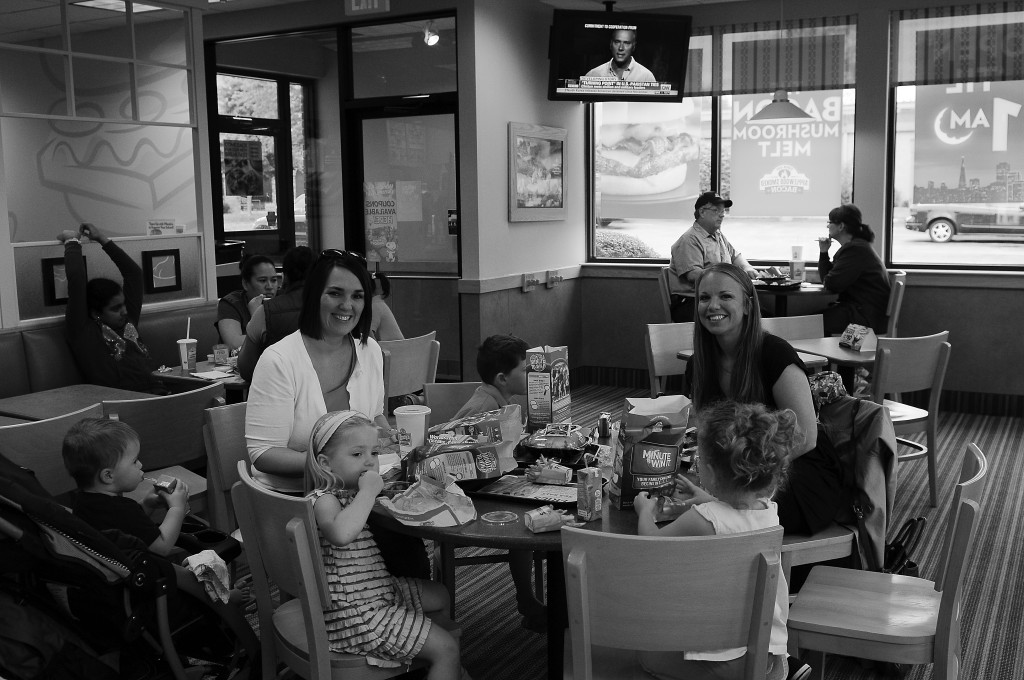 Jenn and Erin's kids sitting nicely, eating their lunch while my kids were wrecking havoc everywhere.
What'd we do instead? Our group of 6 bloggers and all of our kids invaded the Wendy's restaurant and had our own little picnic inside. (If you were at the Wendy's we invaded, I have to apologize to you now… and to the man who said the sound of our children was music to his ears, I have a few I'd be happy to pass off to you for your listening enjoyment).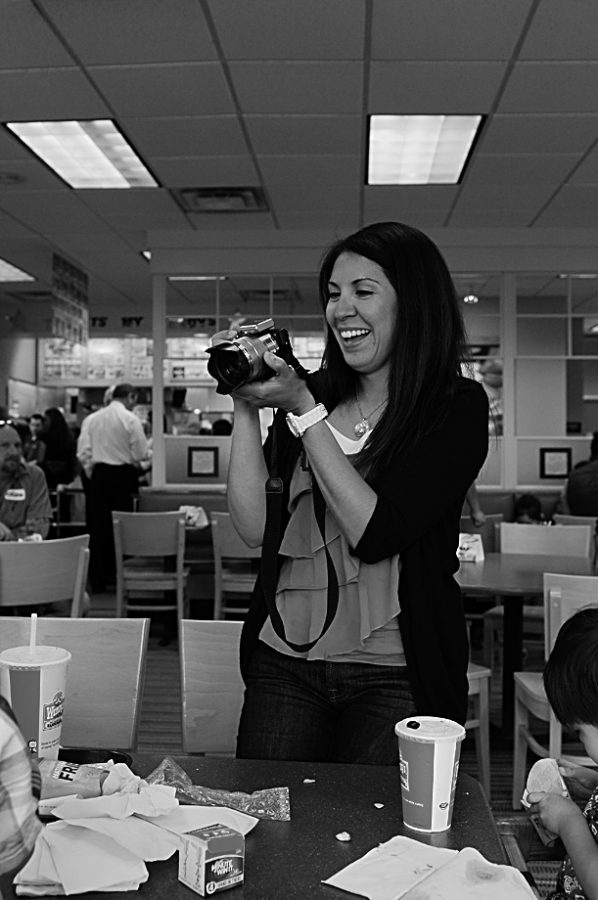 Candy captures the fun!
Before you know it we were all settled in with our salads, taking pictures and chatting away (and getting strange looks from people wondering why we were taking pictures of our food from Wendy's). It wasn't the ideal picnic, but it was so nice to catch up with local blogging friends.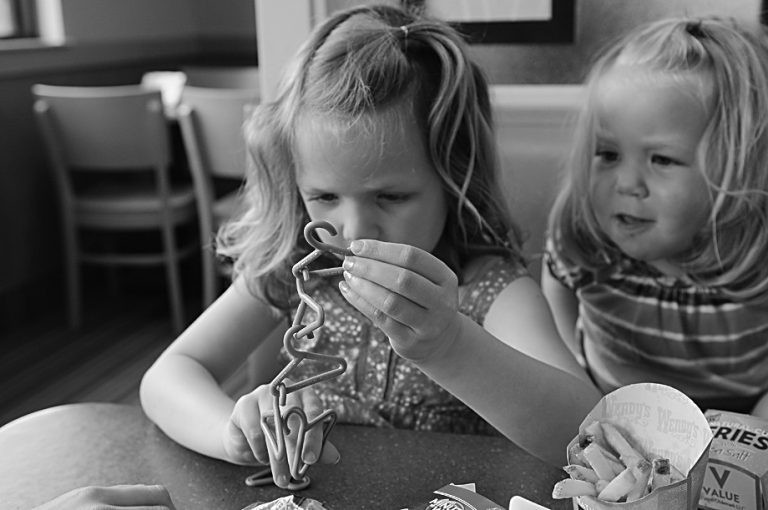 Ella and Leah work diligently on their Minute to Win It game
The Berry Almond Chicken Salad was really quite good. With a combination of 11 different types of freshly chopped greens, fresh berries, roasted almonds, Asiago cheese, grilled chicken breast and a fat-free raspberry vinaigrette dressing, this is the perfect salad for your summer lunch and dinner cravings. I loved the entire flavor combination, and my kids loved to swipe the blueberries and strawberries right out of the bowl.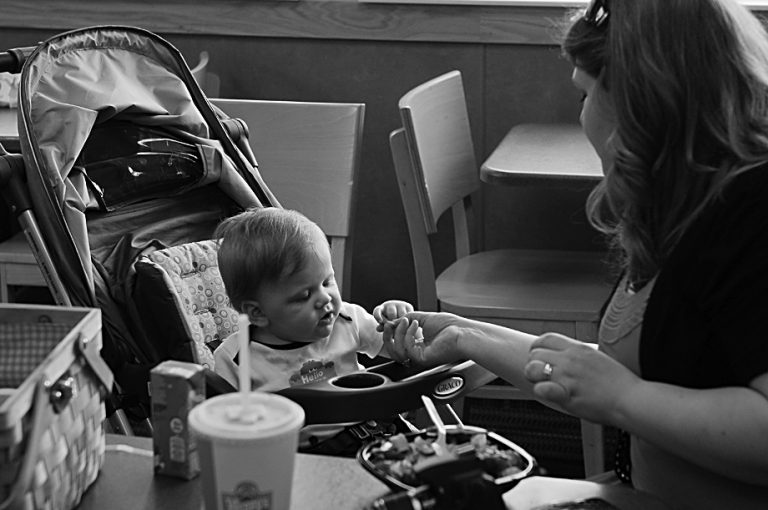 Sweet baby Sam steals a berry from his mama's salad
Wendy's would like to be a part of your summer and they are giving one lucky Dine & Dish reader the chance to win a $25 gift card so you can give the Berry Almond Chicken Salad a try for yourself! As your required entry, leave a comment on this post letting me know what your favorite salad toppings are. All entries must be received by Wednesday, June 8th at midnight CST.
This is a sponsored post provided by Wendy's and The Motherhood. Wendy's and The Motherhood provided a gift card for us to enjoy lunch as well as one to giveaway to you, a picnic basket full of fun games for the kids, and a stipend for the time and travel involved. All opinions are my own.