Naked in Times Square. That is exactly how I am going to feel after sharing this number with you, but I've got to. I am horrible about keeping myself accountable so I am putting this big old number out there for all of you to see, and I am going to continue to do it each Monday until I am totally on track to where I want to be. So, here we go….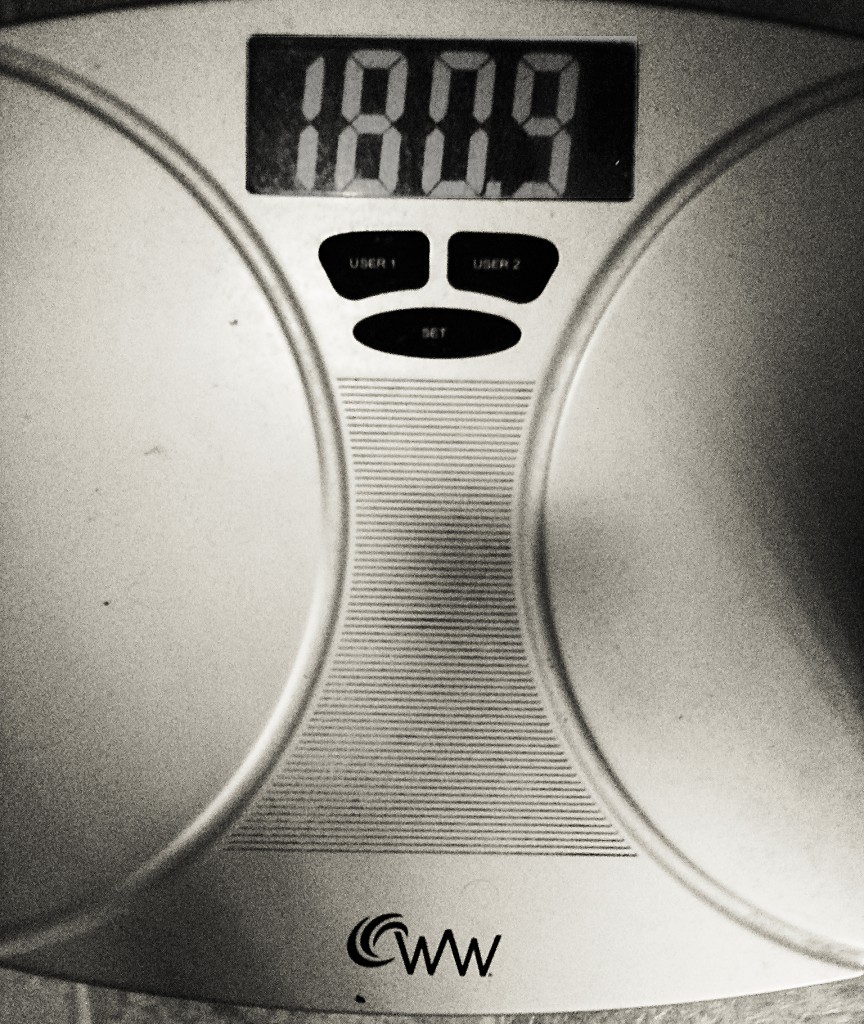 That, my friends, is what my lovely scale told me I weighed this morning. 180.9. Why am I sharing this with you? Because, at 5'9″, I don't quite weigh enough to be on The Biggest Loser, but I think that putting this terrifying number out to the World Wide Web each week will give me the same kind of motivation and accountability as those brave folks who step on the scale each week on national television. I am that desperate… I need to make some progress and I need to get my rear in gear.

I've joined a group of bloggers who will be participating in a healthy living initiative called Eat. Live. Be. Each Monday, we will be sharing with our readers how we've come on our goals, plus discuss a different healthy living topic that has been assigned to us. Does this mean that Dine & Dish is turning into a healthy living, diet food blog? Heck no! I know myself well enough to know that diets, in the most traditional of terms, do not work for me. I will be following Weight Watchers, which I've been successful with in the past, and really focusing on making / eating the same food but not gorging on it. Portion Control is going to be key for me in order to see that number move down.
I also need to force myself to become more active on a daily basis. Walking, using our elliptical, Wii Just Dance 2 and Wii Zumba… those are all things that I enjoy doing. I just need to make it a priority to carve out the time.
So, in short… my long term goal is to lose 25 pounds, taking me down to 155 and to move for at least 30 minutes each day. I will do this by sharing my progress with you all weekly, keeping a food diary, and following the Weight Watchers Points system.
If you are interested in learning more about Eat. Live. Be and joining in on the initiative, head over to their Facebook page and check it out. You can also check out the other bloggers participating below.