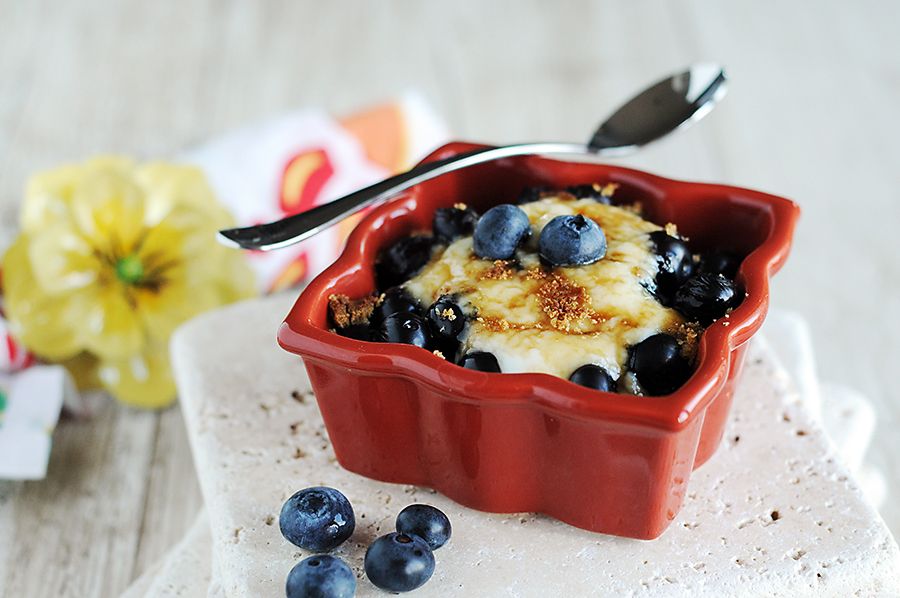 I am a dessert girl. If you didn't know that already, just take a look at my thighs and you'll easily notice that desserts and I spend a lot of time together. What can I say… I like something sweet. Even if I am stuffed full after dinner, I can always find space for dessert.
I enjoy making a delicious dessert, but do you know what I love making even better? A delicious dessert that has a beautiful presentation and takes less than 10 minutes to make. This recipe…the one I'm blogging about today for the easy, low calorie Oven Broiled Blueberry Dessert… is just that. Dump some fresh blueberries in a ramekin, add some yogurt, brown sugar, put it under the broiler for a few minute and voila! The sugar caramelizes on the top, the blueberries warm and soften, and oh my goodness… talk about delicious.
Next time you crave dessert but really don't feel like spending a lot of time in the kitchen whipping up something fabulous, go for the Broiled Blueberry dessert. Delicious enough for company or for a night where you just need that something sweet to fend off a craving.
Low Calorie Oven Broiled Blueberry Dessert (adapted from Aug / Sept 2010 Simple & Delicious Magazine)
3 cups fresh blueberries, rinsed and patted dry
1/2 cup light vanilla yogurt (or sour cream)
4 Tablespoons brown sugar
Divide blueberries among four ovenproof 8-oz ramekins. Spread with sour cream and sprinkle with brown sugar. Place on a baking sheet.
Broil on high 4 inches from the heat for 5 minutes or until bubbly and sugar is caramelized