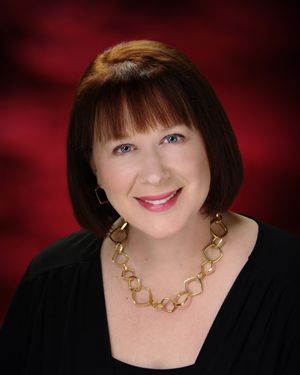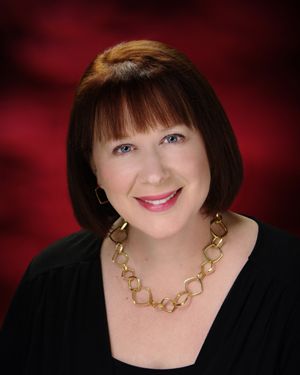 Susan Mallery is the New York Times bestselling author of romance and women's fiction novels. Her funny, sexy romances explore the idea that we're all looking for family, a place to belong. Her most recent series, Fool's Gold romances, has been a big hit with readers around the world. Read free excerpts of the first two Fool's Gold books at www.foolsgoldca.com. Join the free Members Only area at www.susanmallery.com!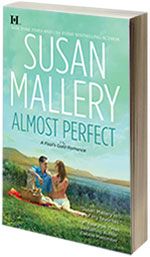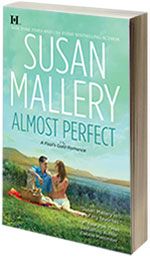 Thank you, Kristen, for having me here today at Dine and Dish! I'm both honored and a little intimidated. Not only do you post fabulous recipes, but you also take incredible pictures of your food. I haven't mastered that art yet, but I'm working on it! (Glad to have you, Susan… you did a great job! I wanted to make sure people know about your food blog, Susan Mallery Cooks and your very active Facebook Fan page too! )

I'm a writer. I work from home, and many people assume that I have all the time in the world to cook, but the truth is, I'm as busy as many women are. Particularly when I have a book out, as I do right now. (Almost Perfect, the second book of my Fool's Gold romances series, hit store shelves on June 29.)
Part of the gig of being a novelist is to promote my books when they're released. I just got back from a book tour to Illinois, Indiana, and Wisconsin. On top of this, I'm writing a book that will come out next year, plotting another 2011 release, and doing revisions on still another. And oh yes, I have a husband and a dog who demand my attention for more than just one minute a day.
Even if you're not a writer, I'll bet you can relate. Women today are busier than ever before. Driving kids to dance class or soccer practice, working a full-time job, volunteering for our favorite local charities, caring for our parents, supporting our friends…
Sound familiar?
It would be all too easy to fall back on prepackaged convenience foods from the grocery store. But I fight that temptation for one simple yet profound reason – prepackaged food doesn't usually taste very good. Certainly not as good as home-cooked, made-from-scratch meals. And why waste the calories on food that isn't delicious?
The trick is to find recipes that are quick and easy to make. These grilled mushroom quesadillas fit the bill. If your kids turn up their noses, you can skip the mushrooms on theirs.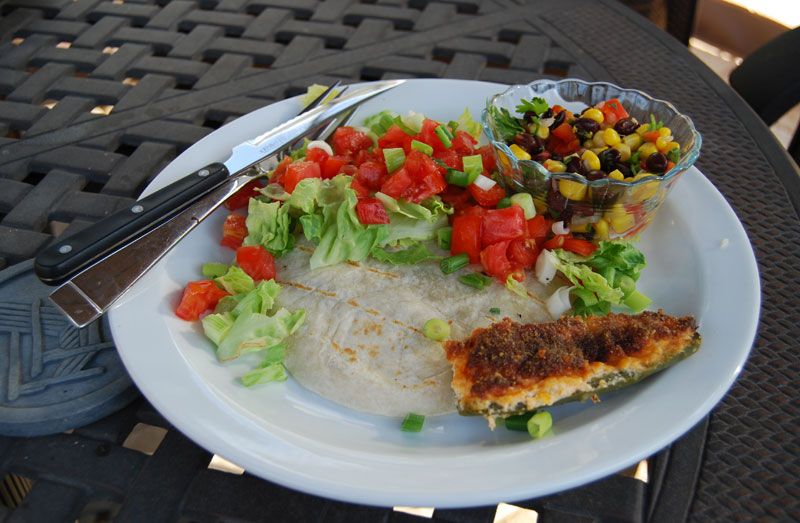 Recipe: Grilled Mushroom Quesadillas
Ingredients:
8 oz mushrooms, cut into quarters
1 small onion, cut into thick slices
2 cloves garlic, whole
2 T. olive oil
8 oz shredded Monterrey jack cheese (or pepper jack)
8 flour tortillas
Preheat the grill on high. Toss the mushrooms, onion, and garlic in olive oil. Pour into a grill wok and place over direct heat until mushrooms are soft and have little bits of black on them. (Note: If you don't have a grill wok, just poke holes in the bottom of a disposable aluminum pan. Make the holes about the size of a fingertip, small enough so that the vegetables don't fall through.)
Remove the vegetables from the grill and chop finely. I like to use a Pampered Chef chopper, pictured here. Great invention.
Place one tortilla on a plate, sprinkle cheese all over it. Add a layer of the mushroom mixture and then top with more cheese and a second tortilla. Continue until you have four quesadillas, then put them all on the grill. Grill for about 2 minutes per side, until cheese is melted.
If desired, top with lettuce, tomatoes, green onions, cilantro, salsa, and/or avocado. I know this is not the traditional way to eat quesadillas, but it is an easy and delicious way to get in those important servings of fresh vegetables.
Recipe: Black Bean and Corn Salad
Ingredients:
1 can of black beans, drained and rinsed
1 can of sweet corn, drained
½ cup red onion, diced
¼ cup of sweet red bell pepper, diced
½ cup fresh cilantro, minced
1 T red wine vinegar
1 T olive oil
½ t sugar
½ t salt
¼ t pepper
Put the beans through cilantro into a bowl. Mix the vinegar and remaining ingredients, then pour over the bean mixture. Allow flavors to blend for 10-15 minutes or more. Serve chilled or at room temperature. Tastes good as a side dish or poured over the quesadillas.