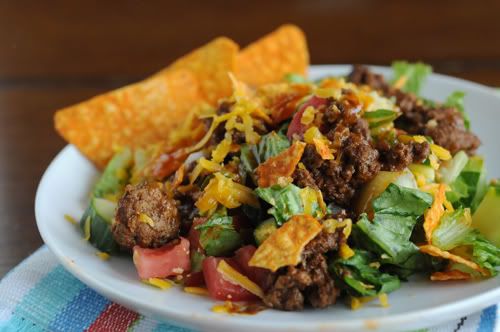 My photo of the Toasted Pita Salad that I wrote about last week was rejected by Tastespotting because of its "poor composition". When I found that out, I was a little dejected and immediately felt a bit defensive.  Not that I think my photos are all that, it's just, I was this close to submitting that same photo to my own Culinary Snapshot as a "how to" about photographing food at different angles! Even though Foodgawker was nice to me and did accept that photo, I am pretty sure no one wants to learn about the techniques for getting your food photos rejected at any of the food photography websites!
After I got over my rejection, I perked up quickly. I now had a photo I could submit to one of the newest food photography sites, TasteSTOPping! Tastestopping is the very witty creation of one smart blogger named Casey. Casey created Tastestopping as a place to share your rejected photos with the world. Now your sad, lonley rejected photos have a place to call home.
Between Culinary Snapshot, where you can learn from the community about how to improve your photos to get them accepted on the "food photography elite" sites (and share your photos & tips as well!), and Tastestopping, where you actually kind of hope your photos will get rejected from the "food photography elite" sites so you can participate in the fun, the world of food photography is one hot topic!
This Taco Salad is something I am positing over at Culinary Snapshot (and if it doesn't get accepted at any of the "food photography elite" sites, you'll find it on Tastestopping too!
On a side note, I do have to say that Tastespotting and Foodgawker have both been very kind to me and my food photographs. I would hate to be the people behind the scenes having to pick and choose which photos get the golden pass!
What are some of the other food photography sites that you like to visit and why?
Western Taco Salad (Adapted from the back of the Western Dressing bottle)
Ingredients
1 lb. ground beef
1 package (1.25 oz.) taco seasoning mix
3 cups Nacho Cheese Flavor Doritos, crushed
3 cups shredded lettuce
1 large tomato, diced
1 cup diced English Cucumber
1 cup shredded cheddar cheese
1 green onion, sliced
Wish-Bone® Western® Original Dressing
Brown ground beef in 12-inch skillet over medium-high heat. Stir in taco seasoning mix and continue preparing according to package directions.
Place all ingredients in a large bowl, ending with the taco meat, Doritos and Western dressing. Toss and serve immediately.
I love these other posts about food photo rejects!