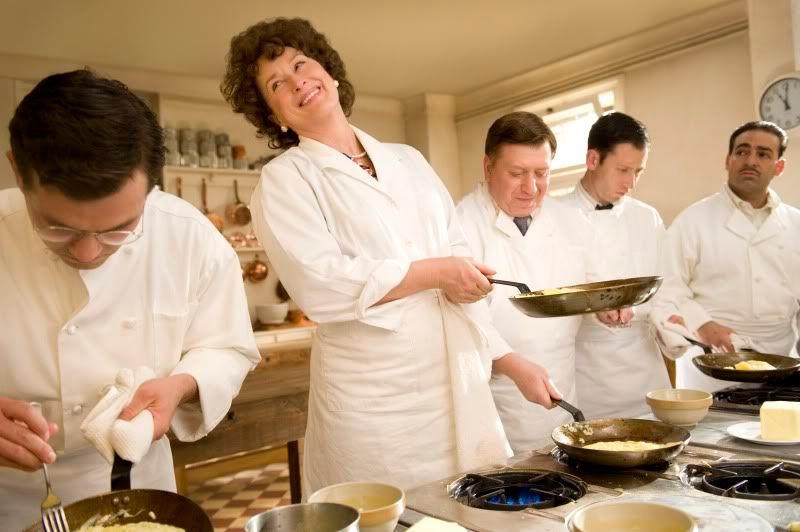 I want to cover a couple of things with this post. First of all, I was thrilled to be contacted a couple of weeks ago to see if I would be interested in having Dine & Dish be the blog of the day for July 1st on the Sony Pictures site for the movie Julie & Julia. Of course, I was thrilled to be a mini-part of what I can only assume is going to be a must see film for all of us in the food blogging community. Make sure to visit the movie site each day to see what other blogs were hand picked to be the Julie & Julia blog of the day!
For those of you who are not familiar with Julie & Julia, it is a movie based on a book based on a blog by Julie Powell. Julie decided one day when she was trying to find some great purpose in her life, to spend 365 days devoted to making each recipe out of the famed Julia Child cookbook Mastering the Art of French Cooking, Volume 1. Just as Julia Child paved the way for TV chefs today, Julie Powell paved the way for all of us food bloggers out here. Her blog was honestly one of the first times I had heard about the world of food blogging.
My friend Julie Lackey gave me the book Julie & Julia and I loved it and related so much to it! I can only imagine that I will be just as entertained by the movie (starring Meryl Streep and Amy Adams).
Now, for the next part of this post. Being a mom of four kids makes it very difficult to get out to see movies at the theatre. A couple of years ago, some friends and I started a group called Chicks & Flicks.Chicks & Flicks is a mixed group of friends who get together about every 6 weeks to watch a movie in the theatre. We've seen "chick flicks" and we have watched movies our husbands would have enoyed as much, if not more, than us. If we were all to be there at one time, there would be about 15 of us in attendance. On most occassions, we have between 6-10 women. It is a great time, no pressure, no preparation needed kind of night. Our group was recently written about in our local Shawnee Magazine. To read about how you can start your own Chicks & Flicks movie group, check out the article. I shared a lot of great tips to getting your movie group started! I think it would be a great idea to have Julie & Julia be your first movie together. You can bet my group will be heading to the theatres on August 7th to check out Julie & Julia, the movie!