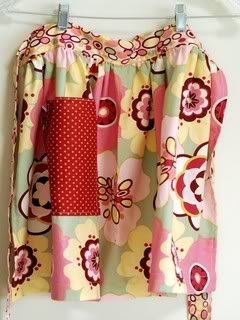 I think it is high time that we have a giveaway here at Dine and Dish. Don't you agree? My dear and enormously creative friend, Julie, recently opened an Etsy store to showcase her fun and whimsical new aprons. She brought me over one last week as a gift and I knew just then and there that one of her half aprons would be the perfect first Dine and Dish giveaway. Julie's aprons are high quality, well crafted, and they have so much personality… just exactly what we want in the kitchen!
I thought and thought and thought about how I should conduct this giveaway when it hit me. I need some help from you all, and if you help me you will be entered into the drawing to win the "Honey I'm Home" apron from Julie's store, Simply Aprons.
I recently started a weekly column over at the family friendly site, Blogged In. The new column is a fun one and is all about weekend cooking. Our weekday schedules are hectic, but as time passes and the kids get older and more involved in things, the weekends are catching right up. The new column, Dishing It Up Weekend Style, gives me the chance to share some of our favorite weekend menus with you. The concept is to share ideas that will help families to gather around the table, even on the weekends when the door is revolving with people running in and out.
This is where you come in. I would love to have you share with me some of your favorite weekend recipes. In return, I will promote your blog and recipes in my column giving you complete credit, and you will be entered to win the prize. Please take the steps below to be entered to win:
First, visit Julie's Etsy store and take a look at her gorgeous aprons. She will be adding more designs soon, so go ahead and bookmark it now as a favorite. Oh – and Mother's Day is coming up! Julie's aprons make a great gift for Mom!
Email me at kristen at dineanddish dot net (replace at with @ and dot with .). In your email include the link to at least one main dish recipe and one side dish or dessert recipe that you think makes a great weekend dish. In the email, please include:
Your name and your blog name (with link)
The names of your recipes, including the permalink to where they are on your blog
A written note within the email that gives me permission to link back to your blog through my column, and if you are oay with it, to use your recipe photo on the printable recipe sheet (with credit back to you).
Leave a comment in the comments section of this post saying that you have emailed me your recipes and would like to be included in the drawing
All entries to win this apron must be received by 11pm CST, Friday, May 9th. The random drawing will be held on Saturday, May 10th and the winner will be notified by email.
I am excited to see what kind of things you all cook up on the weekends! Thanks for participating.