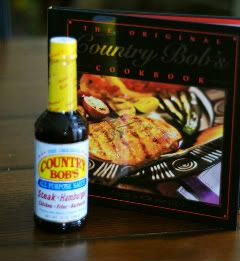 My mom often told me when I was growing up that you catch more flies with honey than vinegar. In other words, being nice will get you further along in the world than being a jerk… so always try to be nice. I try to live by that philosophy as much as possible. No – I am not perfect… I too have my vinegar moments, but I hope that most people I come in contact with think that I come across more like honey than vinegar.
One of the best compliments I have received as a mother from others is that my kids are nice kids. I was at the park the other day and one of Jacob's friends from school was there. His mom came up to me and said "You know… there aren't a lot of genuinely nice kids out there in the world, but your son is always so kind and nice…and not just to some kids. To everyone!" That, to me, was just about the best compliment I could hear about my children. My goal as a parent is to make sure they are good contributing members of society. I want them to treat others with respect and to be genuinely kind to people.
I feel the same way about companies that I do business with. I want to work with nice people. I want to do business with nice people. I want to associate with companies that have a heart, give back to their community and are genuinely kind to their customers.
When I was contacted by the people at Contry Bob's to try out some of their sauces, I couldn't help but agree to do it. First of all, the communication from Country Bob's was so sincere… they really want to get the word out about how great their products are, but they also want honest feedback and wanted to know how I thought the blogging community could help them with their efforts to get the word out.
The package from Country Bob's arrived last week on the best day that it could… I had chicken thawing for dinner, but I had no idea what I was going to do with it! When I opened the package from Country Bob's, I pulled out a couple of bottles of their All Purpose Sauce and a copy of The Original Country Bob's Cookbook. As I flipped through the cookbook, I noticed how clear and concise their message was… they seem to have a very strong Faith and have built the foundation of their company on a value system that has a humble "do unto others" kind of spirit. I was very impressed, and even more impressed when I used their All Purpose Sauce to try out the recipe for Country Cacciatore Chicken. The all purpose sauce honestly seemed very much like a A1/Heinz 57 kind of sauce, but when I tasted it I realized how wrong I was. Similar in nature, the Country Bob's All Purpose Sauce has a very distinct blend of flavors with a little zip added in there for good measure.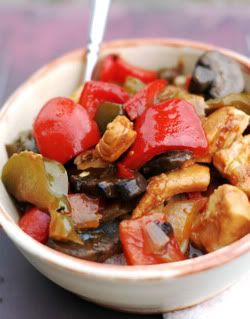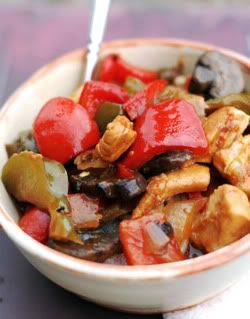 To check out this impressive company for yourself, and to print off a coupon for a FREE bottle of Country Bob's All Purpose sauce, take a look at the Country Bob's website: www.countrybobs.com
Country Cacciatore Chicken, from The Original Country Bob's Cookbook
1 green bell pepper, diced
1 red bell pepper, diced
1 yellow bell pepper, diced
1 cup sliced mushrooms
1 small onion, chopped
2 Tbs minced garlic
1/2 cup butter
1 13 ounce bottle Country Bob's All Purpose Sauce
1/2 cup packed brown sugar
1 pound boned chicken, cut into bite-sized pieces
Saute the green red and yellow peppers, mushrooms, onion and garlic in the butter in a large skillet until lightly browned. Add the Country Bob's All Purpose Sauce and brown sugar and mix well. Place the chicken pieces in a single layer in a 9×13 inch baking pan. Spoon the vegetable mixture over the chicken. Bake, covered, at 350 degrees for 45 minutes. Bake, uncovered, for 15 minutes. Serve over pasta or rice.