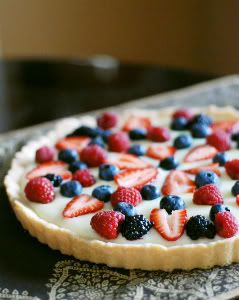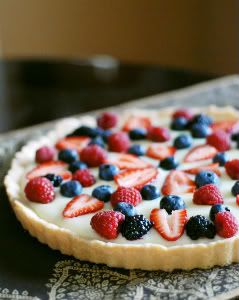 Make sure to head over to BloggedIn to read a feature interview of yours truly! Lauren, the interview was a lot of fun. Thanks for thinking of me!
When I think about Tart's, I think about a crazy aunt who often jet sets off to Paris and brings everyone back exotic gifts that cannot be found anywhere in your hometown. She is always traveling on glamorous adventures, leading a life of glitz, yet always keeps an element of mystery to her life. Her life makes church goers blush and tends to seem a bit risqué.
Pie's, on the other hand, always conjure up a vision of down home comfort…. wearing your favorite fleece pj's, snuggled up under a favorite quilt, sitting by the fire and absorbing a great book. Family picnics, church bake sales and old fashioned bakeries always come to mind when I think of pies.
While all the June Cleavers of the world were making pies, the Glamourpuss was baking tarts. So, what will you think of me when I tell you I have been on a major tart kick lately? Will my reputation as a family friendly blogger go up in smoke? Do you think I am longing for a different life… wishing to jet set and be a part of glamorous adventures in worlds beyond my own? Well, not so much… The truth is I purchased a few new tart pans and was eager to try each of them out. I have made three different kinds of tarts in the past week, and although not as comforting as a slice of apple pie, they are just as delicious, if not a little risqué. If you are willing to risk your clean as pie reputation, I suggest you take a walk on the wilder side of life and delve in to the world of tarts. Everyone deserves a little glamor in their life.
Five Star White Chocolate Fruit Tart (from Recipezaar.com)
¾ cup butter, softened
½ cup confectioners' sugar
1 ½ cups flour
1 10oz package white chocolate chips
¼ cup whipping cream
1 8oz package cream cheese, softened
Assorted Fruit
Heat oven to 300°F.

Beat butter and sugar until light and fluffy.

Blend in flour.

Press the mixture onto the bottom and up the side of a 12 inch round pizza pan.

Bake for 20-25 minutes or until just lightly brown.

Cool completely.

Carefully melt the vanilla or white chocolate chips and the cream either carefully on the stove on very low, stirring constantly, or in the microwave.

Beat in the cream cheese.

When crust is cool, pour on the melted chocolate/cheese mixture, spreading evenly.

Cover with plastic wrap and chill until ready to serve–at least 3 hours.

Slice the fruit of your choice and place on the tart in an attractive manner.

This is best eaten the same day it's made