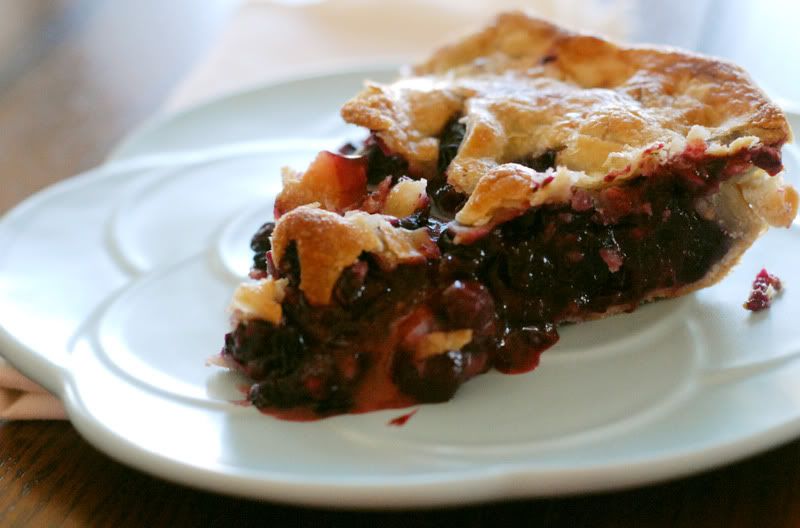 Pie Crusts… some cooks swear that lard is the secret key ingredient. Others swear that the secret ingredient that makes their pie crust outstanding is Vodka. Me? I just swear… not just a little swearing. A big bunch of drunken sailor swear words come out of my mouth each and every time I make pie crust. I have yet to make a pie crust without having some sort of random issue. The crust sticks to the board, I roll it too thin. I roll it not thin enough. It burns. It shrinks. I've been tempted to try the much acclaimed Vodka pie crust recipes, but I am afraid that with how frustrated I get when I make pie crusts, I would use the few tablespoons needed for the crust and by the end of the night the bottle will be gone because I will have drowned my pie crust frustrations in vodka. Remember the pie crust bag? Well, that worked dandy for awhile, and then it stopped… it stopped being my favorite pie crust tool. Oh – and forget trying to make them pretty. How the heck do y'all do that? My mom has patiently worked with me demonstrating how to properly crimp and let me tell ya'… I must have missed the crimping gene because my pie crusts are never, ever even close to pretty.
So, what's a girl to do when in her desperate need to get her computer fixed, she calls her uber technical neighbor (never mind that my husband is a computer guy… his computer skills are soooo not useful unless I wanted to put a giant mainframe in my house) and in order to convince him to come fix the computer she exclaims… "If you do it, I'll bake you something… anything!" Feeling pretty confident in my baking abilities, I knew it was a payment that would be simple to make. That was until he says… "I love blueberry pie. I'd love for you to make me a blueberry pie." Seriously? I can bake! I can bake breads, cakes, cookies… just about anything, and what does he choose? A flippin' pie. My nemesis in the kitchen and the one thing that causes curse words to come flying out of my normally somewhat clean mouth at a fervent pace. But, I made a foolish promise and that promise was one I had to keep.
I found a pie crust recipe that I had not tried before. The pie crust tasted great… rolled out pretty smooth and only caused a few curse words to escape my lips. The pie, however not pretty, was amazing. Blueberry pie… I've never made it, never tasted one and now I think I have a favorite fruit pie! One of these days, I'm going to make a pie crust and it will not make me cuss. It is my goal this year to be a successful pie crust maker. Now, I have an excuse to practice. Blueberry pie… well worth the pie crust frustration and a good reason to continue to practice.
Bakers Secret Pie Crust Recipe (from Allrecipes.com)

3/4 cup cake flour
3/4 cup all-purpose flour
1 teaspoon white sugar
1/2 teaspoon salt
1/8 teaspoon baking powder
4 tablespoons unsalted butter
5 tablespoons shortening
1 egg yolk
2 teaspoons distilled white vinegar
3 cubes ice
1/2 cup cold water
Measure butter & shortening onto a plate, put into freezer for about 20 minutes.
Measure cake flour, all-purpose flour, sugar, salt and baking powder into the bowl of a food processor. Pulse for a few seconds to mix.
Take 1/2 of the cold butter and 1/2 of the cold shortening, put into processor with dry ingredients and pulse off and on for about 1 minute. Scrape down twice while doing this.
Take remainder of the cold butter & cold shortening and cut in very briefly with the processor, leaving visible pea-sized chunks. Do not over process at this stage!
In a measuring cup, mix egg yolk and vinegar together, add ice cubes and water. Let this get chilled, about 3 to 4 minutes.
Remove mixed flours and shortening from processor, put into a large mixing bowl. Sprinkle approximately 4 to 5 tablespoons of this egg, water, vinegar mixture, a little at a time, mixing gently with a fork. The key to this is, you do not want a wet dough, and you do not want to overmix.
Place this dough into plastic wrap or plastic bag, chill in refrigerator for a few minutes. (May also be frozen for a few weeks at this stage for future use).
Remove from refrigerator and roll out. This makes absolutely the BEST pie crusts. I have won County Fair competitions with this pie crust. Double for making a 2-crust pie.
Blueberry Pie (from Recipezaar.com)
5 cups fresh blueberries
1 tablespoon lemon juice
1(15ounce)package refrigerated pie crusts
1 cup sugar
1/2 cup all-purpose flour
1/8 teaspoon salt
1/2 teaspoon ground cinnamon
1 large egg, lightly beaten
1 teaspoon sugar
SPRINKLE berries with lemon juice; set aside.
FIT half of pastry in a 9-inch pieplate according to package directions.
COMBINE 1 cup sugar and next 3 ingredients; add to berries, stirring well.
Pour into pastry shell, and dot with butter.
UNFOLD remaining pastry on a lightly floured surface; roll gently with rolling pin to remove creases in pastry.
Place pastry over filling; seal and crimp edges.
Cut slits in top of crust to allow steam to escape.
Brush top of pastry with beaten egg, and sprinkle with 1 teaspoon sugar BAKE at 400° for 35 minutes or until golden.