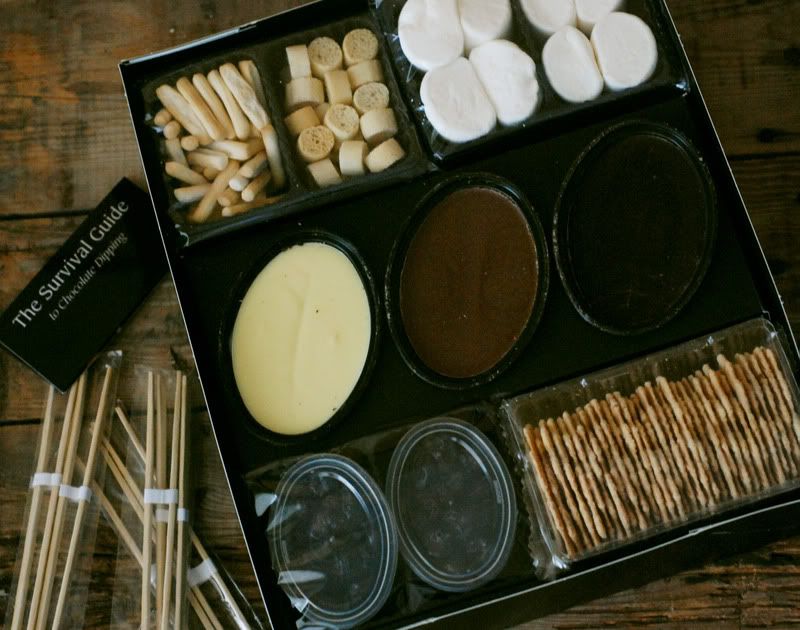 I was contacted by Hotel Chocolat a couple of weeks ago asking if I would be interested in reviewing one of their chocolate products. (Again, new bloggers…one more reason to have a place for your readers to contact you on your blog!) You may have remembered a post last week telling you how one of my readers could win the very same thing! I hope you got your story turned in… I can't wait to see which of my readers is selected.
The Chocolate Dipping Adventure is what showed up on my porch, and I decided to patiently wait for a couple of days to open it up. I was heading out of town to visit my sister and I knew that she deserved to indulge in a little chocolate luxury!
At close to 10pm on Saturday night, armed with chocolate, items to dip, and wine, we decided to gather the troops and start our Chocolate Dipping Adventure. We woke up my eleven year old niece and my sister, her best friend, my aunt and uncle and I had some pure indulgence. Hotel Chocolat's Chocolate Dipping Adventure is a perfect way to celebrate with friends or to experience a romantic evening with your Valentine. The chocolate is rich and creamy. The items to dip our unique and tasty (except for the sesame crackers… not my favorite) and the experience of experimenting with the chocolate is a lot of fun. We got creative with our items as well, adding bananas, doughnuts, graham crackers and of course… strawberries!
If you are looking for a lovely gift for a special someone, make sure to head over to Hotel Chocolat and check out their variety of luxury chocolate gifts. Your sweetheart will not be disappointed, I guarantee it!