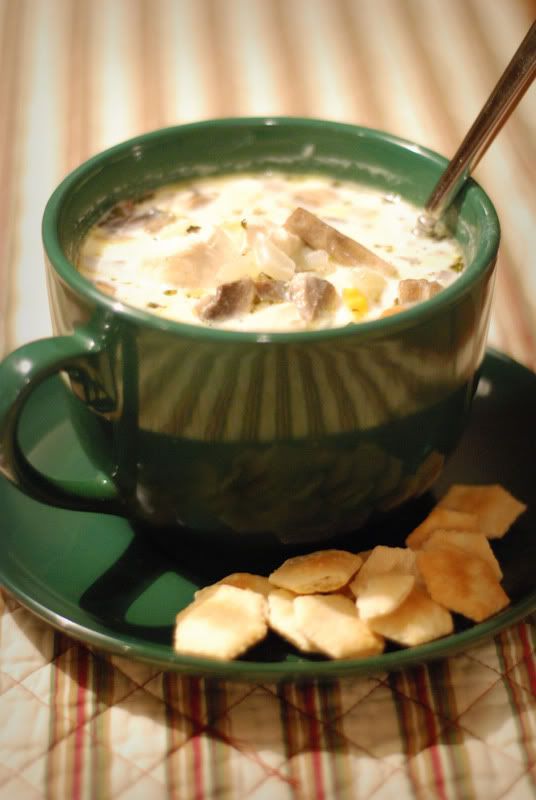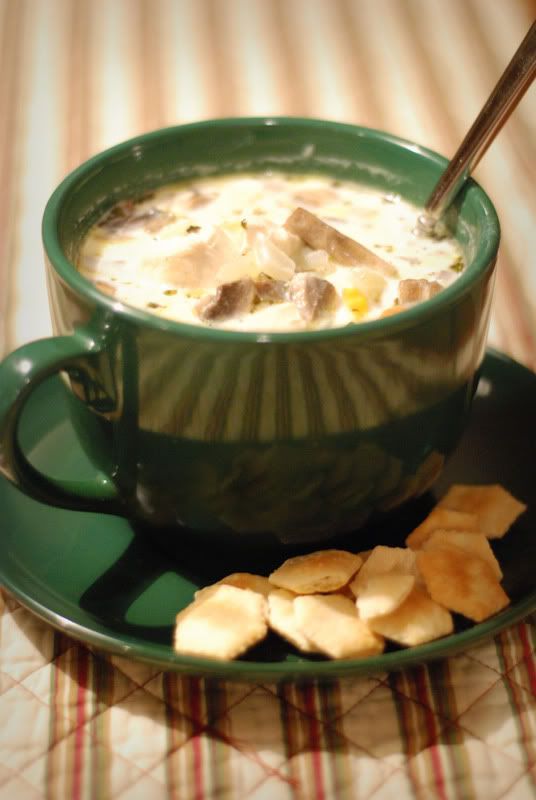 I have never considered myself to be a soup person. Given the option of soup or salad, salad would always be my choice. Soup seemed like a side item…not something that could be used for the main course. Well, I was not a soup person and now I know why. I was not eating the right soups.
Over the years I have been introduced to various soups that have made my monthly menu more than once. I now have, in my repertoire, a great chicken noodle soup, an even better loaded baked potato soup, a delicious chicken chili, and now…the soup that I made last night and could probably happily eat every day for the rest of my life.
The Zippy Chicken Mushroom soup is another winner from the October/November 2007 issue of Taste of Home magazine. This soup is hearty enough to star as the main course. The hot sauce and white pepper add just enough zip to give the soup a tiny kick, but not so much that the kids will think it is too spicy.
If you are not a soup person, take it from me… you are not eating the right soups. Give this soup a try and I promise you will be a soup convert.
Recipe modified from the Oct/Nov 2007 issue of Taste of Home magazine.
Zippy Chicken Mushroom Soup
1/2 pound fresh mushrooms, chopped
1/4 cup each chopped onion, celery and carrot
1 can of whole kernel sweet corn, drained
1/4 cup butter, cubed
1/2 cup all-purpose flour
5-1/2 cups chicken broth
1 teaspoon pepper
1/2 teaspoon white pepper
1/4 teaspoon dried thyme
Pinch dried tarragon
1/2 teaspoon hot pepper sauce
3 cups half-and-half cream
2-1/2 cups cubed cooked chicken
1 tablespoon minced fresh parsley
1-1/2 teaspoons lemon juice
1/2 teaspoon salt
In a Dutch oven or large stock pot, saute the mushrooms, onion, celery, carrot and corn in butter until tender. Stir in flour until blended. Add the broth and seasonings; mix well. Bring to a boil. Reduce heat; simmer, uncovered, for 10 minutes.
Stir in the cream, chicken, parsley, lemon juice and salt; heat through (do not boil). Yield: 11 servings (2-3/4 quarts).